If you've grown an audience on Instagram, you may be wondering what is the best way to make money by monetizing your content and social reach.
There are a few ways, but…and there is a BUT… making money on Instagram does require clear and focused action. This post covers a few ways to do just that.
Before diving in, let me say a few words about me and my personal experience. For the past two years, since I started building VENNDY, I've been researching and reading and interacting with digital creators, bloggers, and influencers to learn everything I can about the needs and pain points of bloggers and influencers. Some of you are young and single and some of you are moms, but we are all looking for a way to make money online so we can keep a flexible schedule and have full control over our time.
Whether you are working from home as a stay-at-home mom or working online while traveling the world, we all seem to share the same two problems: boosting traffic and making money. In other words, we are all looking for ways to monetize our time and effort while doing something we feel passionate about.
I've read endless numbers of resources – some free and some paid courses – on how to grow your Instagram reach, and it seems to me that the 3 most important factors are: great content, traffic, and engagement.
Content– While there is a lot to say about creating great content, this is not the subject of the current post. In the carousel below you can find blog posts with some great advice and precious information. The bottom line: you can master creating great content, and it is worth the effort.
Traffic– As we all know, the more followers you have the better. However, there are two points that should be emphasized:
1. Engagement is becoming more important to brands and companies looking to work with influencers.
2. Even with a small following you can make money, provided that you have succeeded in building an audience who relate to what you are sharing. In our blog post on micro-influencers you can read more about The Advantages of Micro-Influencers and Their Relevance for Both Brands and Affiliates.
Engagement– Selling on Instagram boils down to connecting with the right audience – potential customers who can buy from or through you. This is what this post is about, so let's get to it.
There are a few ways to make money on Instagram. While we list them all here, we believe that affiliate marketing is one of the best ways to make money. (See our blog post Affiliate Marketing – The Complete Beginners Guide for the many reasons why.)
Sponsored posts and paid ads
These are popular ways in which influencers make money on Instagram.
Bigger accounts make more money per campaign and may need to invest less effort in finding brands to work with. Sponsored posts can include pre-paid campaigns, creating dedicated content per request, advertisements of products and places, and more.
Smaller accounts, ranging from 1,000 to 5,000 followers, may also get approached but can also find products to promote through dedicated platforms which connect between influencers and collaborators.
Create and sell your own products. These can be two kinds of products:
Selling a product you create according to your own knowledge or expertise is very popular among bloggers teaching about blogging and selling e-courses and e-books as well as coaches and wellness and fitness instructors. More and more travel bloggers are teaching others how to start a travel blog, sharing their experiences step-by-step.


You can also sell self-branded products using a print fulfillment company such as Printful or Teespring. These can be items such as T-shirts, cups, hats, phone covers, calendars and more. The great thing about using a service such as this is that there are no costs associated with selling the products you have designed – just a cut if orders are made.
Creating your own products is most effective when you have built yourself a brand or a targeted audience who can relate to your message or ideas. (For more options and both the pros and the cons, check out this blog post).
Affiliate marketing
This method is most useful when sharing experiences that can drive traffic and sales to businesses and brands that you love.
If you are a travel blogger, you will probably share the places you visit. In order to make money from your Instagram, you need a way to convert your experiences into practical recommendations that can help others make better decisions when planning their vacations or purchasing products.
But how can affiliates promote links on Instagram when you can't link on Instagram? By using services such as VENNDY, creators can set up a virtual shop of clickable Instagram posts for their bio and monetize content regardless of whether they have a blog or a website. With VENNDY you can also personalize, with customized photos, each of the links to your promoted items and websites you partner with.
Here is an example of how a linkable gallery on your travel blog could look like: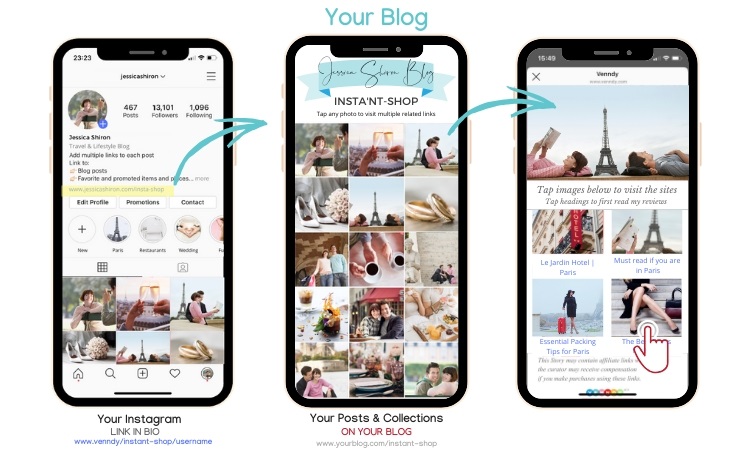 Affiliate marketing is very popular among fashion bloggers who share their outfits on Instagram, but there's much more to affiliate marketing than fashion and beauty products.
In fact, as e-commerce grows, more consumers are dependent on the reviews of others for their purchase decisions. In addition to fashion and beauty, categories such as travel, fitness, DIY, food, business, tech, education, and more products and places are perfect for affiliate marketing.
You have probably been using the products of many different affiliate programs without even knowing that you could turn them into a stream of income: for travel bloggers, this could be hotels, flights, travel clothes, accessories, tours, things to do, and adventures; for wellness or fitness influencers, it could be courses, outfits, retreats, books, and lectures. The list is endless as these days everything can be booked or ordered online.
But what if you don't have a blog? Well, today there are more affiliate networks and programs who will approve you even with your Instagram account, as long as it contains quality and relevant content for their brand.
The question that still remains is where can you put the links to items you promote and recommend if you don't have a blog?
VENNDY offers users a free service of having their Shop Tab on VENNDY's platform. Here's how a shoppable gallery could look like if you are a creator in the food niche: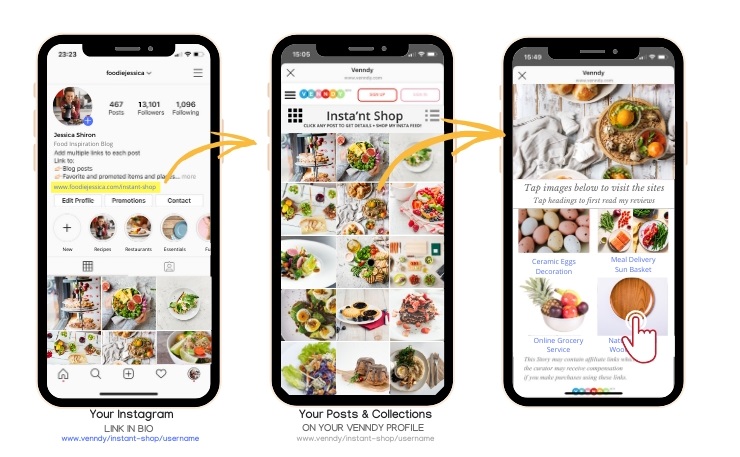 Think of how helpful your recommendations could be for small and medium businesses.
They could make the difference between their commercial life and death! Being able to pay a sales only commission rather than having marketing expenses with no proven results can be a big hurdle for such businesses. Who better than a happy customer to give a recommendation and help bring targeted traffic?
With affiliate marketing all you need to do is sign up for some affiliate programs and earn a commission every time you refer someone and make a sale.
To help you get started, we've put together a practical guide with ideas and some examples of affiliate programs for a variety of categories such as home décor, education, wellness, and more. You can check them out under the NICHE tab at the navigation menu above.
If you are new to using Instagram for growing your business, to help you along, we have created a free guide with 10 non-obvious Instagram Mistakes You're Probably Making, and How to Fix Them.
GRAB OUR FREE HOW TO FIX 10 NON-OBVIOUS INSTAGRAM MISTAKES AND START USING AFFILIATE MARKETING ON INSTAGRAM
We respect your privacy. Unsubscribe at any time.
So how should you get started using affiliate marketing on Instagram?
1. Apply to become an affiliate for your favorite stores.

Read more about How to Find the Best Programs to Join and How to Find the Best Products to Promote in our Affiliate Marketing Guides.

It's best to be an affiliate for products you actually know and love, but you can really promote anything that appeals to you.

Search on Google for the brand or company you want to be an affiliate for by writing "brand name + affiliate program."

You will either be directed to one of the affiliate networks (ShareASale, Rakuten, AWIN…) or, if they have a self-hosted program, you can sign up immediately and wait for approval.

Here are some good self-hosted affiliate programs we find very helpful for new bloggers.
2. Once you're approved, create relevant content that can be shared on Instagram.

Since on Instagram photos are key, the best approach is to create "lifestyle" photos of the items you want to promote and not just share products.

Lifestyle photos sell the best because they showcase your use of the product.

The image then speaks for itself and, at the same time, builds your credibility because your opinion on the product is clearly based on your own experience.

Sharing a photo of you in an hotel, wearing a certain outfit, or exploring a destination in Paris while also sharing a guided tour service, flights, and accessories used can all be part of one experience.
3. Invite followers to shop or save for later.

This can be done through the post's caption or the SWIPE UP feature in Instagram stories.

From both the link in bio and from a story, you can direct followers to a "store" on your website/blog or, if you don't have a blog, a shopping destination such as VENNDY.

You can read more about what to put in your one link in the bio in this blog post. As you can read there, this could be an Insta'nt Shop tab on your website with a variety of images all linking to the websites where your customers can purchase the products through your affiliate link.

If you don't have a blog, sign up for a service like LiketoKnow.it if you are mainly a fashion blogger, or to VENNDY if you want to share content from any niche.
4. Make sure to edit your bio.

Be sure to add the link from your Instagram bio to your Insta'nt Shop on VENNDY or the Insta'nt Shop on your blog, and include a call to action in each of your posts, encouraging your audience to click the link.
5. Promote your products.

Take the time to curate photos that have a similar style. Having a cohesive feed is important when you're trying to sell a product.

Adding a call-to-action is important. So, create a caption you think your audience will respond to, or an interesting story to match your post and items included, and don't forget to remind them to click the link in your bio to browse your store!
Hope this was helpful. Make sure to check out the Insta'nt-Shop tool by VENNDY to learn more about how you can use it from the very beginning, even before you build enough following to have the SWIPE UP feature on stories.