At VENNDY, we are driven by results. The tools are designed to create a win-win-win for all consumers, creators, and businesses.
By creating content that makes an impact you can help businesses and service providers you love to stay in business by reaching new audiences.
At the same time, you can also help your community make better every day online purchases while turning your passion into a living.
Creators should be compensated for their time, effort, creativity and their unique contribution to others.
How to Use Collaboration on VENNDY
The collaborative feature in VENNDY's collections allows you to easily create lists of places, products, and services that you either curate yourself or promote for others.
We highlighted below the advantages of collaborations but the bottom line is that it can improve everyone's chances of growing traffic by sharing each other's favorite product in one collection.
You may not receive full commission for all the products you share, but you will be creating a much more comprehensive list, with diversified content, offering greater value, improving trust and letting your readers choose the best options for themselves.
Once logged in to VENNDY, on home page you will see all the profiles of users that you are NOT following. Those you follow can be viewed from your profile page.
People cannot find you on the platform unless you've uploaded at least one item. The more uploads to a category, the higher you rank, as you can see in the following examples: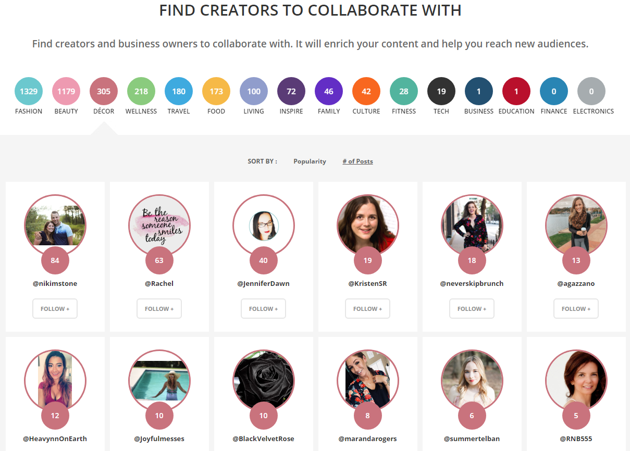 Adding Items to a Story
Generally, Items can be added to Stories either through a Story page or through an Item page.
From a Story page – click the ADD ITEM button. Browse through the categories and sub-categories to find the item you wish to add, and then click on it.
From an Item Page – click the "STORIES+", insert a few words in the search box and pick the story you were looking for from the filtered list below. Press the ADD button to add the Item to the chosen story.
When adding items created by others, or when adding items you created to stories created by others, there's a slight change.
Stories You Created
To add items curated by others to one of your stories, simply follow one of the options shown above.
From there it can be shared on a shop-the-post carousel, Intsa'nt Shop, Pin Collection and more.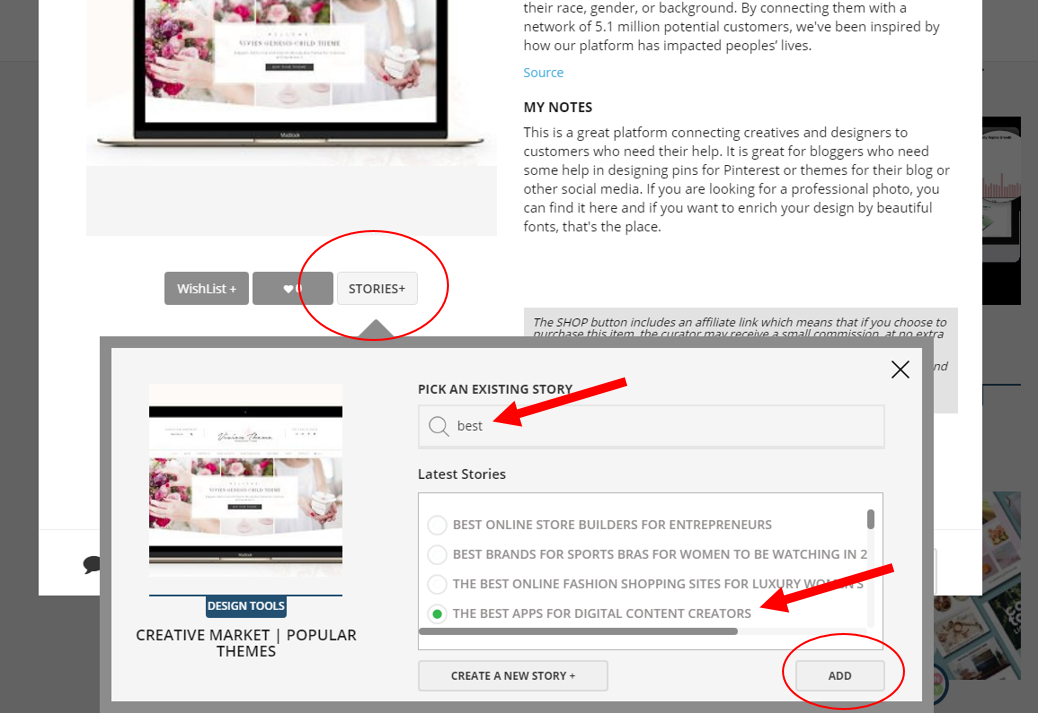 Stories Created by Others
To add items (yours or others) to someone else's story, follow the one of the options shown above.
However, it is only the creator of the story (and people invited to collaborate on creating that story) who can manage its content.
Therefore, any addition is subject to approval, and will not be seen in the story's collection until approved by its creator who receives a notification and can approve it through the dropdown menu on the right.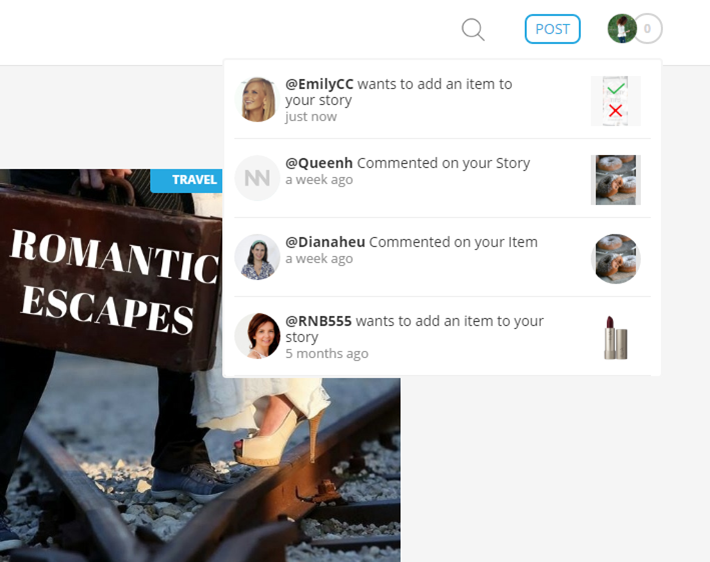 A powerful way for businesses to grow is through collaborations.
For small businesses, and especially creators, collaboration is key to growth as they can join forces and learn from each other, exchange ideas, improve their content to better compete with well-established and funded sites, and grow revenue.
Here are a few ideas to consider on how collaboration can help your business grow:
Collaborate to Create Better Content
Collections that include recommendations and reviews gathered by and from different users present a wider perspective and a greater number of options.
When creators work together, they can join forces to create better content than others.
Collaborate to Rank Higher in Search Platforms
Creators and particularly Instagrammers are often at a disadvantage when trying to promote content. This is especially true when compared to larger businesses that have the big advantage of a high ranking in search engines or using paid ads.
Partnering to aggregate their knowledge, content, ideas, and social reach can diversify how and who they reach and improve traffic, reduce costs, and achieve better results in affiliate sales.
Collaborate to Improve the Range of Your Expertise
This is when two competitors come together to work on business opportunities.
Creating collaborative content with others can work when each offers complementary services or knowledge but also when working on content that requires a broader range of examples or personal experience.
Collaborate to Increate Word of Mouth Through Referrals
It is not only you making money from referring others to businesses; you also need others to help you get your content out by referring you on.
Word of mouth is one of the most important marketing tools for any business. Referrals made by your readers or by peer co-creators have a dual impact: they increase your audience reach and improve the chances of converting readers into customers.
Collaborate to Improve Sales Conversion Through Building Trust
Working together can also be a way to build trust when combining pieces of advice from different creators on a variety of subjects.
A better conversion rate can be achieved because word-of-mouth customers already have a level of trust and confidence in your content which was transferred to them from the person who recommended or collaborated with you.
Happy VENNing!