Starting a blog can be very overwhelming in the beginning.
And also, as fun as blogging seems, it doesn't fit everyone.
In this post, you are going to find out the top 10 things you should know before starting a blog!
1. Know why you are starting a blog
Before starting a blog, you should think about why you are starting a blog, what do you want to get out of it.
Do you want to start a blog to make money? Or maybe start a blog just as a hobby?
Our tip for you is to sit down with yourself and think about the reasons you want to start blogging.
Are you doing it because you want to turn your blog into a full-time money-making business, or maybe to add it as an extra job to make money on the side.
2. Blogging isn't a "get rich quick" income stream
A lot of new bloggers think that the day after they launch their blog, their bank account starts exploding with money.
Well, sadly that's not how it works.
Making money blogging takes time and a lot of hard work.
Even though you can make money from your first month blogging, making a full-time blogging income does take time.
Our best tip to making money blogging is creating a blog business plan from the beginning and planning on advance how you want to make money from your blog.
Decide if you want to join affiliate marketing programs, creating and selling products, or even offering your own services.
3. Knowing what you are good at
We recommend starting a blog about something you have knowledge in, something that you are good at and can give your readers valuable content.
Sit down and think what are you good at? In what topic you can help other people?
If you love cooking and you are good at it, you can start a food blog and share your recipes.
Or maybe you love interior design, and you love decorating spaces.
In that case, you can start a home decor blog and write about interior design tips and teach other people how to decorate their homes.
While picking what to write about, you need to pick a topic that you are passionate about, that you will enjoy writing about.
Many bloggers will tell you to niche down (which means writing about one topic) if you want to rank high on Google. Well, it is true that the more narrower your niche is, the easier it will be for you to rank on Google.
If you didn't know, Pinterest is the main source of traffic and Pinterest isn't much about niching down.
But with that being said, you shouldn't rely only on Pinterest as a traffic source, you should work on SEO (ranking on Google) as well.
4. The platforms you choose to start a blog on
There are a lot of platforms online to start a blog on. Some of them are free and some aren't.
What are the differences between those platforms and why shouldn't you just blog for free?
Self-hosted websites - a self-hosted website means that you are the owner of your website and not the platform you are blogging on.
With a self-hosted blog, you can have your own domain, and also monetize your blog.
Free blogging platform - if you are using a free blogging platform you don't really own your blog. Which means, that if one day you accidentally broke one of the platform's rule, your blog can be deleted without you even knowing.
Also, blogging on a free platform means that you don't have a special domain, and you also can't monetize your blog with affiliate marketing/ads/selling products/etc, because it is permitted by law to have a self-hosted website if you want to make money blogging.
The point is, that if you want to make money from your blog, and also really own your blog, and make it look professional by fully customizing it and having your own domain name, you should have a self-hosted website.
5. Content is the king, queen, and princess
The number one thing you should know when you are starting a blog is that quality, valuable content is what's going to help you grow your blog and even make money blogging if you are monetizing your blog.
To grow your blog you need to be consistent and to constantly post fresh valuable content that will interest and help your readers to solve their problems.
Also, another thing to keep in mind is that you can't rely only on social media or Facebook threads in blogging groups to attract readers to your blog.
SEO is the key to growing any website and the Google algorithm knows exactly what website it wants to show up on the first page of Google in the search results.
We recommend having between 10-15 already published posts on your blog once you launch it.
6. Have the right mindset when starting your blog
Before you start a blog you should know that having a successful blog takes time and a lot of effort. You will need to be consistent, and usually, things won't massively change overnight (unless one day you'll wake up to a viral pin on Pinterest).
You need to be prepared to work hard, to write new interesting posts consistently, to promote your blog posts on social media, Pinterest, and more.
If you are planning on making money from your blog, we also recommend developing a money-making mindset and planning exactly what you want to do to make money with your blog.
7. Blogging education is very important
A lot of bloggers don't know how important blogging education is and how important it is to know what's going on, what works right now, and what isn't.
If you are a new blogger, or you are just starting your blog, and you don't really know what you are doing and how to do things, investing in a blogging course or ebook can really help you start your blog on the right foot and bring you good results faster (since you'll already know what to do instead of trying to figure everything out by yourself).
8. Learn how to monetize your blog from the beginning
A lot of bloggers think that you can't make money blogging with a new blog. They believe that you should follow your passion and if you love what you do, and do it with all of your heart, the money will come later.
We also saw a lot of bloggers on Facebook thinking that it isn't possible to make money blogging from the beginning.
If you are relying on advertisements only for making money from your blog, that is true. You will need at least 25,000 monthly page views to get accepted to a good quality ads network company.
But there are many other ways to monetize your blog with and to make money with them even on your first-month blogging.
The most popular ways to make money with a new blog are with affiliate marketing, and creating, and selling physical/digital products.
Just before we get into some actionable steps,
If you are new to affiliate marketing, tohelp you along, we have created a free "Affiliate Marketing Strategy Cheat Sheet" according to which you can build your "Affiliate Marketing StrategyMap."
GRAB OUR FREE AFFILIATE MARKETING STRATEGY CHEAT SHEET AND BUILD YOUR AFFILIATE MARKETING STRATEGY MAP
We respect your privacy. Unsubscribe at any time.
9. Don't forget to promote your blog
Your content can be the most valuable and interesting online. But no one will read it if they don't know your blog exists.
That's why you should start some social media accounts for your blog to promote your new blog posts.
The most common social media platforms for bloggers to get traffic from are Pinterest, Facebook, Instagram, and Twitter.
We said that quality content is the key to success, but what's more important is promoting it correctly to attract readers and traffic to your blog.
10. Learn how to collaborate
This tip is very important to know and is a very important factor that can make or break your chances to succeed online.
In a web filled with new blogs and websites that are created every day, you need to know what you are doing and how to utilize marketplaces and social networks.
There are many sellers and creators that are utilizing marketplaces and social networks to make money online!
Here are some stats you should know:
Content creators on WordPress, Tumblr, and Instagram make an average income of $70, while creators on YouTube and Etsy make an average of $1,700!!!! That's 2,400% higher.
While YouTube and Etsy are marketplaces, that improve the chances of creators to monetize, it is less obvious as far as it goes for bloggers on the other platforms.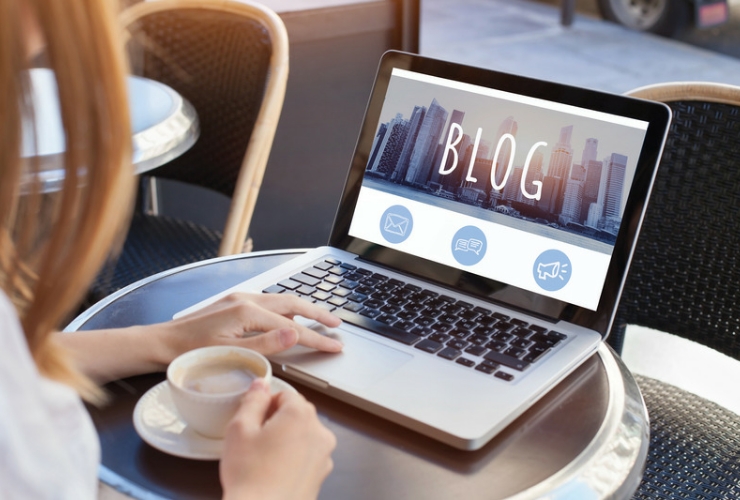 Having said all that blogging is definitely one of the best channels out there for content marketing so if you are business in any niche, you should definitely consider blogging as part of the strategies for generating traffic.
If you are completely new to the online world, you may want to consider downloading our free Result-Driven Monetization Cheat Sheet that will help you get the full picture of your options for taking your business online.
If you've decided to start a blog, we recommend checking out this post that will help you learn how to start a blog that makes money!
If you just recently started your business, let's make sure you're not wasting time working on something that won't get you the results you want! To help you out, we've created this freebie with a simple cheat sheet that summarizes the basic terms you need to know.
RESULTS-DRIVEN MONETIZATION STRATEGY CHEAT SHEET
AND FOLLOW THE STEP-BY-STEP PLAN!
We respect your privacy. Unsubscribe at any time.