Do you use a link in bio tool to support your social media marketing efforts?
Link-in-bio tools are essential and effective for any brand trying to get web traffic to other channels and make sales through social platforms — and it's important to find the best tool for you.
We've written articles about why and how to optimize the one link you have in bio on social network platforms such as Instagram and TikTok.
Many social media platforms, such as Instagram and TikTok, only let you place one URL in your bio.
Regardless of what business you're in, this poses a problem. With only one link available, you can't simultaneously promote different products or send followers to numerous channels. And you'll spend lots of valuable time changing that single link in your bio or sending followers to a non-relevant link.
Before deciding on which strategy to use, you should always start with defining your business goals.
How can you manage multiple marketing efforts at the same time?
Use a software tool with a linkable gallery such as VENNDY.
Use a service with a list of links.
Use both – a list of links, one of which is a linkable gallery identical to Instagram, for example.
Many software tools offer a landing page with a list of links: Linktr.ee, and Beacons.ai are only two.
One of our favorite options is using Canva.
With Canva, you can create more than a landing page for your link-in-bio. It can even be used as a landing page or a mini-website builder. You can check out all their Instagram features on this page. [link]
The advantages of using a Canva bio link:
Endless options for design – we all know and love Canva. They offer endless options for images, banners, fonts, icons, videos, and so much more.
Responsive design that matches both pc and mobile view.
Canva is upgraded constantly with new features, options, and solutions to answer SMBs needs.
Make changes, design, and improving as you need straight on Canva!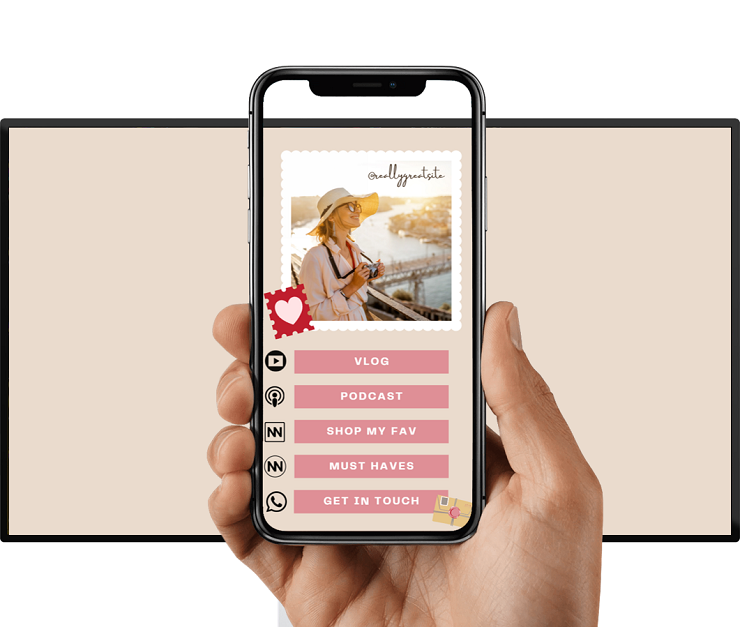 How to Create a LINK-IN-BIO / BIO LINK WEBSITE with Canva?
Go to Canva and type "link bio" in the search box. You'll see an option to create a "Bio Link Website".

1. Choose a Template or Start from Scratch
The regular free account shows around 15 templates, and the Pro version offers over 60 templates, and counting.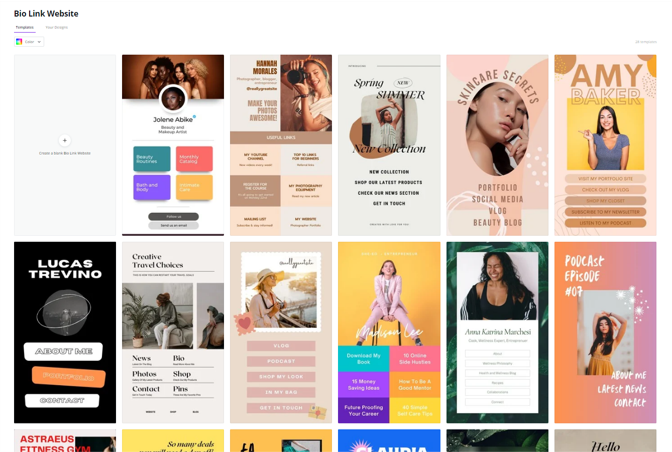 You can either pick one of the templates and make changes, or you can start from scratch and create your own branded design.
Canva is a graphic design software, so no matter how great the other software available, none can compare with the features, tools, design, and images given on Canva.
We've created a few examples with images, videos, colors, all answering our brand's needs.
Link-in-bio landing page: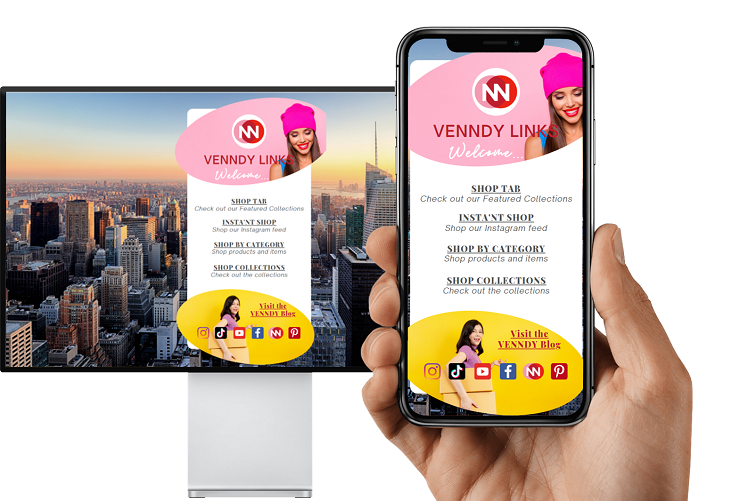 About Landing Page: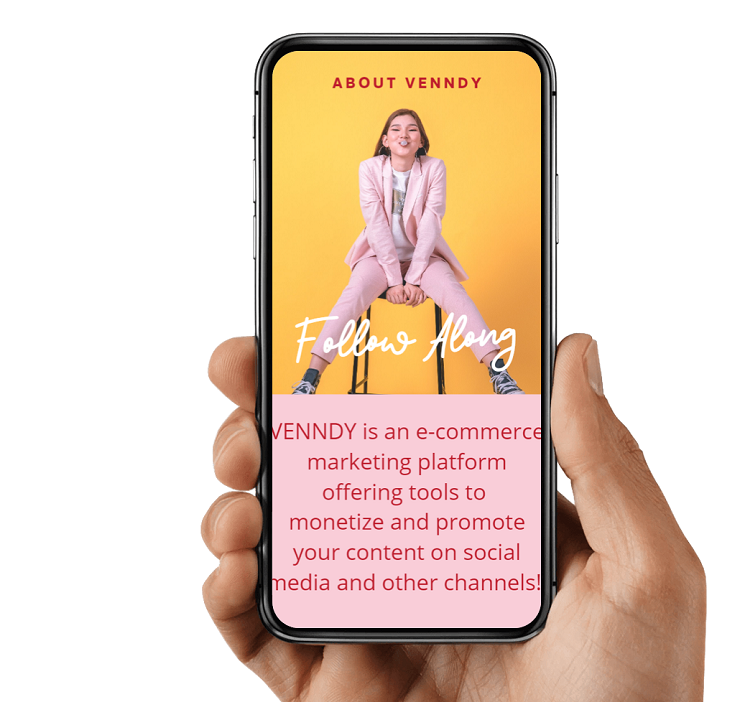 For PC view, if you want to have a picture in the background, choose a landscape photo.
Here is an example. As you can see, you'll only see a very narrow frame on mobile view, but on PC, it will show the whole image.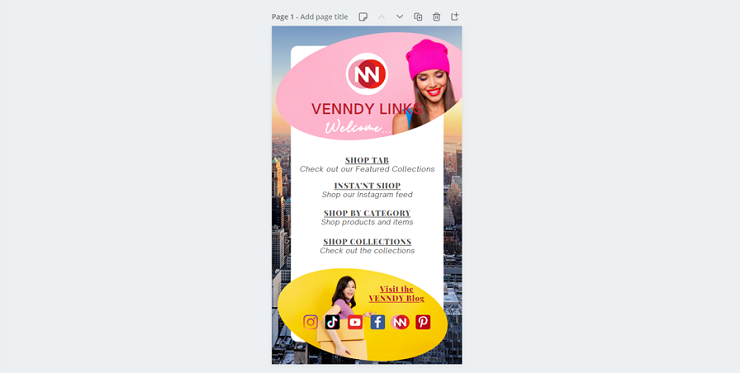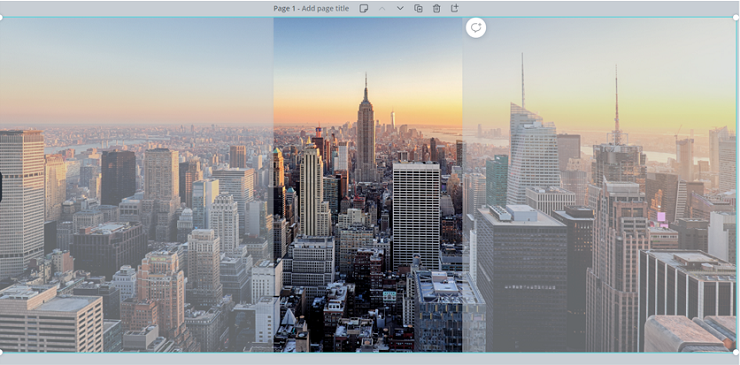 This is how it will look like on PC.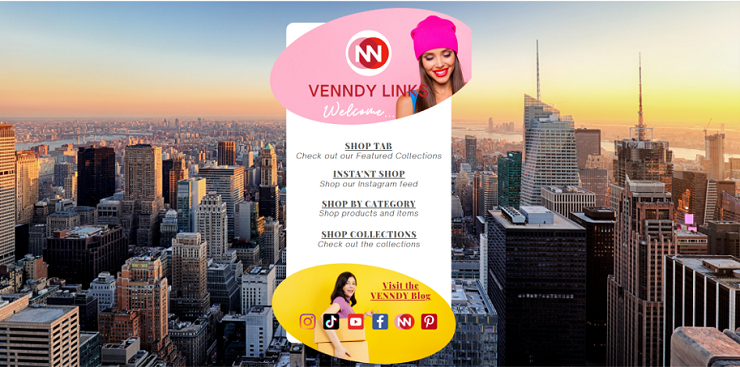 2. Creating More than One Page
With Canva, you can also create a landing page similar to that of Milkshake or Taplink.cc and as we shared on What is the Best 'Link in Bio' Tool for Optimizing Instagram?
If you want to have separate landing pages for your list of links, About page, demo video, etc., then you need to create separate Canva documents and get a link for each of them.
But if you want to have a swipe between pages or a scroll-down option, just like the tools mentioned above, all you need to do is add additional pages on the same document, and you can even design each one differently.
Here's an example using the EMBED option.
3. Design Your Landing Page with Canva
With Canva, everything is customizable. Images, videos, audio, fonts, colors, and more.
You can use Canva's library of content or upload your own.
Here are some of the most valuable elements that make the design with Canva unbitable:
Social media icons
Banners
Labels, corners, frames, edges, headlines, ornaments, and decorations
Sketches
Stickers
Backgrounds
Fonts
Here are just a few of our favorites and most used elements: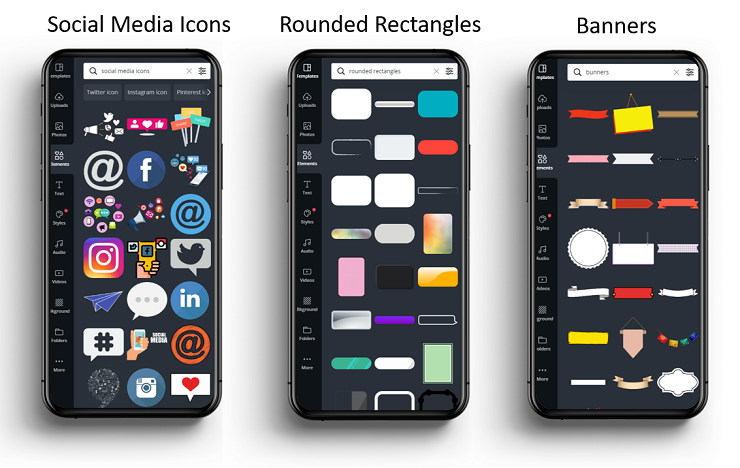 4. Adding links
Once you are happy with your design (at least for now) let's add the links:
Click on any of the elements on your Canva page.
Click on the LINK icon – a text box will be opened.
Insert the URL to which you want to link the chosen element.
Repeat the process for each of the elements you wish to link.
Here is an example: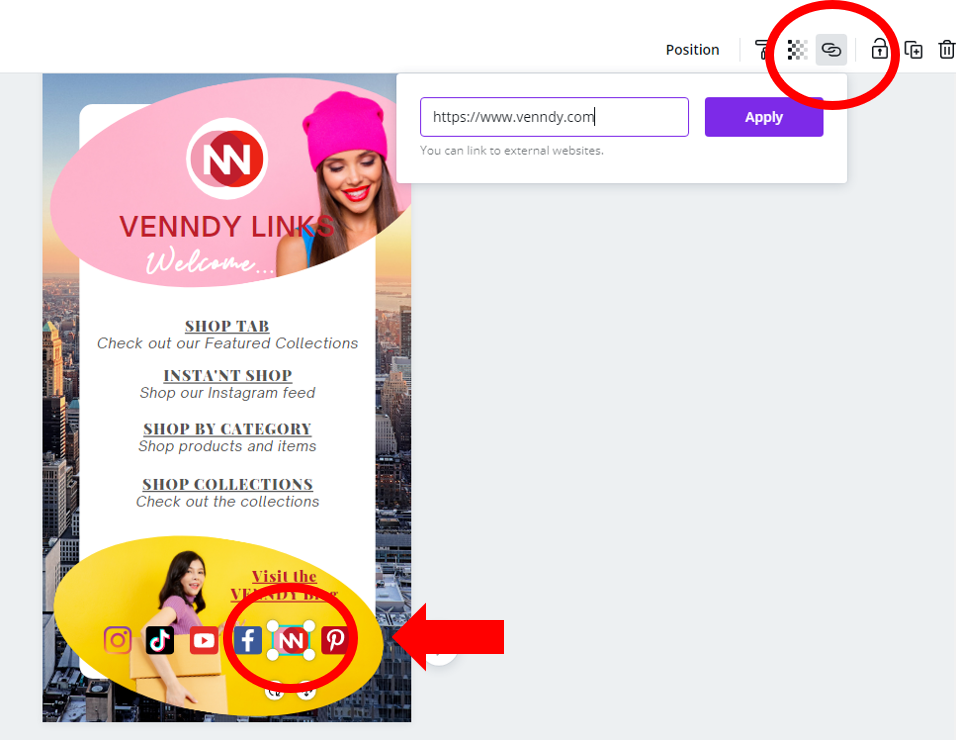 5. Publish
The only downside with the Canva link-in-bio option is the long and ugly URL they offer. It looks something like this (an example of a Scrolling Style):
https : // www-DOT-canva-DOT-com /design/ DAEXoN9xS0k/ lg7ZvbmALhOcTvFoRN-t8g/ view ?website # 2:welcome
That's why we've added an option to include it on VENNDY and get a complete set of link-in-bio, landing page, and a commerce destination for monetizing your content. We will go over this part in Section 6 below.
But let's start with understanding your presentation options because this also something you have a few alternatives to choose from.
There are two ways for taking your link:
5.1. Click on Publish as a Website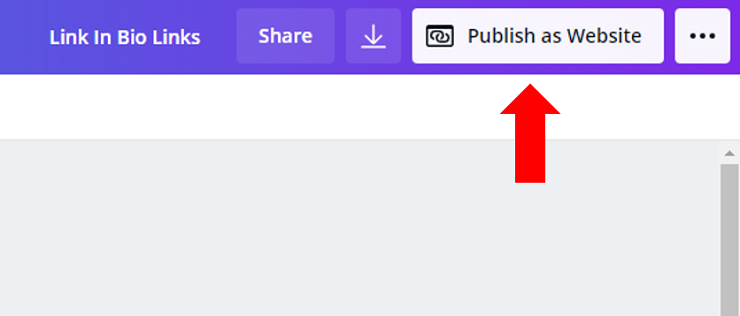 There are 4 web styles to choose from when clicking on "OPEN WEBSITE":
Presentation – Multi-page site with easy page controls.
Scrolling – Single-page site with parallax effect.
Classic navigation – Multi-page site with navigation bar (there's a navigation bar on the top of the screen. On mobile it has a nice burger icon for the dropdown menu).
Standard – Single-page site with navigation bar.
We find the first two options most suitable for a link-in-bio tool, but it all depends on your needs. Try them all. Once your design is ready just choose any of the four options and click on the "Open website" button.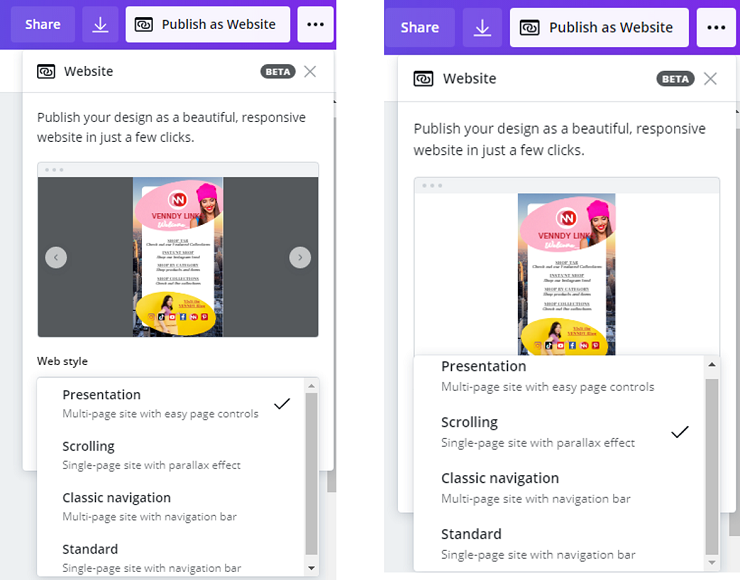 They are all quite similar on mobile, as it is centered and shows the same view you see on your Canva editor.
Here's a view for the Standard Web Style: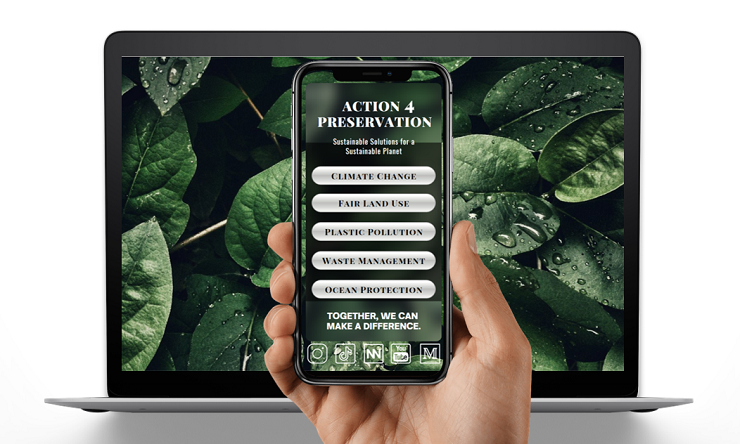 Here's a view for the Scrolling Style: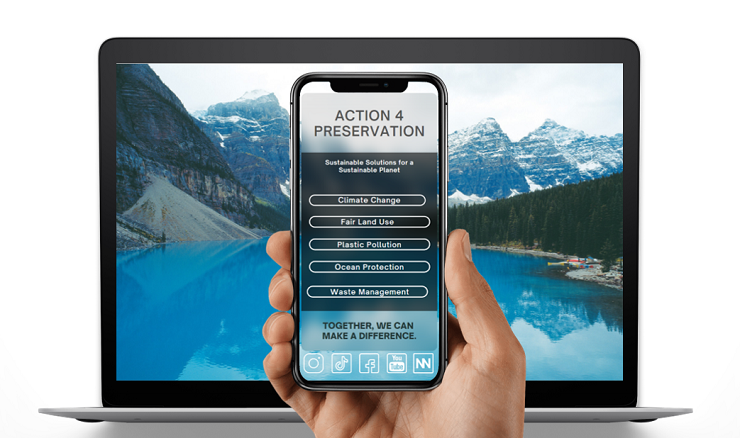 The only downside in our view of using the Presentation Web Style is that it shows the Canva footer.
To copy the link, Click on Open Website and once it is opened, copy the link.
5.2. Use the EMBED option
The advantage of using the EMBED option is that it goes into your HTML.
On the top corner of the editor, click the ••• button.
Then follow the following steps.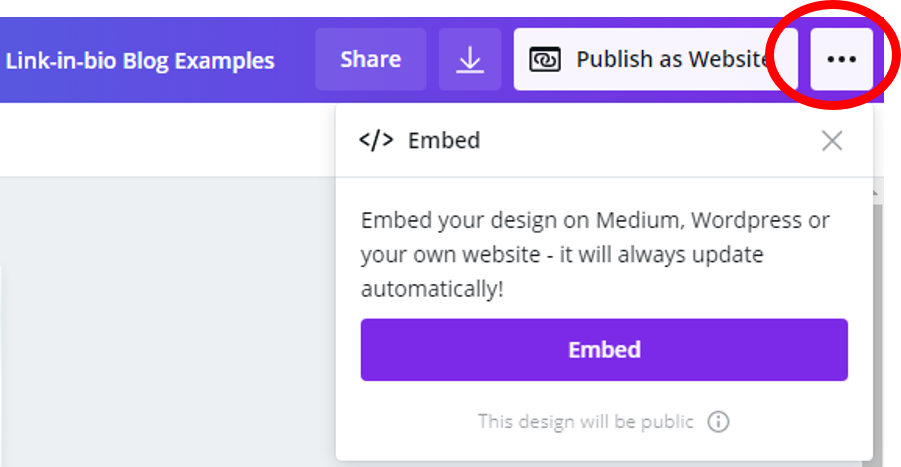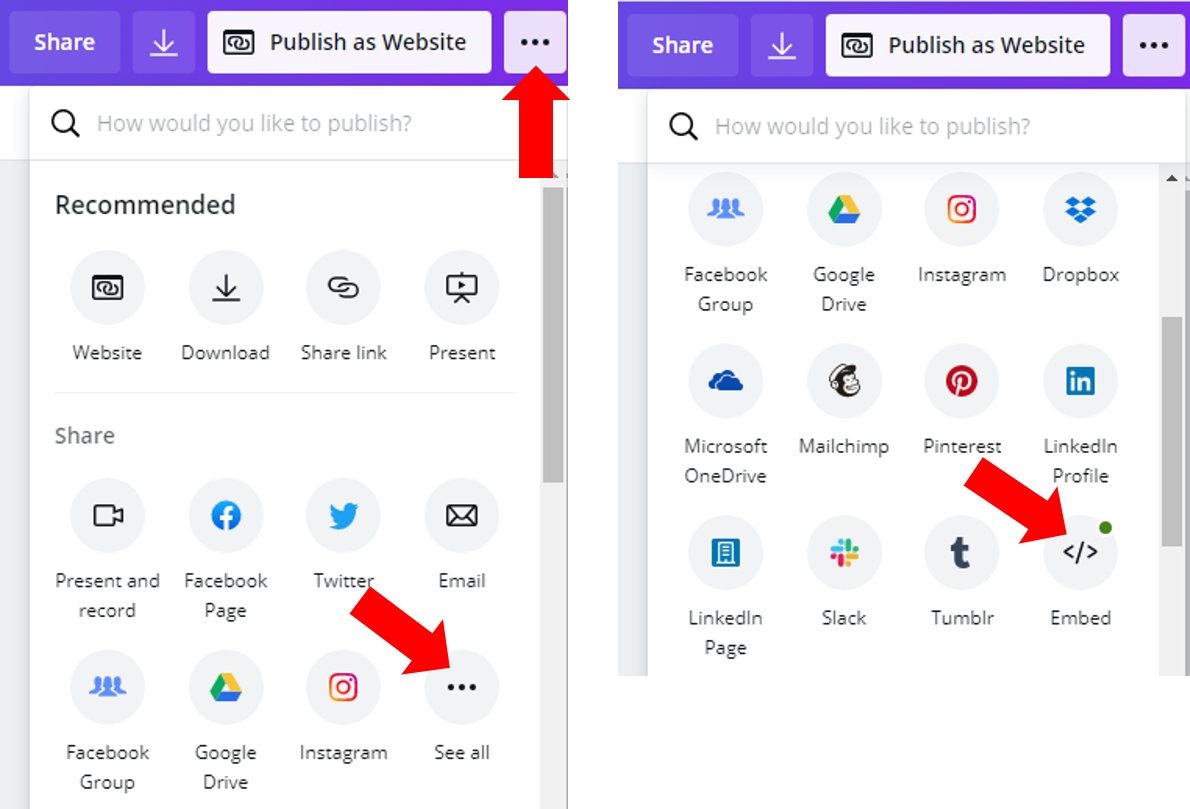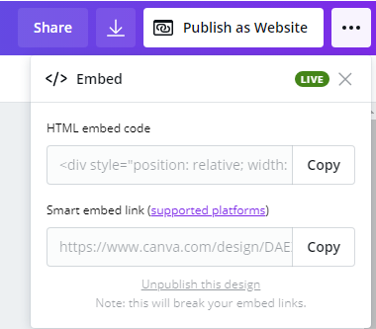 Please note that the EMBED design uses the Presentation Style.
Now it is time to link your new created link-in-bio to your social media or anywhere else.
6. Canva and VENNDY
As we said, the only downside with the Canva link-in-bio option is the long and ugly link.
Also, it only gives you a linkable list or landing page.
With VENNDY, you can use our Shopfront view, through which you link to an About page and a Links page, as well as a to an Insta'nt Shop Tab to match your Instagram feed or other social platforms.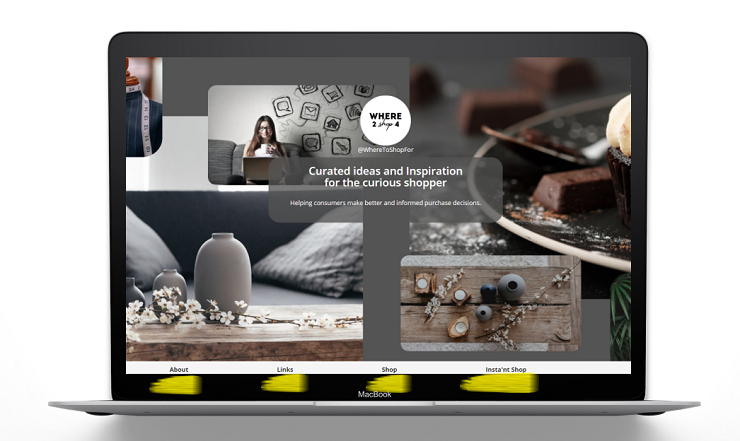 This feature has been released, and you can check it out on the VENNDY platform. Once you sign up, you will receive a few emails that will walk you through everything you need to know.
See you there!
Are you struggling to grow your Instagram? To help you out, we've created this freebie with 10 mistakes most people make. So let's make sure you're not one of them.
10 NON-OBVIOUS INSTAGRAM MISTAKES YOU'RE PROBABLY MAKING
We respect your privacy. Unsubscribe at any time.