Instagram may limit us to a single bio link, but there are ways around it.
Before we dive into the strategies we love, here are some questions for you:
As an online business owner, are you clear about what your goal is?
What do you want to achieve?
What is the customer journey you want to create?
What is the experience you want your customer to remember?
Your goal can be driving traffic to your business...
Adding another income stream...
Attract new potential clients...
Get more exposure!
Whatever your goal may be, it's essential to have the right strategy in place.
By that, we mean putting yourself in the shoes of your potential clients.
Nowadays, this means being on social media platforms, and especially on Instagram.
Why Should You Optimize Your Instagram Bio Link?
Have you been continually swapping out your Instagram bio link?
Here's why this might not be the best strategy to use:
If your feed on Instagram includes valuable information, that link -in-bio might be helpful months later.
If you keep changing the link you put in your Instagram profile, you're giving your content a short shelf-life because people who will check your posts in the future will probably reach the wrong place if they click the ever-changing link in bio.
Instagram may limit us to a single bio link, but there's a lot more we can do than you might think.
There are a handful of tools that allow you to get more out of your Instagram bio link. Here are some of the strategies:
Breaking down this one link in bio to a few links,
Creating a whole new landing page with your content and links,
Mimicking your Instagram feed with unlimited links to each post.
The Pros and Cons of Using a Link in Bio Tool
By using a link in bio tool, you have the opportunity to link to more than one destination.
For example, by using the linkin bio tool, you can link your website, a landing page, other social media platforms, and more.
The Benefits of Using Link in Bio Tools:
You can use as many links as you wish.
The link you put in bio is constant,
The link you put in bio is constant,

with links

which will never disappear.
Longer shelf lives for your content and campaigns.
Helping followers find other important information you share.
Better click-through and conversion rates.
More affiliate opportunities.
Better branding through landing pages and links.
The Downsides of Using a Link in Bio Tool:
You rely on an external service. If their platform is down, your links are down too.
You can't customize the page as much. For greater customization,

some of the tools

allow you to embed their content on your website, this way, your page and link will be the same, even if you switch to another tool.
Not using a link bio tool means that if you linked to a recipe or a home décor idea, you shared in one of your posts, and after a week you switched the link to another recipe, the person who wants to see the details for the previous post won't be able to find it since you switched the link.
Is the Swipe Up Feature Enough?
There are two ways to get the famous Instagram "Swipe Up" link feature in your Instagram:
The first, as you probably already know, is when you reach at least 10K followers.
But even then, since stories last only 24 hours and then get buried in the highlights, your link-in-bio is your chance for keeping a consistent flow, as you invite followers to check the linkable (or shoppable) gallery in your bio.
The second way to get the swipe up feature is by choosing to make your profile a shop on Instagram. In this case, you'll have the feature in your stories, which means you can link the story's image to products you sell.
Here's Instagram's explanation about the Swipe Up feature. You must be a checkout seller with a Shop Tab on your profile: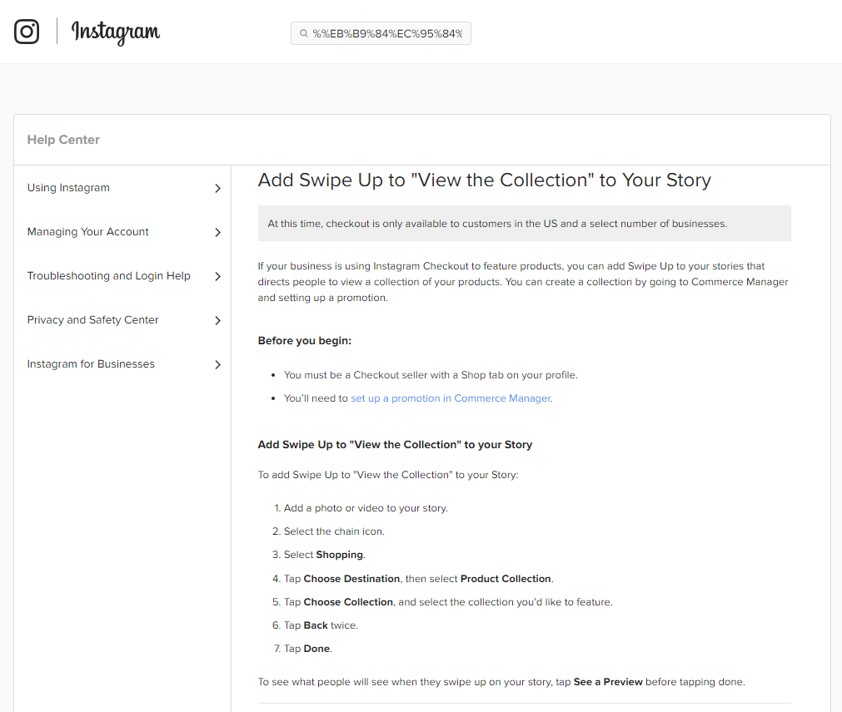 But what if you don't comply with these requirements or don't want to change your profile to a Shop setting?
maybe you are an influencer or a service provider and have no products of your own to sell.
Maybe, as Jane in our previous post, you are feeling like you are missing out, you are recommending products, and not making any money from them.
The link in bio feature lets you use only one link you want to promote. And as a business owner or an influencer/content creator, you may want to use the opportunity to get exposure to more than only one link.
What Are Your Options

for a link in bio tool

?
There is a growing number of tools explicitly made to extend your bio link's limitations. We will not mention them all but will mention 9 of the leading ones.
To help you out and make it easier to follow the alternatives out there, we've looked for examples used by active Instagram accounts.
You can decide which is the best for your needs based on the functionality and your goals.
A. Dedicated tools for the Instagram Link-in-Bio
The first group of Instagram link in profile tools, allow you to add links to either text blocks or images. These are not shoppable galleries because every text/image is linked to ONE SINGLE LINK outside of Instagram.
1. Linktr.ee
Linktr.ee is one of the most popular options. It allows you to create an unlimited number of links, choose from different themes, and get some analytics with the number of times your Linktr.ee has been viewed and clicked.
@theclearskinessentials uses both Linktr.ee in her link in bio and a Shop View linking to a few products from her store.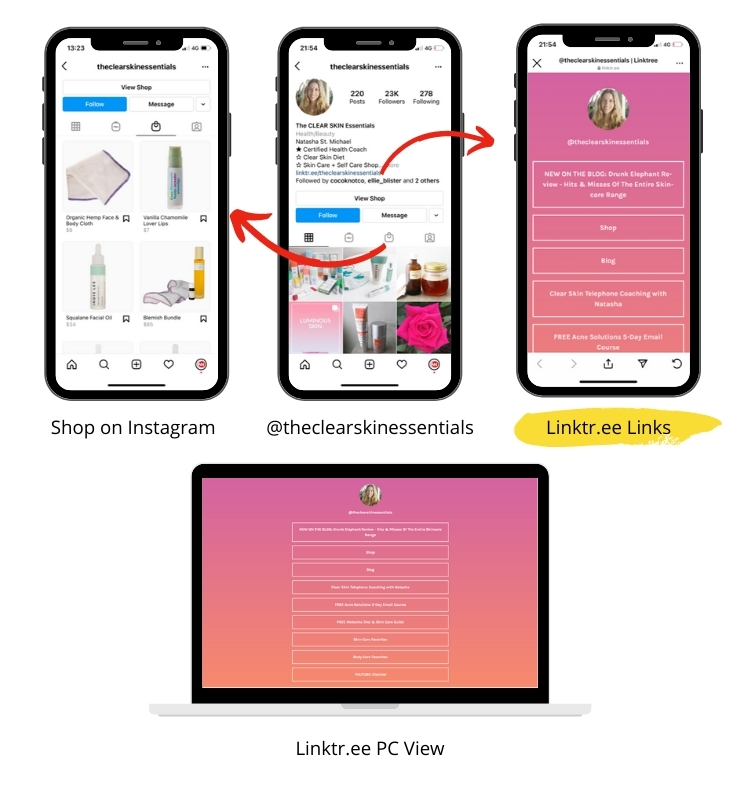 2. Lnk.bio
Lnk.bio is a simple Instagram bio link tool. It uses an elegant style with a list of images one beneath the other. It has a simple page layout featuring your profile picture with Instagram posts, image heading, and important links.
@careportal uses this tool to link each Instagram post to an article outside of the platform.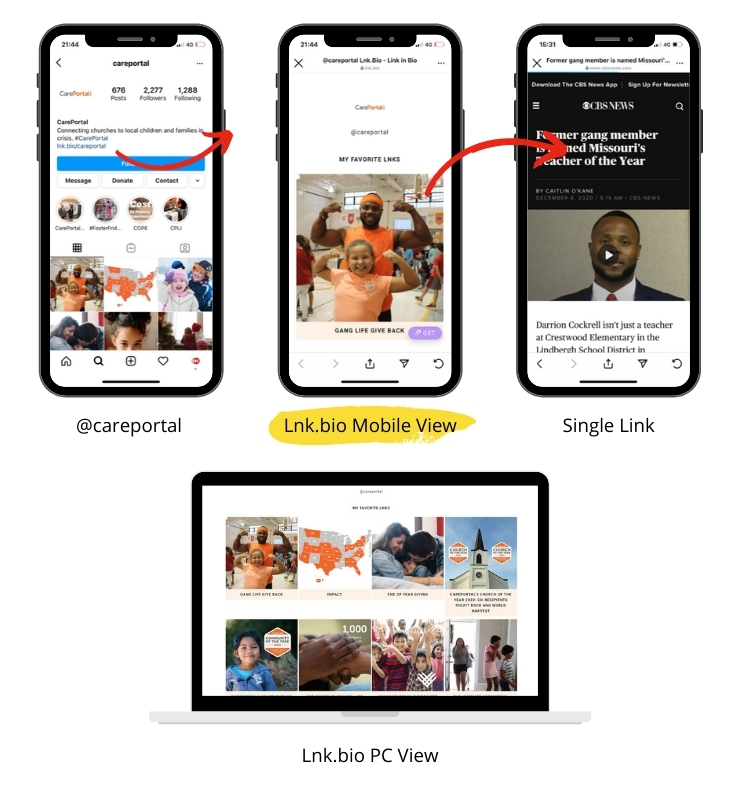 3. Linkin.bio
Linkin.bio by Later has started as a visual planner and scheduler for Instagram. This is how you can recreate your Instagram account on your landing page and add ONE SINGLE LINK to your page and up to 5 links to each individual post.
@iamwellandgood are using the tool to link each Instagram post to ONE article on their site.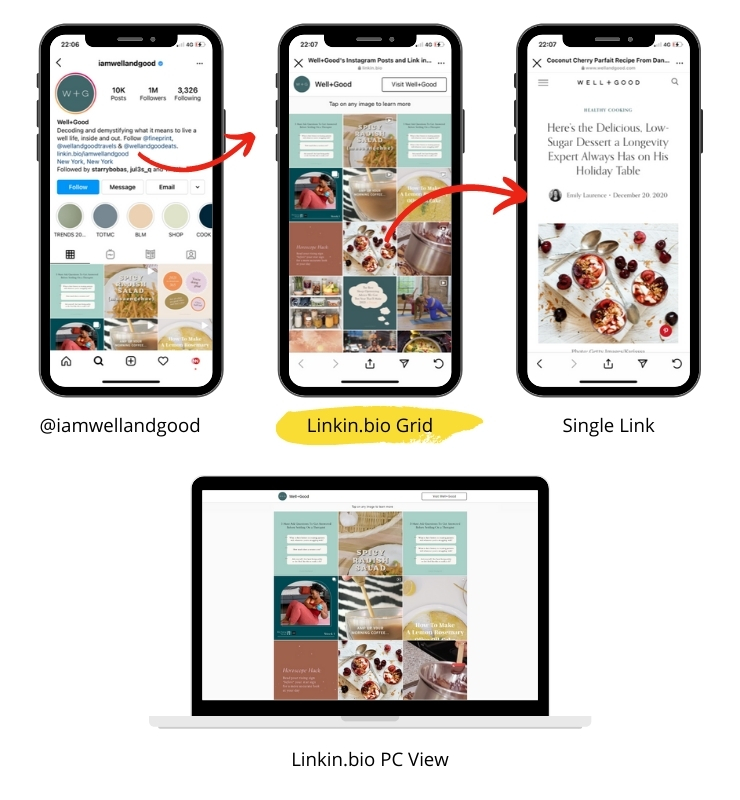 Link in Profile lets you add a URL to each Instagram post and track analytics for click-throughs. Each image is clickable straight to the link that was in the caption for that photo.
@muybuenocooking uses this tool to link each Instagram post to the related blog post/recipe on her blog.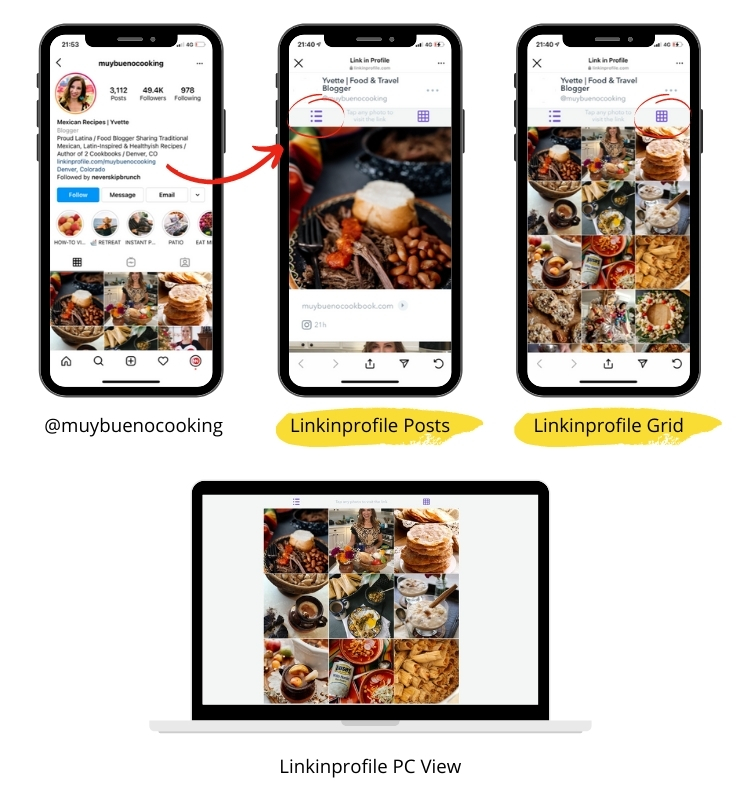 B. Social Media Landing Pages
If you have one specific offer, like a challenge, online course, or other services you offer, you can use any landing page out there. But there are a few landing pages, that were created for Instagram.
The following tools are relatively more customizable than those mentioned before, each with its unique features, pros, and cons.
5. Tap.bio
Tap.bio helps you personalize and brand the links that you want to share on your Instagram account. The paid version allows you to add up to 3 additional cards (swipe pages), each with different functionality (about, list of links, and clickable images with one link each).
@theconversationalist use the tool to brand their offering.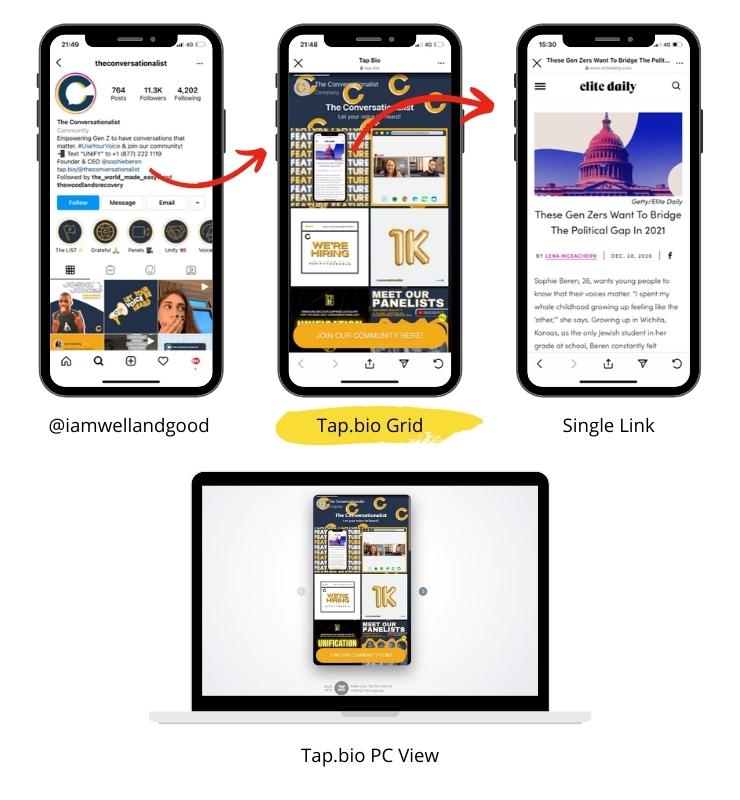 6. Milkshake
Milkshake is an app, where you can create a landing page straight on your mobile. They call it a mini-website and it works great with Instagram's UI, which is a big advantage. But it is also its biggest disadvantage as it is less practical for other platforms.
@tawny.austin uses the first page of her msha.ke (i.e Milkshake) profile for linking to all her platforms (blog, shop, podcast, social media links and important pages), the second page for introducing herself, and the last page for linking to promoted products and partnered brands.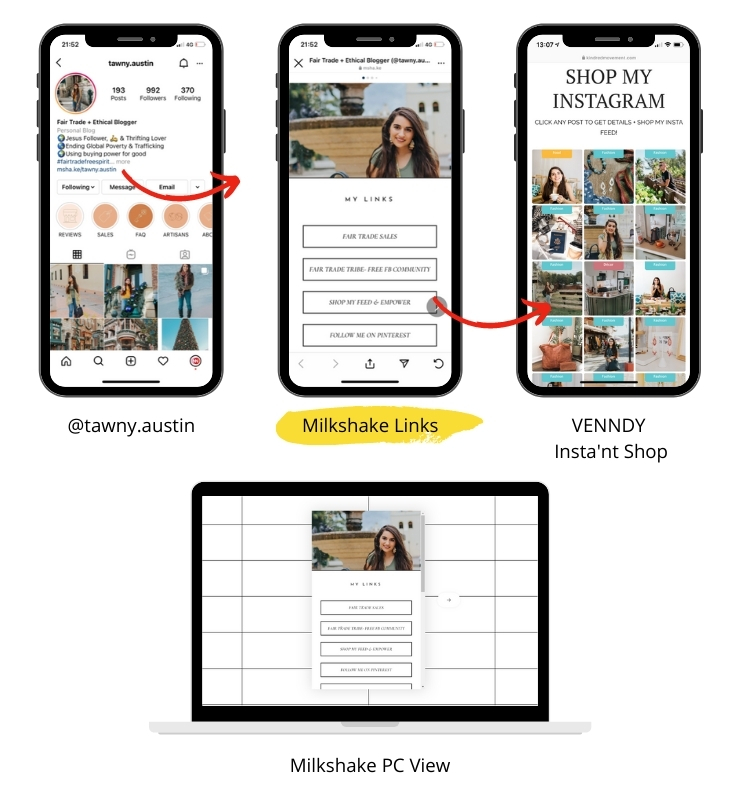 7. Taplink.cc
Taplink.cc allows you to create a dedicated landing page for your Instagram bio link with text blocks to an unlimited number of links, links to other social media accounts, and messaging platforms. For customization, you can add images, videos, and even background music.
@bebetter.beyou uses the tool as a landing page with lots of information about herself and what she sells, as well as testimonials and examples.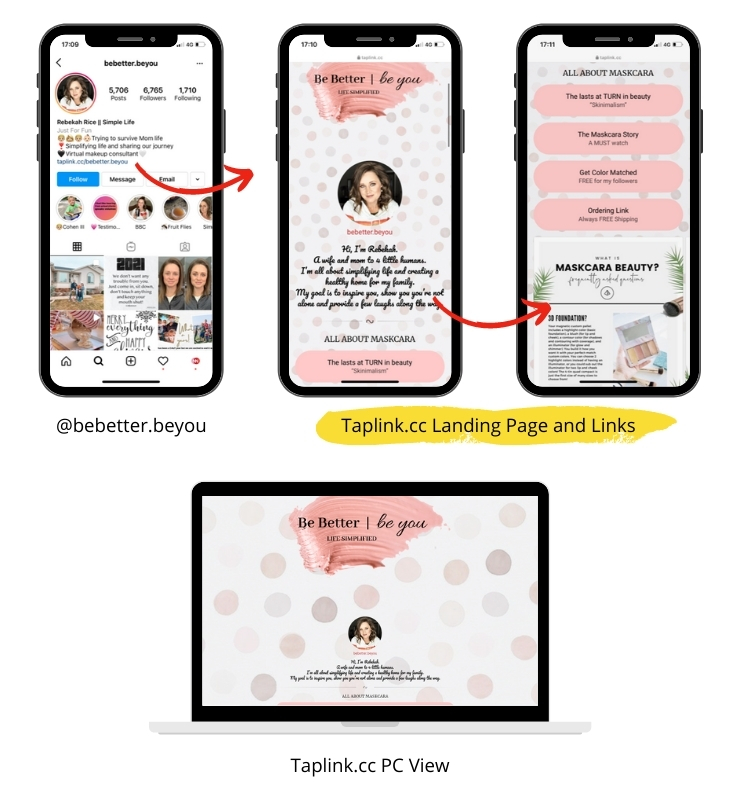 C. Shopping Tools
Unlike all the previous examples, the next two tools were not built specifically for Instagram. They are not a social media scheduler, a landing page, or an easy webpage builder for Instagram.
They both are shop platforms, aiming to change how online businesses, no matter their size, reach new customers quickly and efficiently.
Why Using a Shop View on Instagram is Important?
If you want to attract new potential clients to your business, adding a shoppable platform to your social media is one of the main things you can start doing to grow your income.
The easiest way to reach new clients is by sharing and monetizing content that your followers are already seeking.
The real advantage of doing so is using a visual tool with pictures to simplify social media monetization, especially Instagram.
Since Instagram is mainly a visually-based platform, visual content will amplify its main advantage.
In 2020, Instagram had over 1 billion monthly active users scrolling and using the platform, making it one of the most recommended social media platforms to reach new potential clients for growing your business.
8. E-Commerce Tools
Also, in 2020, Instagram has introduced e-commerce features.
On our blog post on How to Create an Online Shop With or Without a Website, we mentioned the e-commerce platforms that have partnered with Facebook/Instagram for linking their shops into these leading social networks.
Using Shopify, BigCommerce, and others, you can connect your catalogs to Instagram and leverage its social element for reaching new clients.
Going back to the example mentioned above, @theclearskinessentials, uses both Linktr.ee and a Shop View on Instagram.
You should note, however, that the Shop View does not show on PC. It is linked only on a mobile.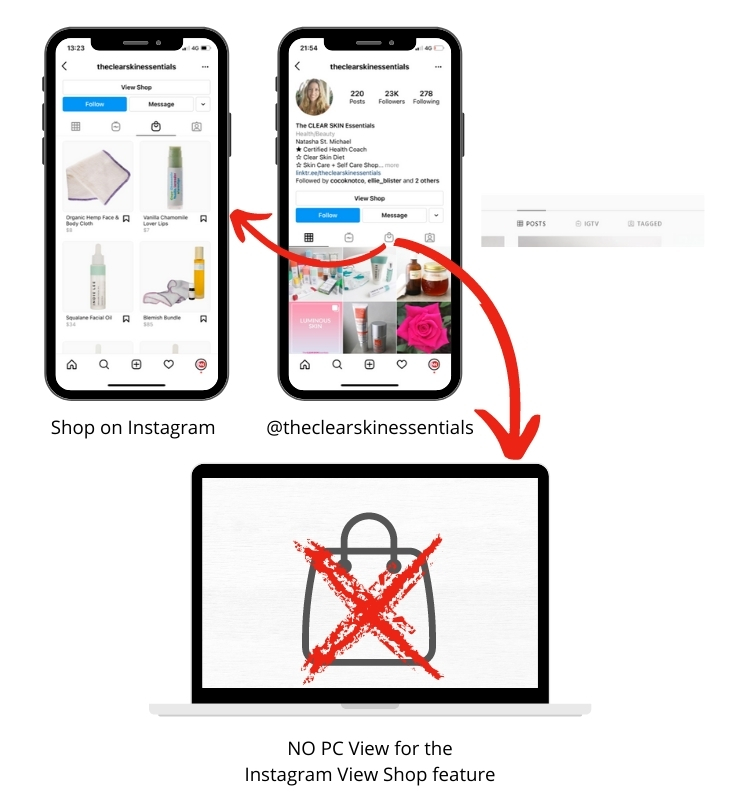 9. VENNDY
VENNDY is a little different than the other tools we've mentioned so far in that it's not primarily an Instagram tool. Rather, it's an e-commerce and lead generation platform.
Unlike other e-commerce platforms, VENNDY also helps you create the perfect landing pages for Instagram that can be used for other social platforms and websites.
There are two views you can share on your Instagram link in bio:
A Shop Tab which includes a landing page with unlimited links, an about page, and a shoppable gallery that mimics your feed; or
Only the shoppable gallery

, similar

the ones offered by Linkin.bio or Linkinprofile, only with as many links as you want for each individual Instagram post.
The biggest advantage of VENNDY, compared to other solutions, is its shoppable gallery.
With VENNDY you can link each related post of Instagram to as many links as you wish, with articles, recipes, products, and other landing pages.
While working with an external shop platform, and especially with a platform that is based on your Instagram feed, you have the perfect combination of leveraging the social factor on Instagram while your income generators of recommendations/products separated and "safe".
It's important to use the current platforms you are using, and especially Instagram as a promotion tool, a way to reach new clients, but you shouldn't base your whole shop/business on one platform only.
@WhereToShopFor uses the tool a shoppable gallery.The Insta'nt Shop (linked in the link in bio) is identical to the Instagram feed, only, it is clickable and directing followers to endless destinations.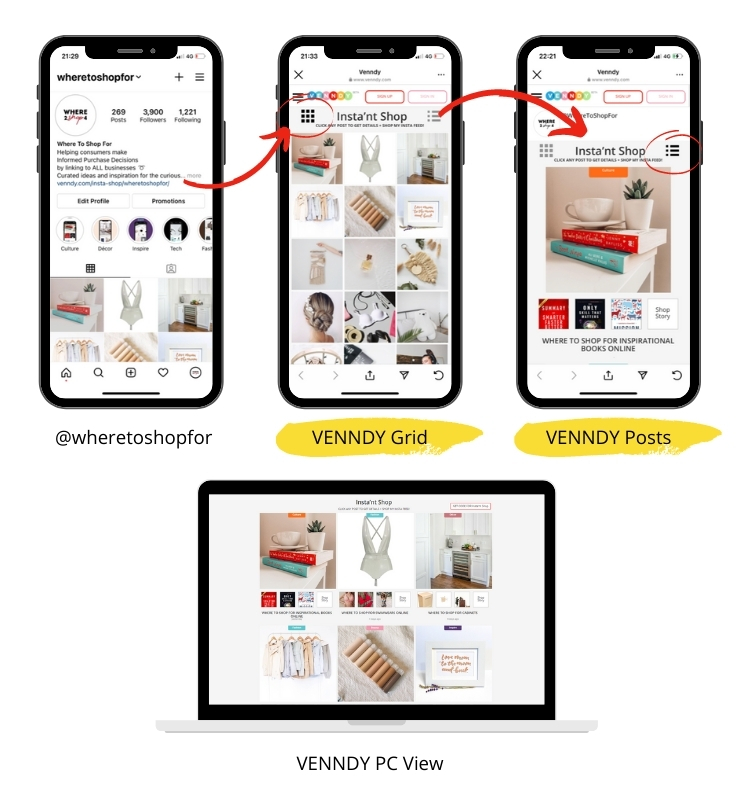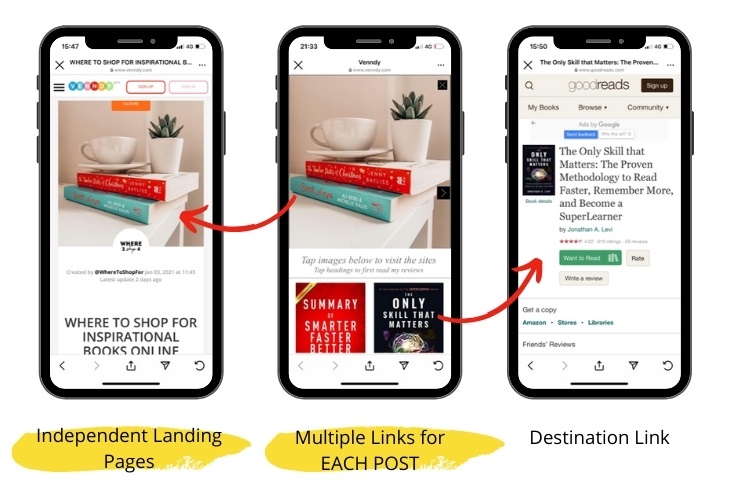 Why Should You Make Your Posts Shoppable?
Adding a call-to-action in the caption and in your stories is important, but it is not enough. There are two things that can help drive more click-throughs and conversions:
1. If your store is linked to your Instagram account, whenever you post an image related to your products, simply tag these items in the post.




2. Help anyone following the link in your bio to quickly find the product they had seen on your Instagram feed.
To do so, try linking to as similar as possible image with a collection that contains all the products the post is about. This makes it a better experience for potential buyers
How to monetize Instagram as an affiliate marketer?
VENNDY is more than a link-in-bio tool. One of its features is creating an Insta'nt Shop Gallery identical or similar to your feed, allowing you to help users easily shop for items you present in your Instagram post.
This is also your way as an online business owner (merchant, service provider, or content creator) to monetize your feed with affiliate marketing by promoting items you used and love.
If you are new to using Instagram for growing your business, to help you along, we have created a free guide with 10 non-obvious Instagram Mistakes You're Probably Making, and How to Fix Them.
GRAB OUR FREE HOW TO FIX 10 NON-OBVIOUS INSTAGRAM MISTAKES AND START USING AFFILIATE MARKETING ON INSTAGRAM
We respect your privacy. Unsubscribe at any time.
Final Thoughts
In 2020 we learned that the world can change very quickly.
That's why, you should never focus on only one platform for your business, and it's wise to have a backup plan.
People are always looking for the next big thing… so putting all your eggs in one basket - Instagram - may not turn to be the right approach.
As a business owner, a blogger, content creator, influencer, that sell your own products or others' products through affiliate marketing, you should make sure you build your own digital assets.
That's why, an external shoppable platform would be a good thing to focus on for growing and scaling your business.