Selling Straight from Your Instagram Account – How to Set Up an Instagram Shop?
Back in May 2020, Facebook announced that it is going to introduce the Facebook Shops feature. The feature's purpose was to help small businesses take their business online by creating a Facebook Shop for free in just a few minutes.
Facebook Shops make it easy for businesses to set up a single online store for customers to access on both Facebook and Instagram.
The Pros and Cons of Building a Facebook Shop
This feature is a big step for small businesses because they can easily, and for free, bring their business online and reach new customers. When everyone is on Facebook, it seems like the best option for you.
Here are the advantages and disadvantages of using a Facebook shop
The multitude of users

is the first and obvious advantage. With over 2.7 billion monthly active users as of the second quarter of 2020, Facebook is the biggest social network worldwide.




Store integration

is an option. If you have a store built on any of the approved e-commerce platforms (keep on reading to learn more), you can integrate your website with Facebook.




Build a shop without a website

. The latest changes announced by Facebook allow you to upload products, build collections and make some customization to your shop with a cover image and accent colours that showcase your brand.




Wider exposure.

People can easily find your shop on a business Facebook page or Instagram profile or discover it through stories or ads.




Direct contact with the consumers

is also a consideration. You can establish social conversations with clients straight on the platform using Facebook's business page and messages.




Getting business analysis and Insights

is another advantage, allowing you to monitor your posts' performance, customer engagements and plan for better strategies with your business insights.




Instagram Shop.

One of the main benefits of creating a Facebook Shop is that you also can connect it to the Instagram Shop feature on Instagram.
As you will see below, your way to creating a shop on Instagram starts with a shop on Facebook.
This is a new way to give your shop massive exposure and discover and purchase products you love through Instagram.
With Instagram adding the shop tab in the navigation bar, it is easier to access and get to know more brands and businesses on Instagram.
With all these benefits, there's also a risk if you only build your shop on Facebook.
Despite the new catalog lately introduced, still, your shop will be

limited in terms of design, look and feel

. It will be another Facebook shop.




Ownership is limited with a lack of flexibility

. If you want to add additional features like a referral program, an affiliate program, cashback, and promo code, you can't.




You will

not get organic traffic from Google

because it's difficult to do SEO on Facebook shops.




Limited organic reach on Facebook

. Due to its rapidly growing customer base, Facebook has introduced algorithms limiting your posts' organic reach to only some users. This means that you need to opt for paid advertising to get the best results in your business, requiring a budget and regular investments.

.


Dependency on Facebook.

With policies changing, little to no customer support, limited explore other marketing channels other than Facebook and Instagram, means you don't really own your store.



The Pros and Cons of Having a Shop on Instagram
Whether you're for or against using Facebook Shops for your business, you need one to feature a shop on Instagram! Let's explain.
People have been using live videos on Instagram to showcase products for years to get more exposure to their businesses.
In the past year, Instagram is going through a change in its algorithm and purpose. Now, Instagram is using its millions of users as potential clients for businesses on Instagram.
It became accessible to shop on Instagram, especially since the new shop tab option allows consumers to easily search for services and shops in all niches as a user.
Instagram made it easier to shop for products in real-time by letting brands and sellers tag products from their Facebook Shop or catalog.
Then, products are shown at the bottom of the video so people can easily tap to learn more and purchase.
As a business owner, it is also slightly easier to grow your business on Instagram with all new shop features.
By opening a shop on Instagram, you can add the shop feature to your business Instagram profile, tag products in your posts, get the "Swipe Up" feature in Instagram stories, even if you don't have more than 10K followers.
Also, you get much more insights about your shop and about the engagement it's receiving.
Instagram's 850+ million user base is expected to grow to 988 million users by 2023!
As Instagram is growing, the platform is working towards growing its potential as an e-commerce platform and less of only a social media platform.
Instagram's goal is to give businesses the exposure to reach clients and eventually help them create their shop on Instagram and help them buy the products through Instagram, even without exiting the platform.
Since Instagram is continuing to grow massively every year and to maximize its e-commerce shopping potential, now is the time to make sure you have your account and growth strategy in place.
With all the advantages, three things should be noted:
Merely having a shop is not enough.

It is essential to treat your digital marketing plan holistically. By this, we mean putting all the rest of the pieces in place to ensure the results you aim for.




It is not a solution for everyone.

The shop option works only for Instagrammers who have a qualified shop on Facebook and have products to sell. If, for example, you are a service provider, content creator, or even an Etsy seller, Instagram shops will not work for you.




It's a Catch-22.

Instagram and Facebook are doing their best to encourage users (businesses and consumers) to stay on the platforms. Your purpose, however, might be the opposite. To build your own brand and monetize your content, you may want to use Instagram to direct people off the platform.


If you are new to using Instagram for growing your business, to help you along, we have created a free guide with 10 non-obvious Instagram Mistakes You're Probably Making, and How to Fix Them.
GRAB OUR FREE HOW TO FIX 10 NON-OBVIOUS INSTAGRAM MISTAKES AND START USING AFFILIATE MARKETING ON INSTAGRAM
We respect your privacy. Unsubscribe at any time.
How to start making money online on Instagram without having a website?
Having an Instagram Shop is very important if you want to reach new customers, increase sales, and grow your business.
Basically, having an Instagram shop makes it easier for shoppers to access your business and for you to get the right exposure for your products and increase sales.
With an Instagram shop, you can promote your products directly using the special features Instagram shops have: the swipe up feature, product tagging in your feed posts, stories, and more!
How to start an Instagram Shop for your business?
First, you'll need to start a Facebook Shop. There are two options to create a Facebook Shop: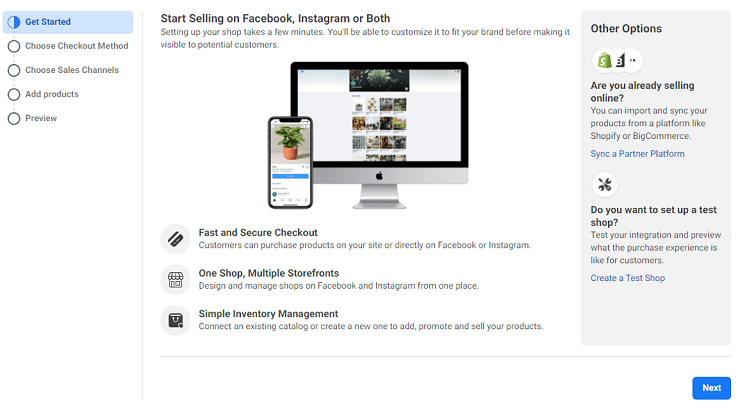 The First, Create a Facebook Shop Using the Catalog Manager
Depending on the country your business is based in, you might be able to manage your orders and take payments on Facebook directly. To sell products directly on Facebook platforms, you'll need to set up a catalog through the Catalog Manager. Here's how you can get started with catalogs.
The Second, Sync Your E-commerce Website to Your Facebook Page
If you are using a platform like Shopify, for example, you can easily sync your entire product catalog with Facebook. This means that you won't need to manually set up a catalog with product listings but rather import it completely from another pre-approved e-commerce platform. This will save you time and work, especially if you have many products and inventory management!
Also, by using this way, inventory tracking is automatic, and you can manage all of your Facebook Shop orders from your partner platform dashboard.
A Partner Platform is one of the approved e-commerce platforms by Facebook. Shopify, BigCommerce, ChannelAdvisor, CommerceHub, Feedonomics, CedCommerce, adMixt, DataCaciques, Quip, or Zentail are all platforms you can connect your account with Facebook. If your partner platform isn't listed here, you can still contact them to ask if they have a Facebook integration.
When you set up an Instagram Shop, you will need to connect and sync the next three things - Partner Platform Store, Facebook Page/Shop, an Instagram business profile.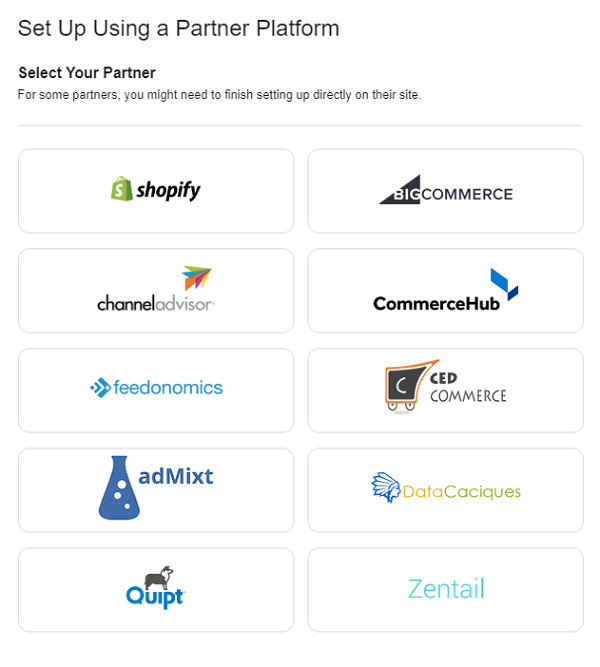 Exactly How to Start an Instagram Shop?
Before you start your Instagram Shop, you need to meet all of Instagram's requirements.
For starters, you can't use an Instagram Shop to sell services, only eligible physical goods.
Also, your business needs to comply with Instagram's commerce policies.
Your business must also be located in a country that is a Supported Market withaccess to the feature. Here's the list of the countries with access to the Instagram Shop feature.
If you have access to this feature, you will see a little shopping bag feature on the top right corner of the business's feed pictures.

Step 1: Have an Instagram Business Account
To make sure if you have an Instagram business account or not, head to Settings → Account → Switch Account Type → Switch to Business Account.
You'll need to link your Instagram business profile to your Facebook business page, which requires you to have a Facebook page for your business.
You can easily connect the pages by going to Setting → Account → Linked Accounts.
Step 2: Add your Product Catalog to your Facebook Shop
Instagram Shops pulls information from your Facebook Shop. So once your Instagram account is connected to your Facebook page, you need to create a Facebook Shop and sync your product catalog to it.
A Facebook catalog is basically like a container that holds your business information, with inventory, product titles, images, prices, descriptions, and more.
Your catalog is your direct link to your customers by providing them a positive buyer experience.
The main benefit of having a catalog to sell your products directly on Facebook platforms is that a catalog lets you manage orders, shipping, payouts, customer service, and more in Commerce Manager.
You can also use the Facebook Catalogs manager to add and edit product images, ensure that the products you list are available for purchase.
You can also tag your products in Facebook posts to boot sales, which creates a buyer-friendly experience for your customers.
There are two ways to connect a product catalog to your Instagram Business Account:

Lets' say you have a Shopify store.
Connect your Shopify store with your Facebook page, click the plus icon next to "Sales Channel" in the left-hand sidebar within the Shopify dashboard.
Next, click the "Sales Channels" option in your Shopify dashboard, and then click the plus icon to add Facebook as a new sales channel.
Once you're done, click "Connect Account" to connect Shopify with your Facebook account.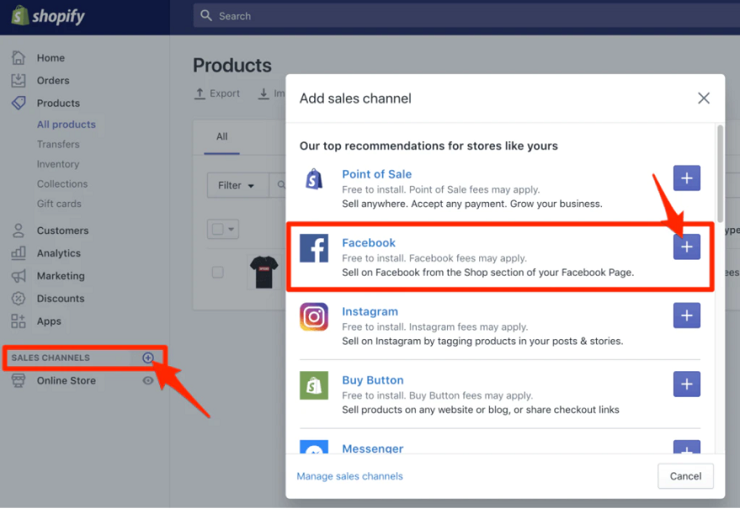 Then, Facebook will ask you to allow Shopify to "manage your pages and publish as Pages you manage" - click "OK" to continue.
Use the drop-down menu and select the Facebook page that you want to create a Facebook shop for. Then click "Connect Page."
Now, you'll be asked to read and agree to Facebook's Seller's Terms and Policies. Be sure to read everything before clicking "Accept Terms."
It can take up to 48 hours for Facebook to review and approve (or not approve) your store.
Once Facebook has approved your store, you'll need to sign up for one of Shopify's plans and click "Enable" before you can start selling through your Facebook store.
Step 3: Choose Products You Want to Show on Facebook
Now it's time to set up your Facebook shop!
All you need to do to add products to your shop is click the "Products" tab in your Shopify dashboard and select the products you want to add.
Then, click "Actions" to open the action menu and click "Make Products Available."
Step 4: Set Up The Instagram Shop
Finally, let's set up your Instagram Shop!
To do so, you need to set up Instagram as a sales channel in Shopify precisely as you did with your Facebook shop.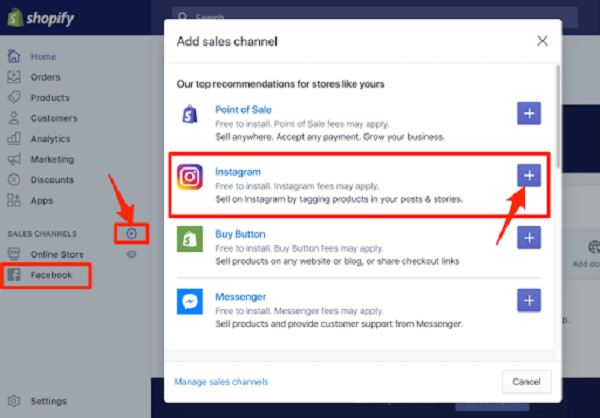 Once you've completed this step, you'll need to wait for your account to be approved.
By this step, you should make sure that you:
Converted your Instagram profile to a business profile

.

Linked your Instagram business profile to your Facebook page

.

Linked your Shopify store with your Facebook page

.

Created a Facebook Shop and synced your products to it

.

Linked your Shopify store with your Instagram account

.
Once you have a Facebook shop linked to your Instagram profile, you don't need to worry because Instagram will automatically review your account before allowing you to create an Instagram shop. The review process takes a few days, and if it takes longer, Instagram will note you.
Step 5: Confirm Which Facebook Shop to Add to Instagram
Once your account gets approved, you will need to confirm which Facebook Shop you want to connect to your Instagram profile.
To do so, click "Get Started" on the notification you received from Instagram or head to your Instagram's business account settings as shown here: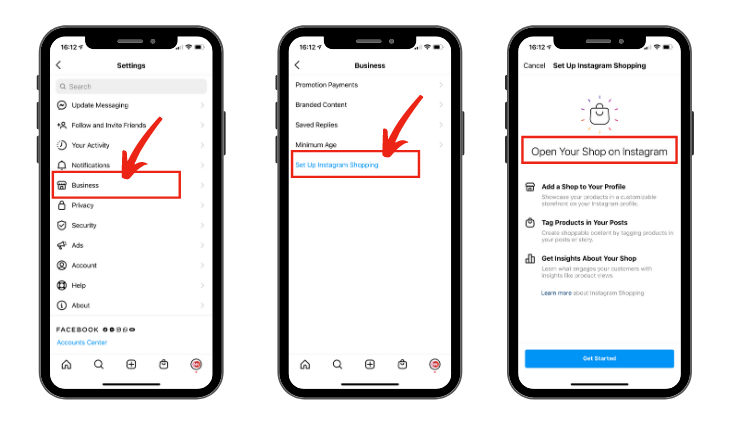 Now, all you need to do is to select the Facebook Shop you want to use for your Instagram profile, and all of your products are synced across Instagram, your Facebook Shop, and your Shopify store as well!
Next, don't forget to tag your products in your Instagram posts and invite followers to check them out.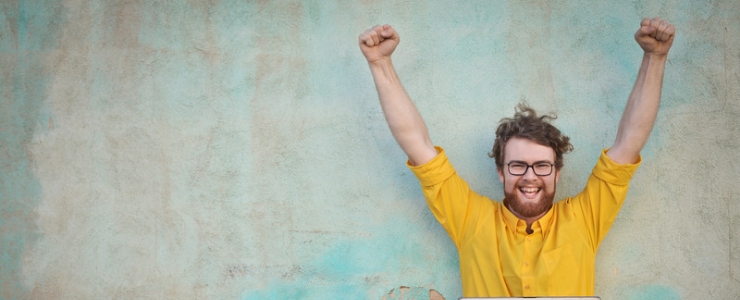 Now, what if you don't have your own products to sell?
Or, maybe, you know how difficult it is to grow traffic to a brand new website?
What if you are a content creators or non-seller online business owner?
Check out this blog post to learn more about how you too can leverage these unprecedented times and use e-commerce to grow your business on Instagram or how to sell products on Instagram.
Looking to learn more about affiliate marketing? To help you along, we have created a free "Affiliate Marketing Strategy Cheat Sheet" according to which you can build your "Affiliate Marketing Strategy Map."
GRAB OUR FREE AFFILIATE MARKETING STRATEGY CHEAT SHEET AND BUILD YOUR AFFILIATE MARKETING STRATEGY MAP
We respect your privacy. Unsubscribe at any time.