Etsy is an excellent platform for business owners, art and craft sellers, and almost any creative business out there.
By starting an Etsy shop, the seller can enjoy the traffic and exposure they get through the Etsy marketplace, which has made it easier for anyone to take their business online and reach more clients.
But the exposure you get on Etsy isn't always enough. Like every online business owner, part of running your business will always be to bring on more traffic, more clients, and more sales.
Being on social media is one way to increase brand awareness and grow traffic to your Etsy shop. It can help you reach new clients that don't usually shop on Etsy or are less familiar with the platform.
How Can You Drive More Traffic to Your Etsy Shop?
Promote your shop and products on Pinterest.
Be active on Instagram.
Promote your products on other social media platforms that your ideal customers are using.
Here are four examples of successful Etsy shop owners using Instagram to grow brand awareness and drive traffic to their Etsy shops.
The first is Emma, an artist and the owner of The Wall Flower Fox shop on Etsy.
Emma makes beautiful, dried flower wreaths, art pieces, and gifts.
Her Instagram feed includes picks into her life and every day while showing the "behind the scenes" of her products.
The second is Gabriella, an artist who makes beautiful handmade leaf bags made from plant-based leather and waterproof fabrics.
The bags she makes are unique, and she sells them on the Leafling Bags Etsy shop.
Her successful Instagram profile is eye-catching and has helped her to grow a nice following of over 20K followers.
Gabriella is selling bags, wallets, journals, and embroidered collars.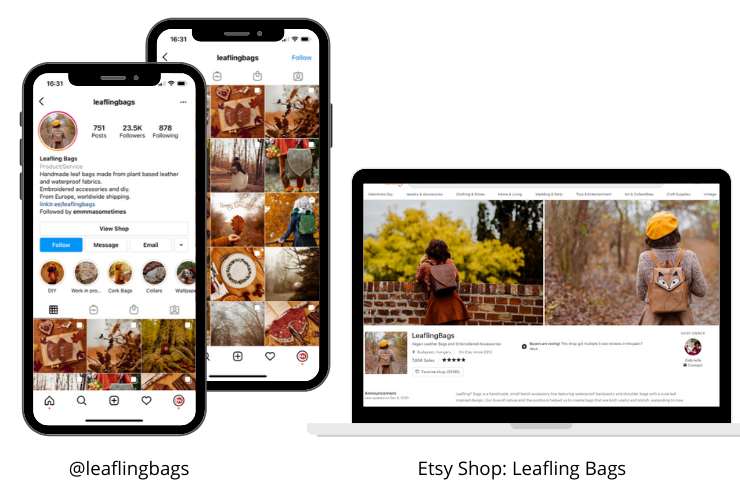 Here are some of the items she sells in her shop:
The third is Drew, a Canadian wood artist who sells beautiful wooden art pieces on her Etsy shop Cedar And Craft Co.
She presents her collection of wooden shelves, key/coat/wine racks, and wood mosaics onInstagram in a beautiful feed, where you can see Drew and the products she is selling.
On her Instagram, Drew shares the process of creation, the behind the scenes, and letting her followers get to know her by sharing her everyday life.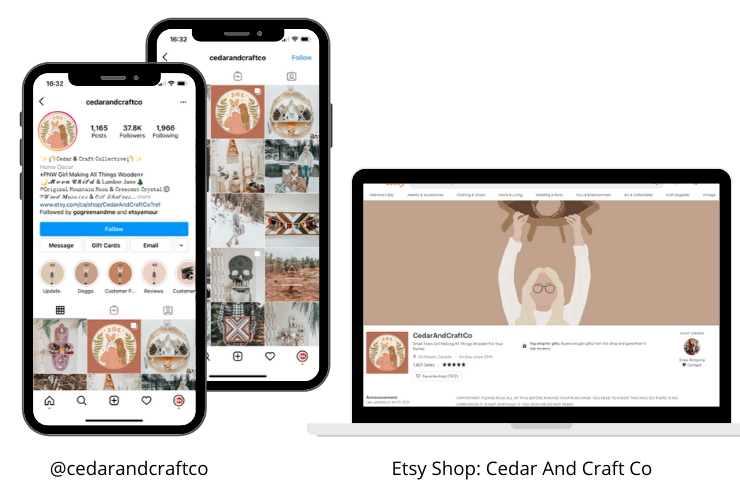 Here are some of the items she sells in her shop:
Last but not least is Hannah, a designer, and owner of the WillowAndCompany shop on Etsy.
Hanna sells various items in her shop, from beautifully designed apparel, unique bibles, mugs, signs, and more unique pieces.
On Hanna's Instagram, she shares her life and interests. She is promoting her products along with sharing her day to day.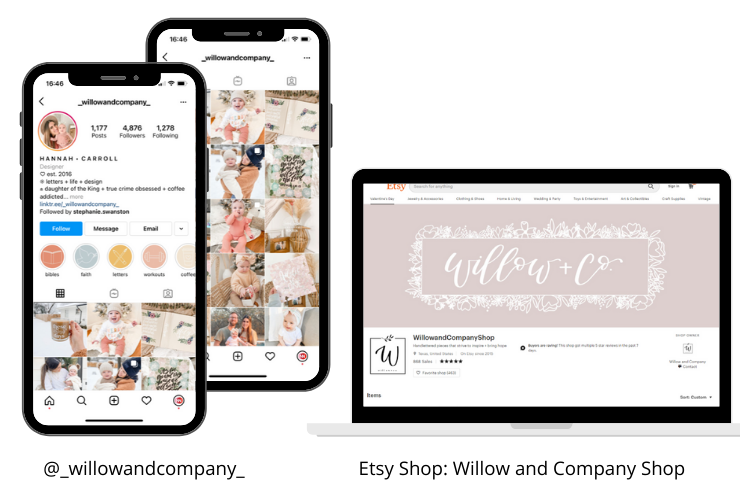 Here are some of the items she sells on her shop:
What do all these 4 creators have in common?
Here are just a few strategies that work well when using Instagram:
Posting very high quality and a unique collection of pictures that build an aesthetic combination presenting the products they make and sell.
Sharing in the highlights and stories the process of designing and producing the items.
Giving sneak peeks at new products.
"Showing up" regularly with glimpses into their lives.
Putting themselves in the "front" of their brand.
Why Should You Use Instagram as an Etsy Seller?
Many Etsy shop owners use Instagram, but there are a few reasons why some (as in the examples shared above) get better results than others. Let us explain.
Having a shop on the Etsy marketplace will help you get more exposure to your products and shop, but it is up to you to work on growing traffic to your shop also through other channels.
As Instagram is becoming more oriented towards e-commerce, it is certainly a channel worth utilizing to your advantage.
Using the mass of users who are daily active on Instagram is an opportunity to connect with people who might be interested in what you have to sell.
Here are some of the benefits of using Instagram:
Connect –

Being active on

social media

can help to

get to know your customers and to build a personal relationship with your clients without only "selling" or being pushy.
Create bonding -

By having a social media account for your business, you can give your clients a chance to get to know the person behind the products you are selling. And this is something that can naturally increase

the traffic to

your Etsy shop

and

traffic.
Build trust -

By building a connection with your followers, you are building trust with your potential clients, and eventually, your sales will increase.
How to Use Instagram Marketing Strategies for Etsy Stores
By being active on Instagram, there are a few things you can do to grow your business:
Taking Beautiful Pictures -

T

he first thing people see when visiting your

Instagram

profile, is your feed.Having a beautifully crafted, cohesive, and representative feed, will attract more people who eventually might be curious about these products, and click through to check your shop to find more. This is why taking good, high-quality pictures for your Instagram feed is

essential

.
Letting your followers know you -

P

eople aren't only interested in the finished product. They are happy to learn more about

who's

behind it, their passion, what they represent, what they do, and how they do it. Let people know you by sharing your interests, everyday life,

through images as well as the caption, stories, hashtags, and going live

.
Showing The Behind The Scenes -

S

how your customers the "behind the scenes" part of your brand. You can show the process of making the products, packaging the orders, or even telling the story of why you're

doing

what you're doing. This strategy won't only be fun for you or for your customers, it will also make your customers feel closer and

one day might make an order

.
Naturally promote your products -

N

o one likes feeling rushed

. Just letting people know about your shop and what you sell, might be enough at first. Later on, when they will need something from what you offer, they might remember to come back to buy.
Be consistent -

S

ocial media algorithms work on consistency. And beyond the algorithm, you should always aim to be in people's heads. To remind them about yourself, about your shop and the products you sell. This means that it's most recommended to show up daily on Instagram stories, even post a picture every day or every other day, and be very active on the platform.
Talk about your shop -

Your main goal is to drive traffic to your shop and grow your business. It's important to talk about your shop, and the products you are currently creating or selling.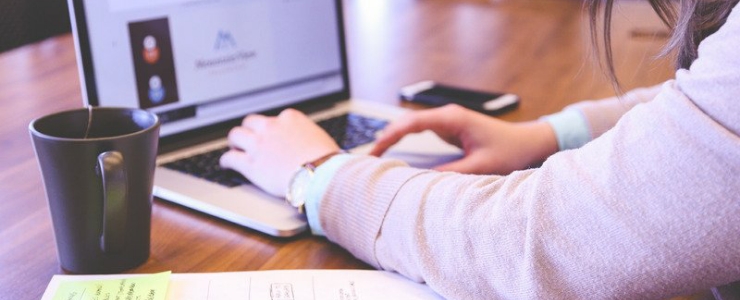 How to Use Instagram to Make Extra Money as an Etsy Affiliate
There are two ways to make money online with the Etsy affiliate program.
First as a seller, and the second is as an affiliate marketer.
If you are a seller on Etsy, here's what you can do:
Use your Instagram link

-

in

-

bio to link to your shop or a specific page.
Use the link in bio to link to a shoppable gallery. Create a linkable and shoppable gallery that matches your Instagram feed, with each post linked to a collection of your items on Etsy.
Invite your customers to recommend your products, and if they are content creators or have their own business, they can create their own linkable and shoppable gallery with links to your products.
As a seller, you can also invite happy customers, especially influencers and content creators, to sell your products and earn commission as an affiliate whenever they make a sale through their channels!
Keep on reading to learn more about how to become an Etsy affiliate. You can let your customers and followers know that they can quickly sign up to the Etsy affiliate program, recommend your products, and earn a small commission for every sale they make!
This is a great strategy to increase sales and build your own "empire" - a community that works together.
Make sure to let your affiliates know that they can also create a shoppable gallery and promote the products they like from your shop in their gallery.
If you are not a seller but love items on Etsy:
If you don't have an Etsy shop, you can easily become an Etsy affiliate in just a few minutes. Being an Etsy affiliate is perfect for bloggers, content creators, influencers, or anyone who wants to become an affiliate marketer for content monetization.
As an Affiliate Marketer, you can promote products you love on Etsy, even if you don't have an Etsy shop.
The obvious way to promote items from Etsy is if you have a blog or your own website.
But even if you don't, you can still promote through your Instagram account by using a service that gives you the tools for creating a landing page AND a shoppable gallery.
To make it work it is best if you make it easy for your followers to buy products you promote and recommend through direct linking to the item page on the shop.
That's where VENNDY can help. You can easily create a shoppable gallery on VENNDY that matches your Instagram feed and link to all of the products that you are promoting.
Also, don't forget to have your Instagram link-in-bio linked to the shoppable gallery and let your followers know about it in the captions or stories, so that they can easily access your recommendations using your links.
There are pros and cons for every affiliate program, but one of the best pros of being an Etsy affiliate is that you can find almost any product on Etsy from various niches as well.
On Etsy, you can find many niches such as:
Travel accessories
Home decor pieces
Gift ideas
Small business tools
Craft tools
Jewelry
Unique fashion pieces
And so much more!
How to Join The Etsy Affiliate Program?
The Etsy affiliate program is run by AWIN, which is one of the leading affiliate networks.
If you don't know what an affiliate network is, it's a network that has many affiliate programs that are being run through that network.
Instead of having an individual affiliate program, they join the network, and the affiliate network does the work for them.
There is no difference between joining an independent affiliate program or a network, but you can find lots of affiliate programs related to your niche inside the affiliate network.
Check out our Affiliate Marketing Guides if it's all new for you.
Just before we get into some actionable steps,
If you are new to affiliate marketing, tohelp you along, we have created a free "Affiliate Marketing Strategy Cheat Sheet" according to which you can build your "Affiliate Marketing StrategyMap."
GRAB OUR FREE AFFILIATE MARKETING STRATEGY CHEAT SHEET AND BUILD YOUR AFFILIATE MARKETING STRATEGY MAP
We respect your privacy. Unsubscribe at any time.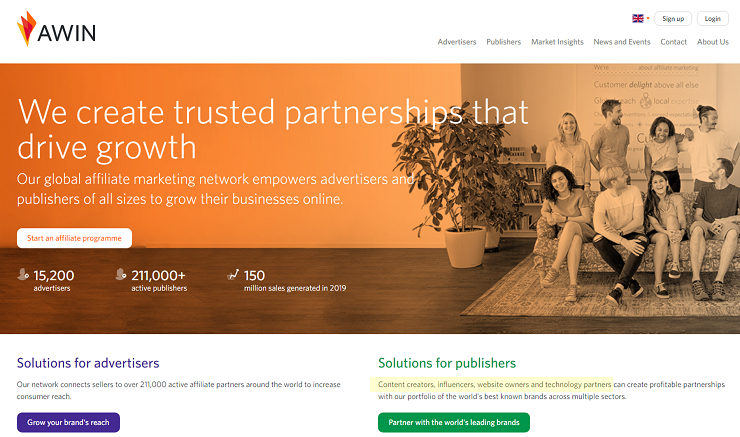 AWIN is one of the most popular and favorite among affiliates. Why?
The application process is straightforward.
A

WIN

also accepts partners that don't have a blog or a website. A well-designed Instagram feed with quality content can do.
You can also have a high-quality content Instagram account (even with a small following) to join the affiliate network. Note, however, that some programs within AWIN require having your website/blog.
They have a Chrome extension that helps you quickly generate your designated links, which makes things much easier.
Their reporting system is easy to navigate and reliable.
To join the AWIN affiliate network, all you need to do is click the Sign-Up button in AWIN and fill in your information about yourself and your brand (whether you have a blog/website/social media platform).
As mentioned, when you sign up, you will need to pay a $5 admission fee, which will be repaid back to you after the first commission you will earn through AWIN.
How to Get Accepted to The Etsy Affiliate Program?
Once you apply to the Etsy affiliate program, you'll need to write a little bit about yourself, your brand and explains why and how you can help them reach more people and sell.
Here are a few tips:
Explain the reasons why they should accept you -

T

his means that if you have a large following on your social media accounts or your blog/website, that's a plus.

Talk about your brand -

A

"brand" doesn't necessarily mean a brand as a business; it means your niche on Instagram or YouTube if you are an influencer, or your blog's niche if you are a blogger. Your brand should be related to the things Etsy offers. Share with Etsy what

kind of

content

do share

, why it is relevant to Etsy, and why choosing you will help them grow their business.
Share your

promotional channels and

strategies - Etsy or any other affiliate program is interested in what you can do for them.

Mention the channels through which you are planning to promote their items and your strategy

. Do you do email marketing? Do you have a large newsletter? What kind of content works best

for you?

Do your holiday gift guides do well? Let them know!
How can a VENNDY Insta'nt Shop help you?
The VENNDY Insta'nt Shop is a tool for the Instagram link-in-bio that allows you to create a landing page identical to your feed. The difference of this lead generation service is that it's clickable and linked to as many URLs as you want.
Here's an example of an Instagram account where many products from Etsy are linked through the link in bio.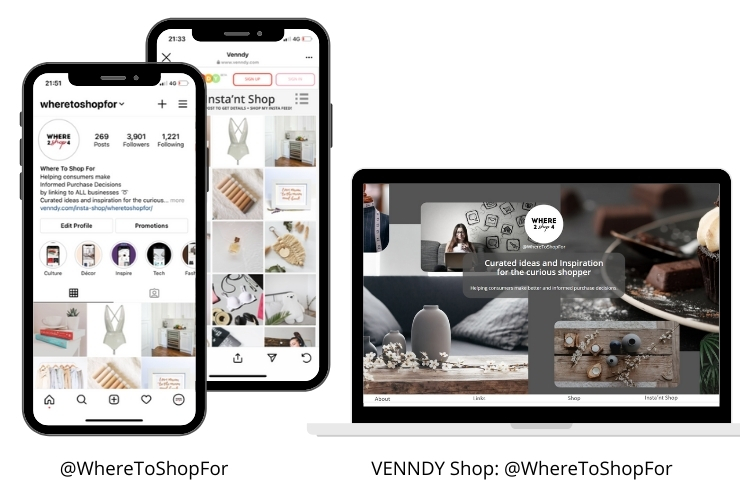 WhereToShopFor is promoting on Instagram multiple affiliate products(including Etsy) by using a shoppable gallery and making the whole look and vibe of their feed very easy to find and buy.
Creating your Insta'nt shop is easy. Simply use the VENNDY LinkCollector, a Chrome extension, to upload the products you wish to recommend, and gather them into collections (called Stories) that are linked to an identical image as in your Instagram feed.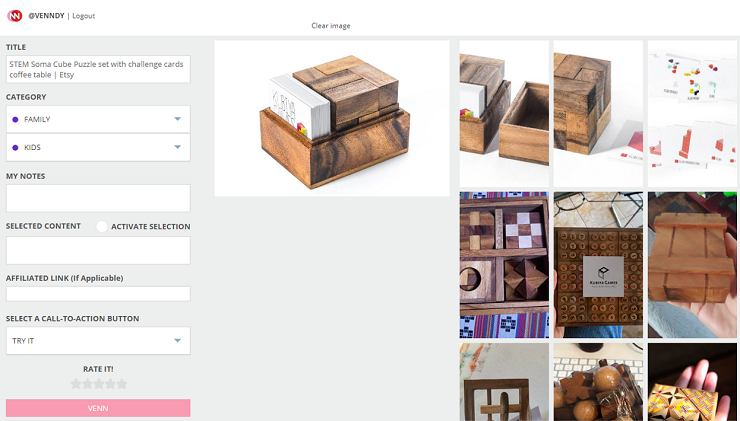 Using the AWIN Chrome extension, you can add your unique affiliate link to each item – making it easy than ever to build collections in minutes.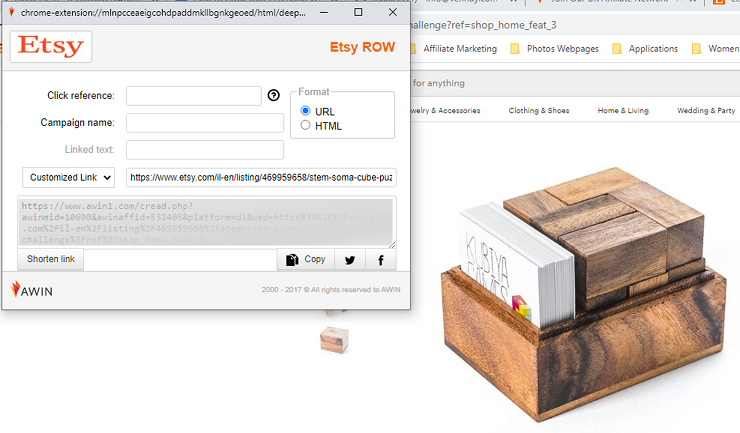 Ready to give it a try?
Sign-up to VENNDY today and learn more.