What is Instagram Shop?
Instagram Shop is a feature that allows businesses on Instagram to integrate their product catalog into their accounts. You can list, promote, and sell your products to users by creating product pages and tagging your products in your posts and Stories.
Benefits of Using Instagram Shop
You can provide your customers with trouble-free access to your products and make it easy for your business to grow in an online marketplace.
How to Setup An Instagram Shop?
Step 1: Confirm Eligibility
If your business checks all of these, you are eligible and able to setup Instagram Shopping.
ü

Your business is located in a

supported eligible product

market

.
ü Your business has an eligible product

ü

Your business owns a website domain in which you intend to sell from
Step 2: Switch to a Business Account
Once you have a business account, you can add in relevant business information like store hours, business address, phone number and a link to your website.
(Insert image)
Step 3: Connect To a Facebook Page
You can't create an Instagram Shop without a Facebook Page, so hopefully you have one already. If not, check these steps below:
Go to your business's Instagram profile

Select "Edit Profile"

Under the "Public Business Information" section, select "Page"
Choose a Facebook Page from your Pages that you'd like to connect
If you do not have a Facebook Page select "Create a New Facebook Page"
Note: Facebook Page Shop is not required, only a Facebook Page.
Step 4: Upload Your Product Catalog
You will be uploading your products in this part. You've got different options here.
The Catalog Manager, a "do it yourself" method found within Facebook Business Manager and the E-Commerce Platform Partner, an integration through one of our certified ecommerce platform partners like Shopify or BigCommerce.

Once you connect a product catalog to your Instagram and have products in your catalog, submit your account for review by following these steps. These reviews usually take a couple of days, but sometimes it might run longer.
Go to your business's Instagram profile
Select

"Settings"

Sign up for shopping
Follow the steps to submit your account for review.
Visit

"Shopping"

in your

"Settings"

at any time to check your status.
Step 6: Turn on Instagram Shopping
Once your account is approved, it's time to connect your product catalog with your Instagram Shop.
Go to your business's Instagram profile
Select "Settings"
Tap "Business" then tap "Shopping"
Select the "Product Catalog" you want to connect to your account.
Select "Done"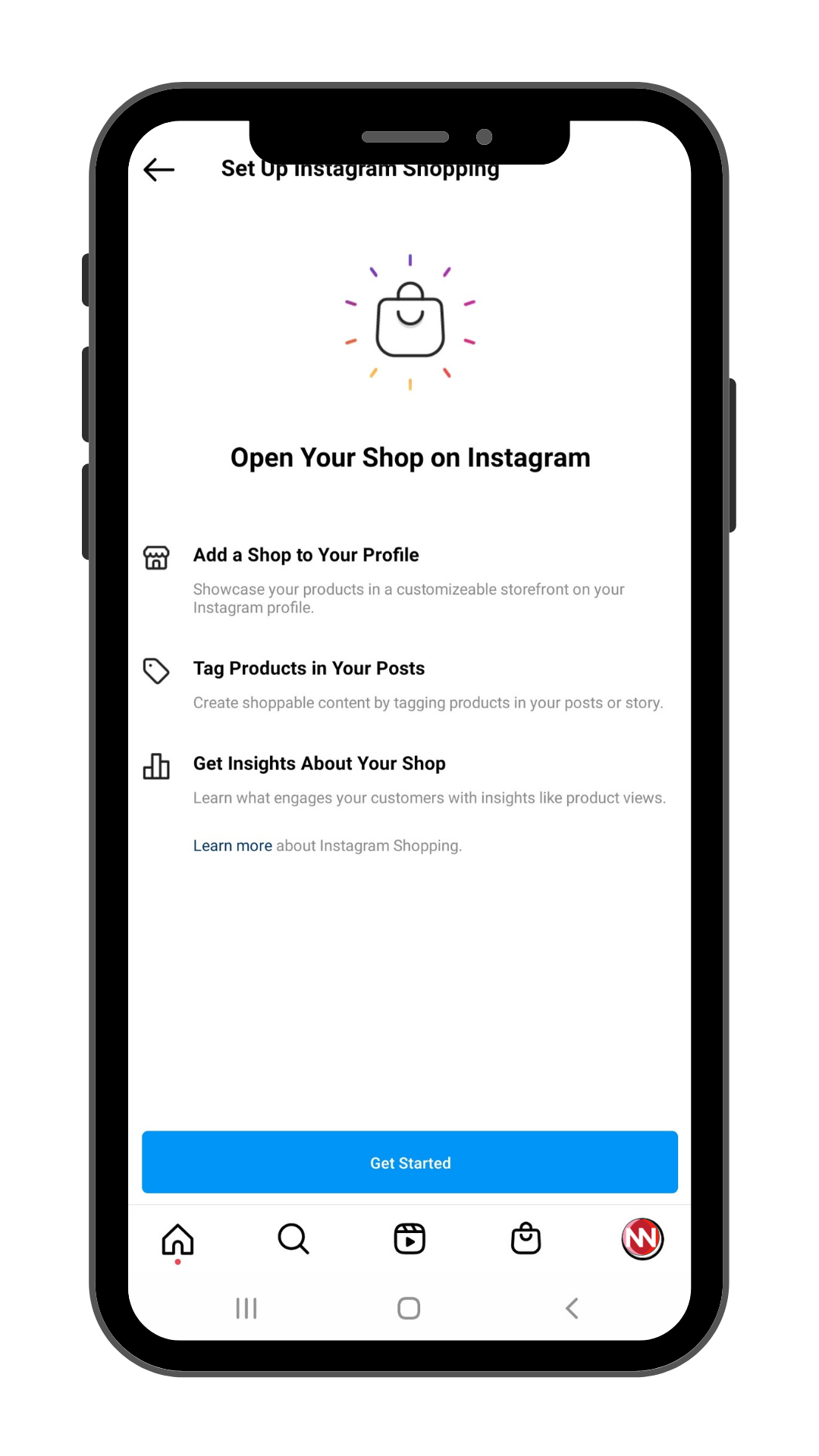 Step 7: Start Tagging!
Now that you've enabled Shopping you can use product tags to highlight products in your photos and videos across Feed and Stories.
How To Create Instagram Shopping Posts
To tag products within an Instagram post, start by uploading a photo as you normally would and follow the below instructions before posting:
Tap

"Add Photo"

Add a caption
Tap on

"Tag Products"

Tap on photo
Search for product
Select product
Tap

"Done"

Tap

"Share"
You can tag up to five products per post — that goes for video posts, too! Shoppable Instagram posts will feature a shopping bag icon in the bottom left corner. All the products your account has tagged will appear on your profile under the Shopping tab.
How To Create Instagram Shopping Stories
Right after you have chosen an image for your story follow the below instructions before posting:
Tap the sticker icon in the top right corner
Select the product sticker from the sticker button
Select the product from your catalog that you want to feature
Move the product sticker to where you would like it to appear on your story
Change the text color of the product sticker by tapping the sticker
Share your story
How to Promote Your Products on Instagram Shop
The best way to promote your products on Instagram Shop is to create unique, engaging posts customers will want to tap on!
· Create Shoppable Posts
The easiest way to promote your products is to create a shoppable post. A customer will know a post is shoppable if a shopping bag icon appears in the bottom-left corner of your photo. When someone taps on the photo, the product's tag will appear showing the name of the product and a price, prompting them to click on it and take them to your online store.
Create Reels
While Instagram Reels are relatively new to the platform overall, businesses can take advantage of the popularity of them to share fun and engaging videos that showcase products. Just like a shoppable post or story, business owners can tag products within a Reel to make it easy for customers to shop directly from it.
Take Advantage of Hashtags
When creating any shoppable post, don't forget to use hashtags! Using general hashtags like #shoplocal, #shopsmall, #shoponline, and #shopinstagram can help your products appear in hashtag searches, as well as in the Shop and Explore pages.
Run Instagram Shopping Ads
To help reach new customers, make an Instagram Shopping Ad! By using Instagram's Ads Manager—which is run through Facebook Ads—you can create two kinds of advertisements: ads with product tags and checkout or ads with product tags only. Creating shoppable ads is a perfect way to find new potential consumers and re-engage shoppers who have shown interest in your products.
Shopping on Instagram is only going to grow in popularity, and it's just a matter of time until features like Instagram Checkout is global. So there's no time like the present to dive in and find out how much it can benefit your business, as part of your overall social media strategy. Let the digital shopping sprees begin!
If you are using Instagram to reach new customers, we hope you know how to leverage this platform's advantages. To help you out, we've created this freebie with 10 mistakes most people make. So let's make sure you're not one of them.
10 NON-OBVIOUS INSTAGRAM MISTAKES YOU'RE PROBABLY MAKING
We respect your privacy. Unsubscribe at any time.