Today we are going to talk about selling on marketplaces and choosing the right platform for your needs.
But before we begin, let's start with a short story;
Christine is a home decor and DIY blogger. Her true passion is designing spaces, decorating houses, DIYing her furniture/home decor pieces, painting, and more.
Usually, Christine buys all of her craft supplies online. She already knows where to buy affordable, high-quality products for her projects.
The only thing she doesn't know how to do is how to monetize her successful Instagram account except for doing sponsored posts on her profile.
Christine's friend Shirley is a wellness blogger and wellbeing coach. She conducts stress management and mindfulness workshops and offers one on one sessions online.
The thing is that Shirley finds it very hard to reach new clients, even though her following on Instagram grows daily.
She works for hours on her Instagram account and on reaching new potential clients, but she finds it very difficult to turn them into clients.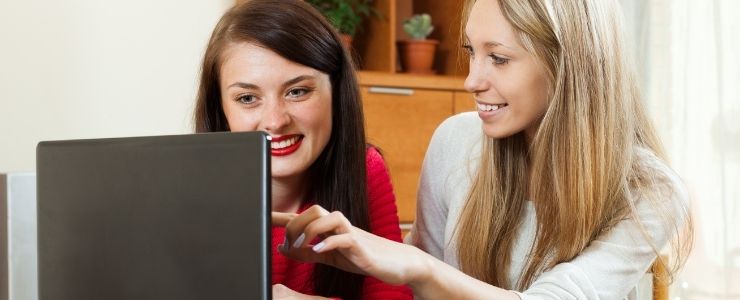 What is Multichannel Retail?
If you've never heard of multichannel retail, it's a strategy of selling products through various sales channels (such as e-commerce websites, marketplaces, comparison shopping engines, social media platforms, and other online platforms).
Multichannel sellers maximize revenue by helping customers to find them while also improving customer's loyalty.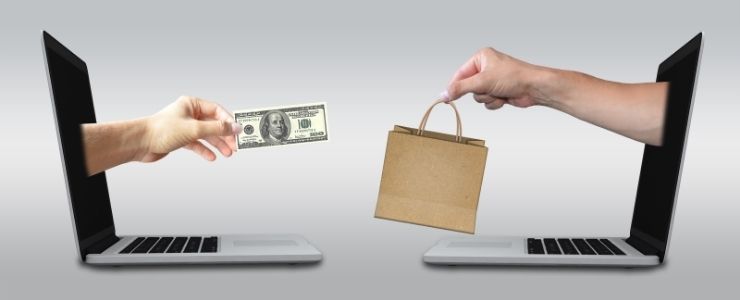 Should You Sell on Marketplaces?
Marketplaces are a good place for sellers to get more eyes on their products and reach new potential customers.
On a marketplace products or services are provided by multiple third-party vendors, whereas transactions are processed by the marketplace operator.
As a seller this helps you focus on your business without the need to deal with running the e-commerce website.
It means you're taking advantage of the traffic and value created by the many – if you can't beat 'em, join 'em!
But as a content creator or a service provider, since you don't have your own products to sell, marketplaces are not an obvious choice.
Popular Marketplaces For Sellers:
As of 2020, online marketplaces account for the largest share of online purchases worldwide.
In terms of traffic, Amazon is leading the global ranking of online retail websites. However, in terms of gross merchandise value (GMV), Amazon ranks third behind Chinese competitors Taobao and Tmall. Both platforms are operated by the Alibaba Group, the leading online commerce provider in Asia.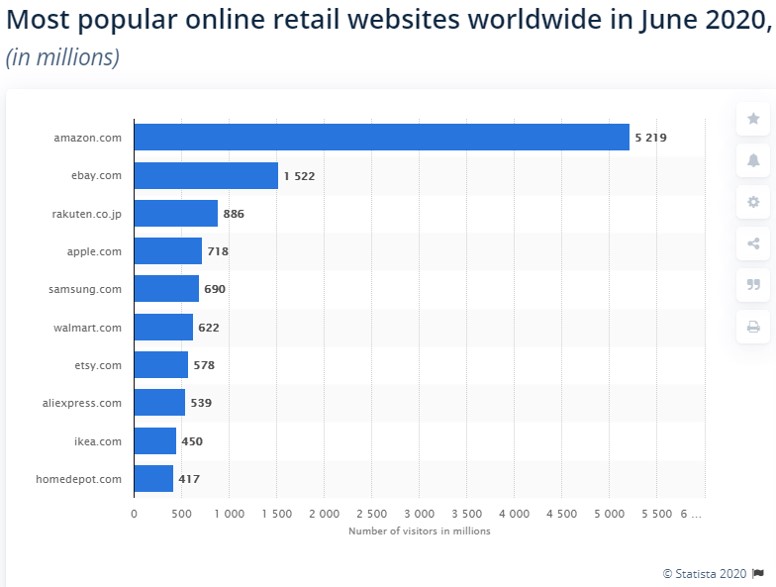 In the USA, the most popular marketplaces online are Amazon, eBay, and Etsy.
Walmart is also a growing marketplace, and more recently, with the addition of the Instagram Shop feature, Instagram is coming close to becoming an online marketplace as well. We will discuss that in a feature article, so follow up (coming soon).
Small businesses and sellers use one of the methods we discussed in a previous post, selling their merchandise or others with dropshipping.
If you're new to the dropshipping model, you can read more on our blog post How to Create an Online Shop Without a Website.
Just by selling on, say eBay, products bought, say at AliExpress, shop owners earn money based on price deviation.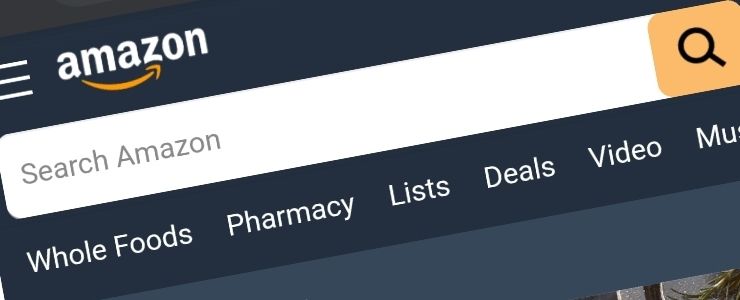 Amazon Marketplace

The Amazon Marketplace is an e-commerce platform owned and operated by Amazon, which is the biggest marketplace in the U.S and one of the biggest marketplaces worldwide.

Amazon.com had almost 5.22 billion visitors in June 2020, a 50% market share of all retail sales in the US, and approximately 14% globally. (source).

More than 2.5 million sellers are currently actively selling on Amazon Marketplace, out of which roughly 25,000 sellers with more than $1 million in sales and 200,000 sellers with more than $100,000 in sales. (source)

You can sell on Amazon Marketplace new or used products on a fixed-price alongside Amazon's regular offerings as a seller.

To join Amazon, you will need to choose a selling plan. There are two plans - an Individual Plan that costs $0.99 per unit sold (up to 40 units sold per month) and a Professional Plan that costs $39.99 per month no matter how many items you sell.

Before you join, you must know that there are a few additional fees that you will need to pay as a seller on Amazon.

Amazon charges a referral fee for each item sold. The amount will depend on the product category; most referral fees are between 8% to 15% of the sale.

Another fee you will need to pay is the Fulfillment fees if you choose to use Amazon's FBA services, covering the cost to ship your orders.

You may incur some additional selling expenses when using Amazon and other optional programs designed to help you increase sales.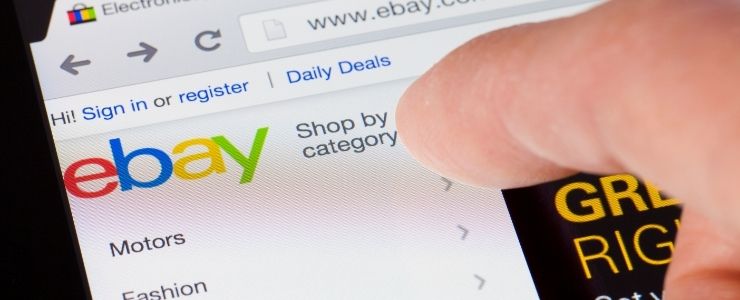 eBay Marketplace
eBay is an American multinational e-commerce marketplace that offers consumer-to-consumer and business-to-consumer sales through its website.
eBay is a multibillion-dollar business with operations in about 32 countries as of 2019. As of June 2020, eBay.com had 1.52 billion visits. On eBay, people and businesses buy and sell a wide variety of products and services globally.
eBay has 180+ million active buyers a year, and it is one of the largest marketplaces globally online.
eBay has two options for selling on their platform. The first option is having a monthly subscription plan for your store.
There is a Starter plan, Basic plan, Premium plan, and an Anchor plan. Using those plans, you can list as many listings as the plan you chose allows.
The other option is becoming a seller without a plan based on which you can list products for sale and pay (for over 200 products) a $0.35 insertion/listing fee for each product.
You will also pay an average 10% fee for every sale you make, whether you have the selling plan or not. For more details, you can check this and this article.
So, having a selling plan might be a better and cheaper option to sell on eBay for the long term.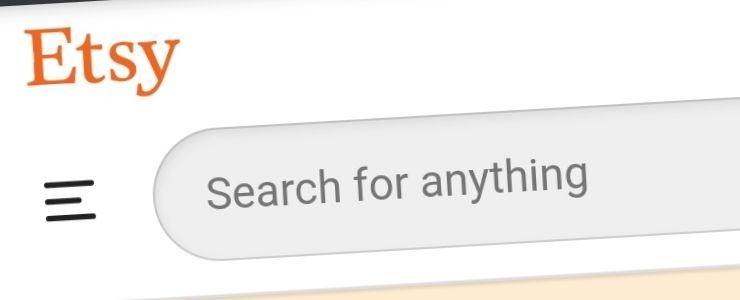 Etsy Marketplace
Etsy is a worldwide marketplace that focuses on local and global trade of handmade and vintage products.
The sellers on Etsy are usually small businesses or private sellers that offer millions of products and services through Etsy.
As of today, Etsy is one of the biggest marketplaces worldwide. In 2019 they reached 45.7 million active buyers.
A few statistics about Etsy - most of the sellers are women, usually academic women in their 20s/30s. Most of the products sold on Etsy cost between $15-$20.
Etsy sellers are craft lovers selling their artwork as a hobby and professional artists that mainly make money from selling their work through Etsy.
To join Etsy as a seller, you will be charged a 20 cents sign-up fee, and you will also be charged a 3.5% fee from every sale.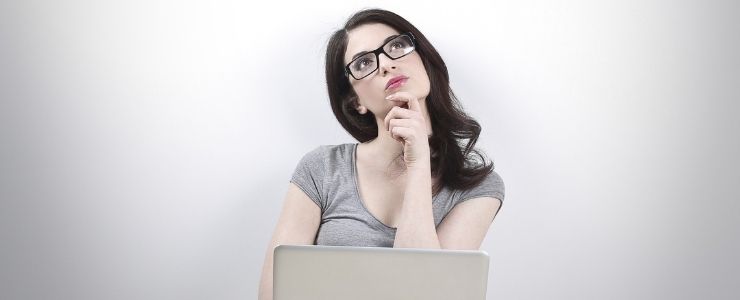 Which Marketplace Should You Choose? Amazon? eBay? Etsy?
| | | | | |
| --- | --- | --- | --- | --- |
| | Amazon For Individuals | Amazon For Businesses | eBay | Etsy |
| Sign up Fee | Free | Free | Free | Free |
| Monthly Subscription Fee | $0 | $39.99 | $4.95 to $299.95 | |
| Per Item Listing Fee | $0.99 | | $0.35/ free if you have a selling plan | $0.20 |
| Selling Fee | 6%-45% from each sale, depends on the category | 6%-45% from each sale, depends on the category | An average 10% from every sale | 5% from every sale |
Here are the pros & cons of each marketplace:
Amazon
Amazon - Pros:
Variety:

There are more than 2.5 million sellers on Amazon, which means there is a huge variety of sellers and products for customers to choose from.
Size:

Customers are more likely to buy from Amazon since it's one of the world's biggest marketplaces (and the US's biggest marketplace).
Trust:

Because of its strong reputation, people trust Amazon and are most likely to buy from their marketplace.
Fulfillment by Amazon (FBA)

:

You can join the FBA program, an excellent solution for sellers who don't have a warehouse or don't want to deal with warehouse operations and associated costs. With FBA, Amazon will take care of your storage, stock, shipping, returns, customer service, etc.
Amazon - Cons:
High Competition:

Since Amazon is one of the biggest marketplaces online, there's always a battle for the lowest price positioning, which is hard to win. This includes even competing with Amazon if it chooses to compete with your product.
Branding is limited on Amazon:

When you create a shop on Amazon, you can't customize it and brand it as your own. Your shop will look like almost any other shop on Amazon.
Customers are loyal to Amazon and not to the sellers:

It is hard to grow a loyal customer base on Amazon since the buyers aren't really familiar with the seller they buy from. As far as they know, they buy from Amazon, and not from a specific seller.
eBay
eBay - Pros:
Global Reach:

eBay is one of the largest marketplaces in the world. By selling on eBay, you can reach a large audience (eBay reaches

over 180+ million buyers

a year).
Ease of use:

The interface is intuitive and you can set up your store in hours. You can sell anything you want on eBay, from clothes to furniture, artwork - anything you can think of. There is an audience for everything on eBay.
You can contact your buyers

:

You have the option to contact the buyer after they made a purchase, to build a connection with them, and to let them know about your official online shop and refer them to it.
eBay - Cons:
Varying Fees:

The main con about eBay is that depending on the add-ons to your product and the means you choose to sell them, eBay's fees can go up to $250 in some cases!If your profit margins are low, you might even not benefit from selling certain products.
Policy Restrictions:

While selling on eBay, you are "playing" under their rules. This means that you won't have a lot of control over certain aspects of your business, like your return policy, for example. As a seller on eBay, you will need to operate within eBay's terms on specific things like returns, refunds, customer service, and more.
Competitions in Some Niches:

Some niches do very well on eBay, but it also means that the competition there is tough. So before you start selling on eBay, you should do some research and see the competition in your niche and how competitive it might get.
Targeted buyer base:

Etsy has a massive customer base that is just looking for unique and special products to buy. With a large customer base of

more than 45 million users

,

Etsy is a great place to reach potential buyers and sell handmade products.
Ease:

Opening an Etsy shop is very easy and straightforward. They also have a step-by-step guide to walk you through the process, and it's free to open a basic shop. Etsy offers a lot of help on starting your shop on the platform. Etsy's Seller Handbook answers any question you can think of - from legal, shipping, taxes, and financial information.
Lower fees:

Etsy's listing and selling fees are cheaper compared to eBay or Amazon. If you don't need warehousing to be taken care of by Amazon, Etsy is definitely cheaper than FBA. If your profit margins are high (as in the case of handmade goods can range from 30%-50%), Etsy may be a good solution for you.
Etsy - Cons:
High Competition:

As in the other two marketplaces, so is Etsy, one of the world's biggest marketplaces, making the competition very hard for sellers. In 2019,

2.5 million sellers sold items on Etsy

, and the number keeps growing. The top-selling categories on Etsy are home decor, jewelry, clothing, toys and games, and crafts and supplies. These niches are highly competitive, and therefore, the more unique your products are, the better your chances to stand out.
Narrow in categories:

Having a targeted buyer base can also be a disadvantage if you don't fit within handmade products, craft supplies, and vintage products. Etsy doesn't allow selling repackaged commercial items or other's handmade items that you didn't design or make. For example, as a fashion boutique that sells clothes, you can't sell these items on Etsy unless you are the designer, you made the clothes or vintage clothes.
Fees:

Etsy charges listing and transaction fees, they aren't high, but they are still being charged. They charge $0.20 to list an item and will take 5% of your sale (which isn't cheap at all). The 5% fee includes shipping and gift-wrapping fees. If you choose to use Etsy Payments, you will be able to allow customers to pay by credit card, and you will be charged an additional fee of 3% plus $0.25 per item. Even if your customers pay through PayPal, the payment will still be processed through Etsy, so you will still be subject to the fee.
Bottom line?
First of all, if you think your products will be a good fit for these three marketplaces, we recommend starting a shop in all three marketplaces.
The more exposure you get, the better.
Yet, chances are that eventually most of your sales will come from one of these platforms.
If you want to start by focusing on one marketplace, here are our conclusions:
All three platforms have a big audience. The biggest is Amazon, followed by eBay, and lastly, Etsy.
The main con of using Amazon is that you don't have direct contact with buyers (which is an opportunity to expose buyers to your business) and not brand your shop or offering.
This means that your shop will look like any other shop on Amazon, and you won't be able to customize it and brand it as much as you can on a regular website.
If you are selling unique handmade/vintage products, Etsy has the best potential for you since its customers are shoppers looking for unique items to buy.
As far as fees go, they can all get expensive, and therefore, it is advisable to work out your numbers to make sure you are still profitable, net of all fees.

Using VENNDY as a Content Creator/Influencer/Service provider:
VENNDY is a new marketplace which means it's a disadvantage but also an opportunity. Whether you are a seller, content creator, expert, influencer, or offer services - you can find your place in VENNDY.
Most marketplaces are a good fit for sellers who are selling their own products or sellers doing dropshipping. But they are less profitable for influencers or experts that aren't selling their own products.
Also, most of the popular marketplaces are very crowded and highly competitive, with millions of sellers worldwide.
That's why VENNDY is a good option to start with, especially if your goal is to build your personal brand and monetize with lead generation, such as affiliate marketing.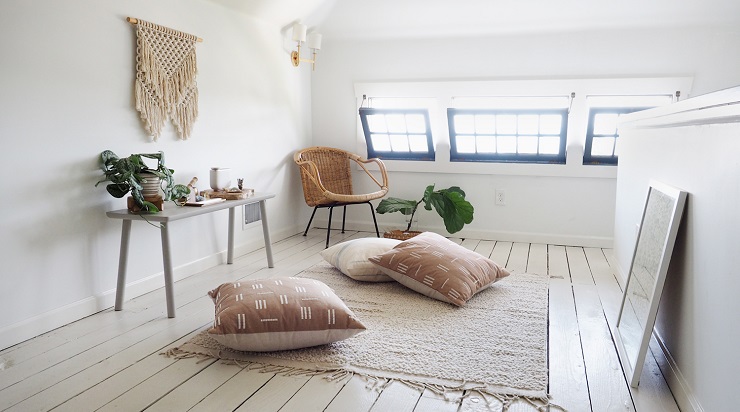 Going back to our story about Christine and Shirley, trying to grow their businesses and make them more profitable.
Shirley and Christine decided to collaborate to grow their businesses.
They decided to build a calming meditation corner at home.
Christine brought her interior design experience and home decor ideas, and Shirley brought the best recommendations for diffusers, oils, meditation apps, and more.
They both shared the post and the pictures they took on Instagram and in a blog post How To Style: A Calm & Minimal Meditation Space.
They also found VENNDY, and finally, for the first time, they could promote and earn a commission through affiliate marketing by recommending the products they used in their post and recommend.
They used the SHOP-THE-POST widget and linked the products they recommended and used in their Instagram post.
Using VENNDY, they create content for their audience by recommending the products they like and making money from it and growing their business.
With VENNDY, you can grow your business income, collaborate with other content creators, and make your audience's life easier by using the SHOP-THE-POST widget to make accessing the products easier.
VENNDY has a free and paid plan based on the number of items and collections.
There's no sales fee associated with the Free and Basic plans.