If you've been following us for a while, you probably know how much we encourage online business owners to diversify income sources.
Why? Well, first of all, 2020 taught us how important it is not to have all of your eggs in one basket.
If you are a blogger, don't settle only on income from ads or sponsored posts.
If you're a course creator, don't settle only on sales of your course.
If you are an interior designer using Instagram to promote your services, don't settle only on selling your time offering one on one work.
If you're a small or midsized business owner, don't settle only on Instagram for reaching clients.
The list is endless, and to help you along, we have created a free guide that will walk you through a Results-Driven Monetization Strategy Cheat Sheet.
GRAB OUR FREE RESULTS-DRIVEN MONETIZATION STRATEGY CHEAT SHEET and make sure you're not wasting time working on something that won't get you the results you aim for.
We respect your privacy. Unsubscribe at any time.
In this freebie and the emails that follow, we share ideas and information about how and why you can incorporate e-commerce content and revenues into your digital marketing strategy.
E-commerce has been growing rapidly in the past few years, but it reached a record high in 2020.
There are a few ways to integrate e-commerce into your online business:
Sell others' products and monetize with affiliate marketing

.




Create lists of products and services related to your area of expertise

.




Sell your own tangible or digital products

.




Sell products you design using a print-on-demand service

s.




Sell products you order using dropshipping services

.
Getting your business into the online world is critical, as having an online presence will impact if and how people discover your business.
We are all buying more online, and small businesses are shifting their business to accommodate this growing need by reaching new potential clients from anywhere on the globe.
This concept is relatively straightforward for sellers and merchants, but what if you're not one of them?
If you are a blogger, publisher, and Instagrammer, another good income source is selling products to your audience, whether they are your own or other brands that you partner with as an affiliate.
Adding kind of shop to your website/blog is one of the best monetization options built on having a "community" rather than gaining traffic.
Once you have a community, if it's on Instagram, on your blog, or even in your Facebook group, this is a channel through which you can give more value to your audience while also making money.
There Are Three Ways to Embed Shop Functionalities Into Your Website:




Embed an online shop

using a

grid identical to your Instagram

feed.
What Does Embedding Mean?
Embedding means placing content (links, images, videos, gifs, and other content) on your page/site rather than only linking to it. This way, readers don't have to leave your site to consume additional content.
Embedded content appears as part of a post and supplies a visual element that increases click-throughs and engagement.
Instagram's growth proves that images increase the interaction rate.
81% of people use Instagram to help research products and services, and 2 in 3 say the network helps foster brands' interactions.
Therefore, embedding images into your content is likely to drive higher engagement and conversions.
There are two primary reasons why you should embed images with a shopping experience into your content:
Visualization makes content consumption effortless. Embedding image-based content will help you stand out with skimmable eye-catching content.




Offers something of value. With all the growth of online shopping and e-commerce this year, it's easier than ever for brands to sell products directly through their promotional platforms, be it a website, online store, or social media accounts.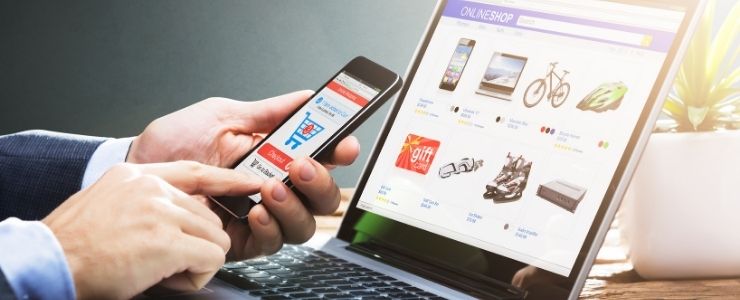 A. Embed an Online Store Into Your Website
This means adding an online store platform into your already built blog/website instead of just linking it to an external online store.
One way to that is by using an e-commerce store builder platform.
The Best e-commerce platforms are:
WooCommerce -

T

he most popular e-commerce platform

with

over 27% market share

. It is easy to use, doesn't slow down your website speed, and there are many

paid

addons and themes available for WooCommerce on WordPress.

But their

free

version is good enough for beginners

and can be embedded into your website

or

blog.




Squarespace

-

T

his is one of the top solutions for an online store design. You can easily customize your shop and personalize it the way you want. There are many powerful features and a huge inventory system to help you out. With that being said, it isn't the ultimate beginner-friendly e-commerce platform, but the effort is worth it in the end.




Shopify

-

O

ne of the most popular, and some would argue the best, e-commerce platforms out there. It isn't a plugin, but it's an all in one solution that helps you manage your shop hassle-free. It is very easy for beginners and has a lot of payment and shipping options for your customers.




Wix Stores

- An easy to use tool with a variety of customization options. They make sure that your products appear in front of as many potential customers as possible, and it also combines web hosting with site creation tools that allow you to build a professional online shop. This option is only available for Wix websites.




BigCommerce

-

A

fully hosted e-commerce platform that offers seamless integration with WordPress. Its robust integration plugin for WordPress makes it very simple to embed your products and sell on WordPress. It automatically creates a sign in, cart, account, and other must-have shop pages for you.




Easy Digital Downloads

-

T

his platform allows you to sell digital downloads online on WordPress. This is perfect for sellers that are only selling digital products, and it is very easy to use and comes with great features that help you create a beautiful and well functioning digital products store.
Here Are a Few Ways to Embed a Full Store Functionality
If you have a WordPress website the best and fastest way to embed a store into it is by adding a WooCommerce store. Currently, WooCommerce is only available for WordPress, but in the near future, WooCommerce will integrate with Wix as well.
Here is the ultimate step-by-step guide on how to add a WooCommerce store to your WordPress website.
For WordPress you can also use the Elementor StoreFront theme. It is a special theme for WooCommerce. It is free and is one of the most popular options out there.
Elementor StoreFront Theme Features:
Set up a basic store
Showcase featured products
Create a product landing page
Customize Add to Cart Button
Design Your eCommerce Homepage
Add WooCommerce Elements
Link to An External Online Store
Another option is to link an external online store to your website.
If you already have an online store, but you also have a website you can easily link it to your shop.
This means that instead of creating an online shop on your website with an e-commerce plugin,you simply use a link to your store.
All you need to do is create a "Shop" tab in your website's menu, and instead of linking an internal link, you'll need to link your store's external link.
This will take the customer from your blog/website to the shop itself.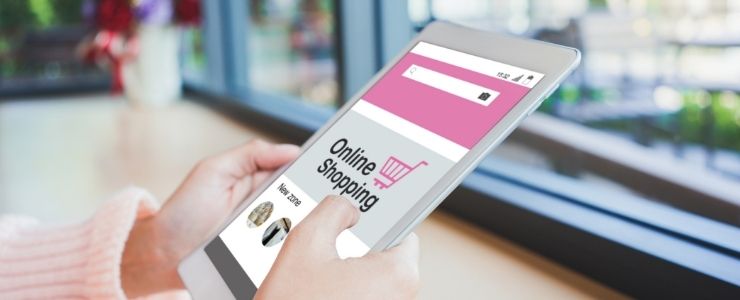 B. Embed shop widgets with Store Elements
Create an

Instagram Shop

using one of the

Platforms that Facebook approves
Another option is to link your Instagram Shop to your website/blog if you are using a platform approved by Facebook (such as BigCommerce and Shopify). Check out How to Set Up an Instagram Shop? or learn 4 Simple Ways to Start Making Money with a Shop on Instagram without Having a Store or a Website.
Shopify Buy Button is a nice feature allowing sellers, website owners, or bloggers to add an embeddable product and checkout process on any website type.
With the Buy Button feature, you can present your products on your website exactly the way you want them.
This feature is also entirely customizable and will give your audience a mobile-friendly and secure shopping experience that will make them want to return!
You can add the Shopify Buy Button to Wix, WordPress, and even Squarespace.
Add shop-the-post widgets with images for easy shopping

.
A shop-the-post widget is an interactive tool that makes a statement "I'm in Business", but also turns your content to practical information for readers with a call-to-action invitation.
For readers who won't read your post and skim through the page, this is another way to capture attention and invite them to learn more about products, software, and services you use.
Using VENNDY's shop-the-post widgets, you can link to any URL, presenting a richer experience with images, logos, and captivating titles, fully customized by you.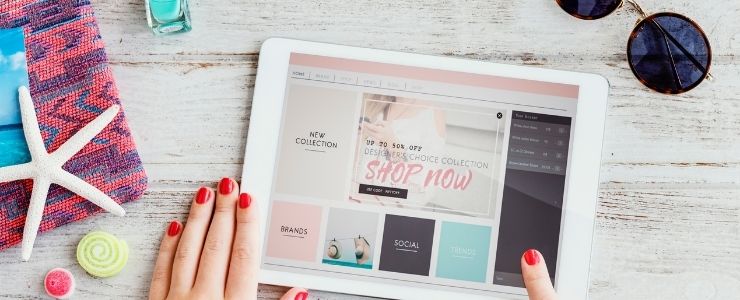 C. Embed an online shop using a grid identical to your Instagram feed into Your Website
Adding a shoppable grid to your website/blog/store have a few important advantages:
First, you can link it to your link-in-bio on Instagram and drive traffic to your site.




Second, the grid becomes an

online shop

, which is a

great way to promote your own

or other

affiliate marketing products

.




Third, you'll create

another

source of passive

income stream

for

your business.
ShopStyle Collective is an excellent option for a shop grid platform to add to your blog/website and Instagram shop.
You can embed the ShopStyle Collective products widget and showcase on your website related affiliate products you are promoting.
ShopStyle Collective also have an Instagram Shop solution that you can use to:
Create a page on your blog for your audience to shop your Instagram posts
You can tag up to 50 similar and exact products per look
You can share your Instagram looks with your audience using your blog or your ShopStyle Shop
You can share your Instagram looks with your audience using your blog or your ShopStyle Shop
Another option to use is VENNDY. VENNDY gives you the same functionality as ShopStyle. You can embed the VENNDY widget and showcase on your website an identical grid to your Instagram feed and link to related affiliate products you are promoting.
By using VENNDY, you can promote multiple companies with affiliate marketing by using the shoppable Insta'nt-Shop feature.
Unlike ShopStyle Collective, VENNDY gives you the flexibility to link affiliate products from anywhere, and not necessarily from specific merchants that work with ShopStyle Collective.It can be articles, partnerships, collaborations, and more.
Why is it important?
There are millions of e-commerce websites worldwide, and ShopStyle Collective only works with about 1,000 of them, while VENNDY allows you to link any URL from all of the millions of websites.
Here's how VENNDY is different:
ShopStyle mainly works with well established, recognized brands. With VENNDY you can give a chance and recommend small businesses you used and loved.




ShopStyle is primarily focused on style, beauty, and home decor. With VENNDY you can work with any brand you can think of, from DIY, finance, education, and more.




You can even link to non-promoted items, articles, and places.
Another thing about ShopStyle Collective is that it works as a sub-affiliate network, which means they negotiate the commissions and integrate all the different channels for you.
This means that you can use VENNDY to link products from ShopStyle Collective!
Also, as a content creator, you can use VENNDY not only for its Insta'nt-Shop feature but also use its product widgets and shop-the-post carousels to feature products inside blog posts and around your website.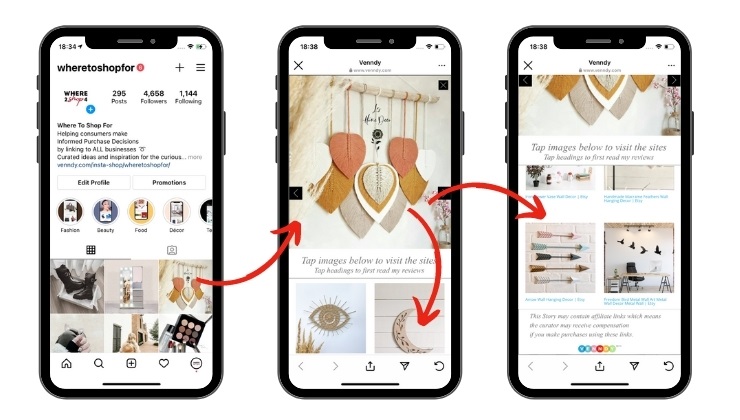 Things to Know About VENNDY:
As mentioned before, there are many monetization options.

VENNDY supports links from almost any affiliate network/affiliate program you join. The possibilities are endless.
You are in complete control and can track your progress.

Using VENNDY, you get full control and track your sales and commissions coming straight from the affiliate

networks

you are

using

.
VENNDY is not a sub-affiliate and is not a party to your own arrangement with affiliate programs

. Some affiliate networks take a percentage from every sale made through their platform. In VENNDY, you earn the full commission you negotiated yourself, and nothing gets cut off.
Sign up to VENNDY to learn more.