Most people and online business owners believe that to expand their business into the online world, they need to have a website, and that's it.
A popular way to have your website these days is by creating an online store.
But that's not necessarily true. If you want to expand your business and reach more clients, a website/store is nice, but it's only the first of many steps.
You need to make sure your potential clients can find you, and you also need to be where your potential clients are - on social media!
*****
Some of the links below are affiliate links. This just means that if you choose to make a purchase, we may receive a small commission at no extra cost to you.
*****
Here's an example:
Jane is a talented interior designer who is valued and appreciated by her clients and colleagues.
Recently, Jane has been putting a lot of effort and time into working and growing her interior design blog and social media accounts to reach new potential clients and take her business online.
Well, the hard effort she was putting into her blog hasn't been rewarded with a meaningful difference in her income.
Many of Jane's acquaintances ask her different home design questions, and Jane finds herself giving a lot of interior design tips and referring to products she recommends buying.
Jane sees that most of the products she recommends can already be bought online, and she doesn't know how she can leverage the changes in consumption habits and how people discover and purchase home design products online.
She considered opening an online store, but when she tries to learn the subject she realizes that it is a lot of work that isn't necessarily worth it.
The Difference Between a Retail Store to a Specialty Retail Store
A specialty retail store is a store that focuses on specific product categories, as opposed to regular retail stores that sell a large number of product categories.
For example, going back to our interior designer Jane - the main thing she is looking for is a specialty retail shop she can create online and sell home decor and home improvement products because that's her expertise - interior design.
Similar to blogging, when you are just starting with an online store, the narrower the niche – the better. It will l help you stand out among the rest of the alternatives out there.
Why Having a Website Isn't Enough?
A lot of business owners think that if they want to expand their business into the online world, they only need to build a website, offer their products and services, and that's it.
Well, that's not true. Having a website for your business is very important, but it doesn't end with having a website.
You need to reach the potential clients where they are (Google, leading marketplaces…), and nowadays, it's also on social media - Pinterest, Facebook, Instagram, TikTok, etc.
As a business owner, you need to reach your clients on social media, sell on social media, drive traffic to your website, and convert the traffic into sales for your business to sustain and grow.
Recommended Platforms to Start an Online Store:
If you are a merchant, seller, artisan, author, digital product creator, or what's been referred to as small and medium-sized businesses (SMBs) – here are some of the leading e-commerce store building platforms:
· WooCommerce(*)
· Shopify(*)
· Weebly
· 3dCart
· BigCommerce(*)
· Magento(*)
Here's a breakdown of market share by Statista.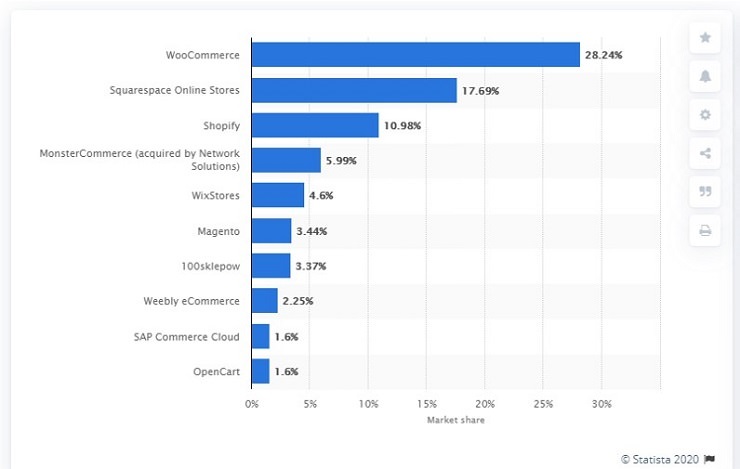 E-commerce software market continues to expand given the fast growth of e-commerce sales worldwide.
(*) It is worth noting that out of the list mentioned above, the platforms that have partnered with Facebook/Instagram for connecting your catalog to their network are the ones marked with (*).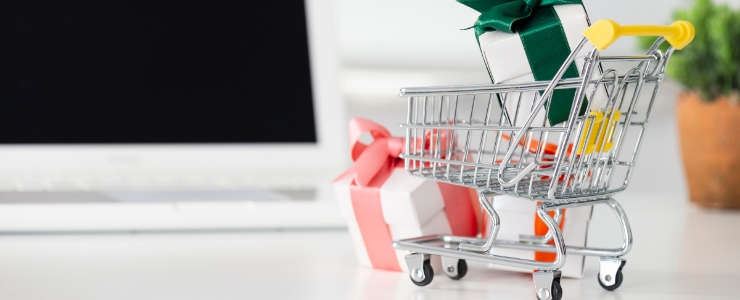 Ways to Sell Products Online:
There are a lot of ways to sell products online, whether they're your own or not.
Let's talk about the most popular ways for selling products that are not yours:
Affiliate Marketing
This is probably the most popular way to make money online, especially for publishers and digital content creators.
Affiliate marketing is when a business pays a commission on conversions to an affiliate that promotes its products.
An affiliate receives a unique link that the business/brand provides to him. Every time someone makes a purchase through that unique link, the affiliate receives a commission!
The best thing about affiliate marketing is the fact that the only thing you do is promote the product. You don't need to worry about stock, fulfilling orders, dealing with customers - you simply promote the product and that's it.
If you are new to affiliate marketing, to help you along, we have created a free "Affiliate Marketing Strategy Cheat Sheet" according to which you can build your "Affiliate Marketing Strategy Map."
GRAB OUR FREE AFFILIATE MARKETING STRATEGY CHEAT SHEET AND BUILD YOUR AFFILIATE MARKETING STRATEGY MAP
We respect your privacy. Unsubscribe at any time.
Dropshipping
Dropshipping is a retail fulfillment method where a store sells a product using the dropshipping model.
This means it purchases the item from a third party and gets the products shipped directly to the customer.
The main thing about dropshipping is that you don't need to deal with inventory and shipping. You only pay for products when a customer orders something.
You see, the difference between dropshipping and owning a regular retail store is that the seller doesn't stock or own inventory, or deals with the shipping process. Instead, the seller purchases the product from a third party and sells the products for a higher price.
Fulfillment Services
Warehousing and fulfillment services (often called third-party logistics or 3PL) means you keep a stock of your products at a warehouse of your partner who fulfills incoming orders and sends them to your end-customers.
This is a third-party warehouse (like Amazon Fulfillment By Amazon (FBA)) that prepares and ships your orders for you.
This means that you are selling physical products, but you don't deal with shipping the orders yourself.
Print on demand
Print on Demand (POD) model is somewhat in between dropshipping and fulfillment.
With this model, you can play with the design and some customization of the products you are selling.
Like dropshipping you do not buy products upfront, your designs are printed on products only as orders come in and only in the quantity that the order asks for.
Same as in the dropshipping concept, POD means that you don't need to buy large quantities of products when you get started – each order is printed as it comes in.
Using also fulfillment services means that what you sell is being handled and delivered from the manufacturer to the customer.
The Difference Between Affiliate Marketing, Dropshipping, and Fulfillment Services
So, what's the difference between these three options? And which one should you choose?
The difference between these three money-making selling online options is that affiliate marketing is almost completely passive.
If you are looking for a passive income stream to recommend products you like, promote them once, and make money through sales, even while you are asleep, affiliate marketing is definitely for you.
Dropshipping isn't completely passive, but it isn't as "hard work" as owning a retail shop and dealing with all of the things that have to do with retail stores but only with some of them.
The main thing you don't deal with in a dropshipping business is inventory and shipping, which makes a huge difference if you are looking for an easier way to make money.
Fulfillment service is another way to sell online anything you want. You send your products to fulfillment service providers, they store your products for you and do all of the work picking, packing and shipping them out to customers.
Basically, the whole shipping process and inventory runs by the fulfillment service, and you don't need to manually ship anything or deal with it.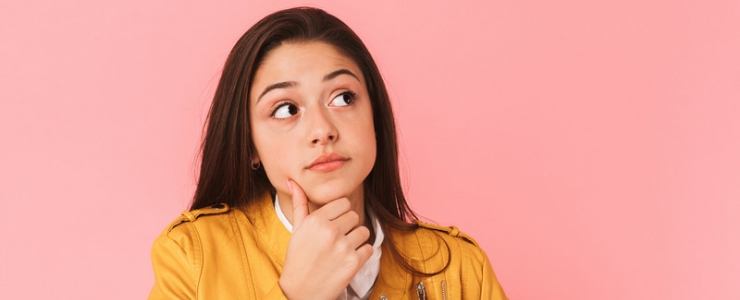 What Should You Choose?
If you are looking for a more passive income stream, affiliate marketing is the best option for you.
You promote your shop with affiliate products along with promoting your other content.
You don't need to deal with payments, inventory, shipping, or even customer service. The only thing you do is recommend a product, promote it on your website/social media accounts, and that's it!
Until recently, succeeding as an affiliate was highly dependent on mastering SEO and niche specification.
But today, this option is ideal for people who've built their expertise and have grown a community. For example: service-based business owners, content creators, influencers, course creators, online entrepreneurs and business owners.
On the other hand, dropshipping can be an interesting choice as well. It isn't completely passive, you do need to deal with purchasing the product for the customer and dealing with customer service/returns, but you can create a completely new online store and sell products you like without dealing with inventory and manually shipping the product.
As a content creator, influencer, a service provider, or an expert, we don't recommend starting an online store since you are not selling anything of your own.
With dropshipping, you will still need to deal and work with promoting your store on social media, and by optimizing your shop for SEO and improving it to rank high on Google.
To succeed with dropshipping you will probably need also to use paid traffic, aka, ads. We recommend checking out Oberlo's calculator (continue reading to learn more about Oberlo), that will show you how much you will need to invest (and how many visitors and sales) in order to sell and be profitable.

But what if you have your own products to sell? Physical or digital? Regardless of your size and if you're only just starting, here are your options:
Should You Start an Online Store?
We always recommend being on social media and promoting your business where your potential clients are.
But if you want to expand your business, adding an online store can be a great way to do so.
By adding an online store to your business plan, and promoting products you like, you can reach other people that aren't necessarily on social media (by using Google SEO and ranking to the first page on Google).
If you are a digital content creator or an expert, and you don't sell any products of your own, building an online store won't make sense for you.
We recommend going on a passive income stream such as affiliate marketing, that you won't need to work on too much or spending money upfront (only recommending the products in it to your customers/followers).
You can use one of the free solutions, expand, and upgrade as you grow.
There are easy solutions that won't take too much of your time from building and growing your business, to trying to grow your online store.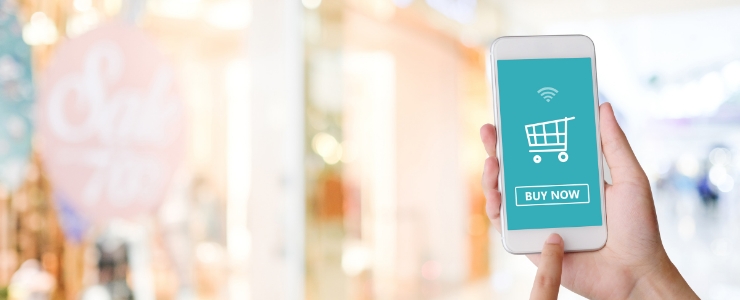 Where to Start an Online Store?
The best e-commerce, store builder platforms, where you can create an online store are:
WooCommerce

–

a free, easy to use platform by WordPress

allowing you to design themes and plugins for blogs and websites to extend WordPress experiences.
Shopify

–

one of the most popular online store building platforms online. Shopify is a subscription to a software service that you use to create a website and use their shopping car

t

solution to sell, ship, and manage your products.
Wix

Stores

– Similar to WordPress,

Wix

is a popular platform for website building, and is also offering Stores to give their users all the tools needed to create a professional online store and grow an e-commerce business. You can display your products in galleries as well as add dropshipping products to your store.
Square

space Stores

– Like WordPress and Wix,

Squarespace

offers a powerful tool for building a website or blog and their e-commerce, store builder solution is a complimentary service that can also be integrated into a website.
3dCart

– A technology company that develops e-commerce software for businesses. It's a

hosted platform for starting an e-commerce business

with commerce applications for online stores and retail point-of-sale systems.
BigCommerce

– A technology company that provides a SaaS e-commerce platform

that allows you to create an online store. It

is very focused on e-commerce solutions with many built

-in features, data tools, and is best for large or fast-growing businesses.
Magento

– An open-source e-commerce platform owned by Adobe and is part of Adobe Experience Cloud solution. It is also a solution more targeted to bigger brands and retailers.
If you want to leverage social media to grow your store traffic, it is recommended to check which of the options above will integrate easily with the leading social networks.
Where to Start a Dropshipping Website?
WooCommerce – WooCommerce Dropshipping is designed to make dropshipping easy and hassle-free. It is a powerful store management tool for dropshipping stores and is ideal for:
Managing a store.
Automatically notifying suppliers when their products are purchased through your store.
Quickly importing inventory per supplier.
Assigning inventory to specific suppliers.
Oberlo – Oberlo is a subsidiary of Shopify. The platform is designed to help you find, sell, and dropship products by easily importing them from suppliers directly into a Shopify store. This means you would need to have a Shopify store in order to use Obelro's services. The company's dropshipping application facilitates product sourcing and allows e-commerce store-owners to find the products they want to import, publish to online store and start selling directly to customers, enabling them to run their drop-shipping stores with ease.
Wix Dropshipping – is very simple to use. All you need to do is to build your online store on Wix, add the products you are selling, and manage your orders through your Wix dashboard!
3dCart – One of the cheapest, cost-effective alternatives out there. They offer a 15-day trial but also have $9.99/month dropshipping plan, which is one of the most competitive in this list. It also includes a free domain, all the tools to build your website, sell online, calculate shipping and process payments. If you choose a longer plan the monthly cost drops to as little as $5.50 per month. This is the easiest platform to use to start an online store and sell your (or others) products online. Your store is completely customizable and you can design it any way you want. Also, one of the best things about 3dCart is that they don't charge any transaction fees!
Amazon and Dropshiping – In general, dropshipping on Amazon is permitted, but isn't really recommended because you need to comply with Amazon's requirements, which are making selling by dropshipping on Amazon very hard.
- What is allowed on Amazon is dropshipping through Amazon's Fulfilled by Amazon program. With the FBA program, Amazon will pick, pack, and ship your orders for you.
- They will also provide tracking information to the customer and will take care of all customer service issues/questions, including returns.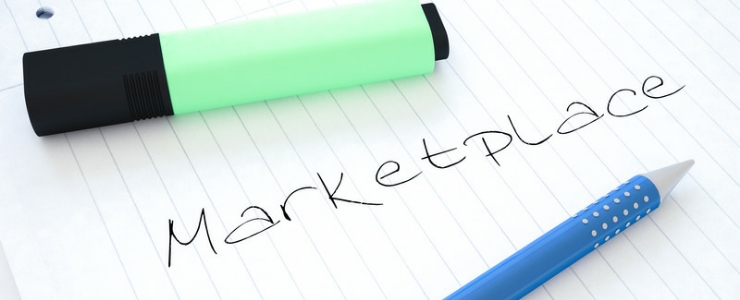 All of the above options are for starting a website from scratch. This means that after building your website, you will need to work on promoting it on social media or Google independently.
To promote your website, you can use SEO methods (ranking on Google), paying for ads on Google/Facebook/Instagram/Pinterest/etc, on social media platforms and on marketplaces.
Marketplaces are good not only for promoting your own products but can also be an alternative to starting your website and shop. The following examples are of how you can sell products online.
Again, if you are a digital content creator, influencer, Instagrammer, or expert in any field, such as Jane in our story above, a store may not be the right solution for you.
Instead, you may want to facilitate the process by building a Shop Tab with all of your favorite products and recommendations.
How?
Marketplaces – Where You Can Start Your Store:
Marketplaces can be used for either promoting the products you have on your own online store, or for building your store on the platform.
The 3 most popular options are:
·

Amazon
·

eBay
·

Etsy - Using Pattern by Etsy, you can also expand your online sales beyond the Etsy marketplace through your own shop.
Let's start with Amazon.
There are three options to start selling products on Amazon (except for starting an affiliate marketing shop on Amazon, which we discuss later).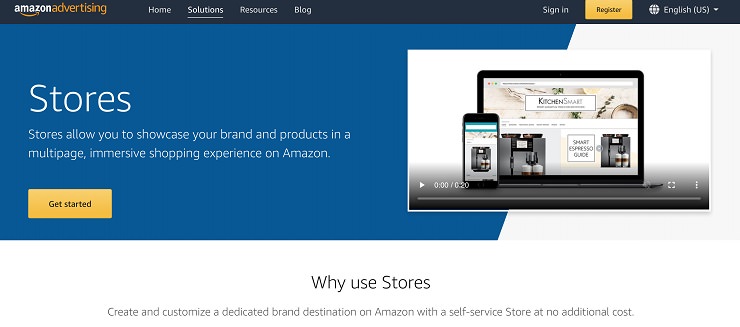 Amazon Stores
Using Amazon Stores will let you create your own curated brand destination on Amazon at no cost for you.
If your brand is in it's beginning, and you want to get some more exposure, using Stores will be a great way to introduce your brand to a large audience through Amazon.
You can drive traffic to your Amazon store by promoting it on social media, email, and also by using sponsored advertising.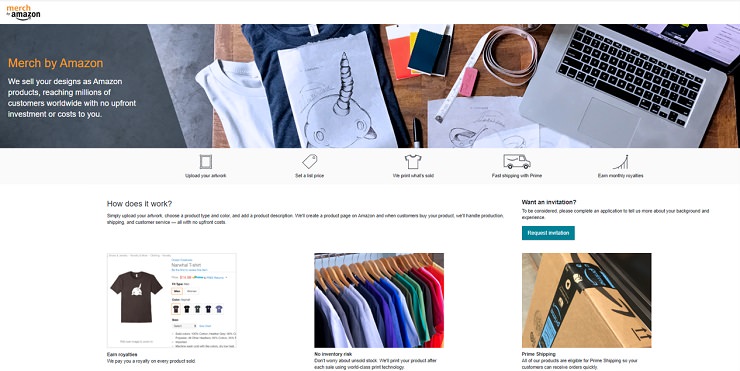 Merch by Amazon
If you create Print on Demand (POD) products, you can grow the exposure to your products by joining the Merch By Amazon program and simply uploading your products and letting Amazon deal with almost everything - production, shipping, and even customer service!
All of these services are with no upfront costs for you.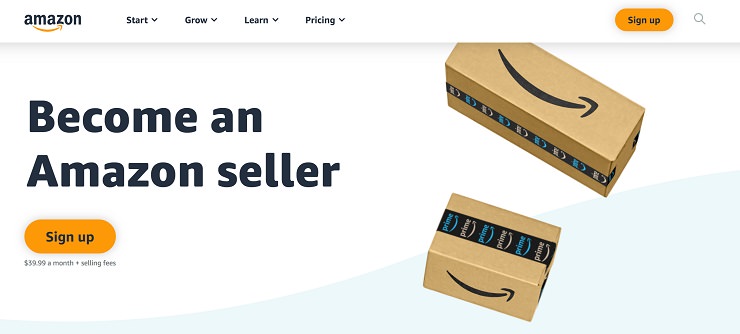 Become an Amazon Seller
The third option is becoming an independent Amazon seller. If you want to start an Amazon store and sell your products on Amazon, you can start your own Amazon shop by clicking here and start selling your own products.
One of the advantages of being a seller on Amazon is their Fulfillment by Amazon service. It is a great solution for sellers who don't want to deal with warehouse operations and associated costs. By sending your merch to Amazon, you enable the marketplace to take care of storage, stock, shipping, returns, customer service, etc.
Since selling and promoting products on a marketplace is an essential topic by itself, we have created a separate blog post which we encourage you to check out. Tips on How to Choose the Best Marketplace and Start Selling on Amazon, eBay, Etsy, or VENNDY.
Where to Start an Affiliate Marketing Shop?
This section is specifically about using a tool that will help you gather all your recommended products and services and share them in a shop-like format with your community and audience.
This is all without the need to build your own website/store.
· – Amazon
· – VENNDY
How to Start an Amazon Affiliate Shop?
To sell products on Amazon as an affiliate you first need to join: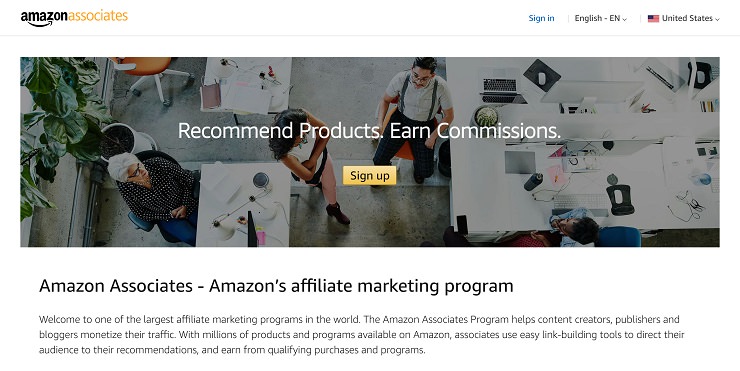 Amazon Associates Affiliate Program
The Amazon Associates affiliate program is one of the most popular affiliate programs online.
The main benefit of using the Amazon affiliate program is that once someone clicks on your links, you will earn a commission for anything he purchased in the following 24 hours (even if he got products you didn't recommend or link to).
Also, the Amazon Associates affiliate program is the benefit of joining the Amazon Influencers Program and the Amazon creators Program.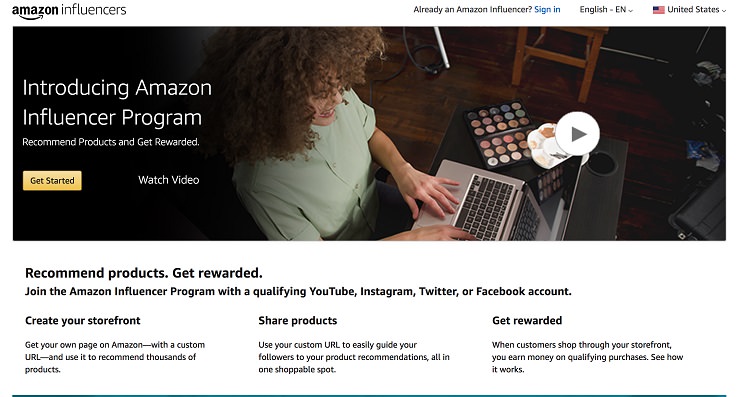 Amazon Influencers Program
If you already have an engaged audience on your social media platforms (on Youtube, Instagram, Twitter, or Facebook), you can apply to the Amazon Influencers Program.
This program is an extension of the Amazon Associates affiliate program. As an Amazon Influencer you get your page on Amazon with an exclusive URL to showcase the products you recommend to your followers.
By promoting that URL to your followers on social media, you can get more people in your shop, and every time someone makes a purchase (whether it's a product you recommended or something else on Amazon), you earn a commission!
With that being said, not everyone will be qualified. Amazon is looking for influencers from any niche who has a pretty big and engaged YouTube channel, Instagram/Twitter/Facebook account.
Once you apply, Amazon looks at the number of followers you have and other engagement metrics of your social media presence.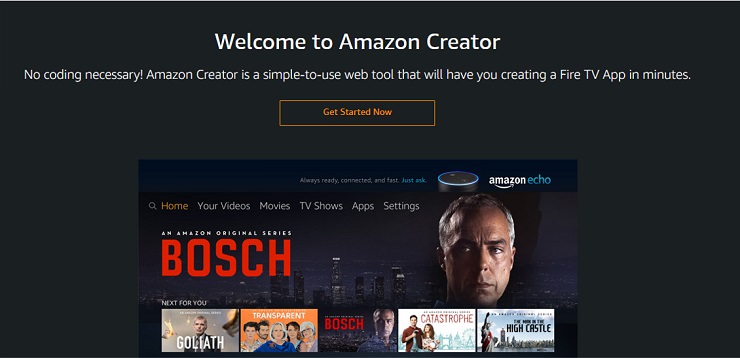 Amazon Creators
Amazon Creator is a tool that helps content creators and owners to create apps for Fire TV.
The Amazon Creator tools use the media in your YouTube channel or Media RSS feed or Brightcove application to create a customized app that you can design and publish directly into the Amazon Appstore.

The most significant disadvantages of Amazon Shop
The biggest advantage of using Amazon is obvious. It is the biggest US marketplace, and almost the biggest also worldwide, and it provides many opportunities for sellers.
But Amazon is also extremely crowded, which raises two of its biggest downsides:
1. Branding issue:
Branding is very limited on Amazon, as it leaves a little space for it. You can only distinguish your products with unique product photos and descriptions. As a result, customers stay loyal to Amazon and not to sellers or creators.
2. Unfavorable terms:
· - You can ONLY promote products from Amazon.
· - These shops aren't customizable at all, and they have the look and feel of Amazon.
· - You have the shortest duration of cookie in the industry.
· - Low (and getting lower) commissions - you aren't making the full commission for the product since Amazon is taking a small percentage of your sale to themselves.
· - Very strict legal terms.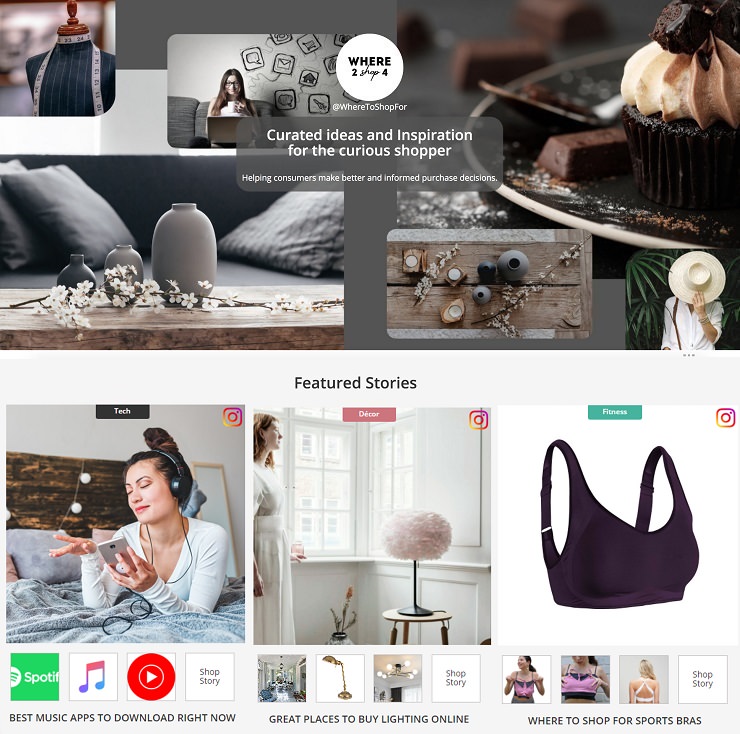 Starting a Shop-Tab With VENNDY:
VENNDY is a marketplace platform that is more similar to Shopify or Etsy. You can sell there anything you want that is offered online in any niche and category.
You can promote products from any affiliate program online by setting up your own recommendations store in just a few minutes.
All you need to do is to start a shop-like format that you can share on all your platforms.
VENNDY offers a lot of helpful and useful features that can help you increase sales and make more money by recommending the products you love.
Here are some of the features:
· - Landing Page for Instagram Link-in-Bio for your website or if you don't have a website
· - Clickable / Shoppable Shop-Tab
With the content you create for your followers on social media, you can recommend your favorite products (even the shirt you are wearing in the picture) by creating a clickable shoppable shop that shows your Instagram feed and links to the products you are recommending and promoting.
Also, if you have a blog or a website and you want to get more exposure to the products you are promoting through VENNDY, you can build product carousels and insert them into your blog, as well as promoting them on Instagram.
What makes VENNDY more helpful and also more profitable than other platforms is that you can use any affiliate marketing program online!
For example, going back to Jane and her interior design business, in the home decor niche you can find the most popular home decor affiliate marketing programs and use them on VENNDY to promote the products you love the most.
Here are the top home decor affiliate programs we love:
ShareASale - with a variety of small and big

décor

brands, with mattresses

, bedsheets, outdoor décor, kitchen appliances, home security services, etc.
The Difference Between Using Amazon Influencer Shop & VENNDY Shop Tab:
The main differences between starting an Influence/affiliate marketing shop on Amazon and using VENNDY are:
1. 1. The Affiliate Program -
On VENNDY you can use and promote any affiliate program and products you can think of (except for Amazon).
On the other hand, on Amazon, you can only promote and recommend Amazon products.
2. Customize to Build Your Brand -
A VENNDY shop tab is completely customizable as you can use your own images for all item pages and collection covers.
You can also fully customize the Insta'nt Shop feature to create a landing page identical to your Instagram feed with endless links that you can link in your Instagram bio.
An Amazon shop isn't customizable at all, and it will look and feel like an Amazon shop, and you won't be able to add your personal touch to help you build your brand.
3. Sellers and Creators can cross-promote each other to create more impact
On VENNDY, as a small business owner, you can invite other creators to add your products to their lists and Insta'nt Shops! To learn more about this feature check out the Collaboration tutorial and How to Take Your Small Offline Business Online in 5 easy steps. Are you ready to give any of the above a try? Share with us your plans and how you're planning to take your business online. Good Luck!!!
If you just recently started your business, let's make sure you're not wasting time working on something that won't get you the results you want! To help you out, we've created this freebie with a simple cheat sheet that summarizes the basic terms you need to know.
RESULTS-DRIVEN MONETIZATION STRATEGY CHEAT SHEET
AND FOLLOW THE STEP-BY-STEP PLAN!
We respect your privacy. Unsubscribe at any time.