Why should you be on Instagram – regardless of your niche?
The global influencer marketing market is forecast to generate 21.1 billion U.S. dollars in 2023. Source. The popularity of influencer marketing on Instagram is increasing at such a fast pace that the global market is expected to grow from 13.8 billion U.S. dollars in 2021 to nearly twice that amount by 2025. Source.
We started writing about it back in 2017 when the worldwide Instagram influencer market value was about 1.07 billion US dollars. It was predicted back then to more than double to 2.38 billion US dollars in 2019 (Source) and actually exceeded all expectations.
It is now a fact that marketers are appreciating the impact of social media and especially the role of influencers in increasing awareness and improving the engagement and conversion of promoted products.
Did you know that Instagram is the #1 social media platform for people to connect with brands?
You can learn more about over 34 Instagram statistics in 2023 here, but look out for the statistics that are most relevant for influencers who have their mind set on treating their work as a business and realize the importance of monetization through Instagram:
Instagram has over 1.22 billion monthly active users
90% of accounts follow at least one business on Instagram
35% of Instagram users will make a purchase on the platform
15% of U.S. shoppers start their online shopping searches on Instagram
62% of users say they are more interested in a brand after seeing it in an Instagram Story
130 million users tap on shopping posts each month
36% of businesses use stories to promote their products
73% of marketers are in favor of Instagram for influencer marketing
What do these numbers mean to you as an influencer?
First – Social media plays a big part in increasing awareness of your blog and your offerings (either digital products or creative content), building an audience, and staying connected. Brands are quickly realizing the power of normal people to promote their products.
But the number of likes for a certain image does not necessarily convert into compensation. So the question is, how do you monetize, in other words, how do you convert these connections into making a living. To better understand how affiliate marketing can help you monetize from the very beginning, read more about the advantages of micro-influencers and their value to brands.
If you are new to affiliate marketing, to help you along, we have created a free "Affiliate Marketing Strategy Cheat Sheet" according to which you can build your "Affiliate Marketing Strategy Map."
GRAB OUR FREE AFFILIATE MARKETING STRATEGY CHEAT SHEET AND BUILD YOUR AFFILIATE MARKETING STRATEGY MAP
We respect your privacy. Unsubscribe at any time.
Second – Instagram has introduced a shoppable Instagram post option making it easy for brands to tag their products (see also below). There are also talks about Instagram working on a new standalone app dedicated to shopping that will let users browse collections of goods from merchants that they follow and purchase them directly within the app. All this comes as no surprise to us; it was only a matter of time before Instagram became more e-commerce oriented and took advantage of the figures shared above.
How should these trends impact you as a blogger and influencer, and how should you take advantage of them so that you don't fall behind the curve?
Until now, most publishers were focused on using Instagram to create awareness and drive traffic to their website. But you should also think about how you can better convert users on Instagram while playing this platform's new game, i.e., making Instagram shoppable and e-commerce oriented.
So, what should you put in the one link you have in your bio?
Since you cannot put clickable links in Instagram posts and you only get one clickable link in your bio, you'd better use it wisely, right?
Sending people to your website home page isn't always relevant to what you're writing in your captions.
As you have probably noticed, and as we share further down this post, many brands have already taken that leap and, instead of linking their Instagram bio to the home page, they link it to a gallery of images similar to their Instagram feed. This helps users scroll through and find items that captured their attention on the feed.
Many fashion influencers who are accepted to rewardStyle do this with their Liketoknow.it app. But this doesn't have to be exclusive to the fashion niche. Instagram's success has proved that people interact better with visual content. A good Instagram marketing strategy can therefore help you to:
Keep your older posts fresh with relevant links to your website or to other places you want to share.
Showcase products to many engaged followers, making it easy for them to reach a product's website and save it for later.
Include your affiliate links in as many products as you share.
Make your Instagram posts shoppable, no matter the niche, thus creating your own visual gallery, a shop-like collection of all your favorite and recommended products. These don't have to be only physical products; they can be digital products, services, places – anything with a web presence that you can forward to your followers.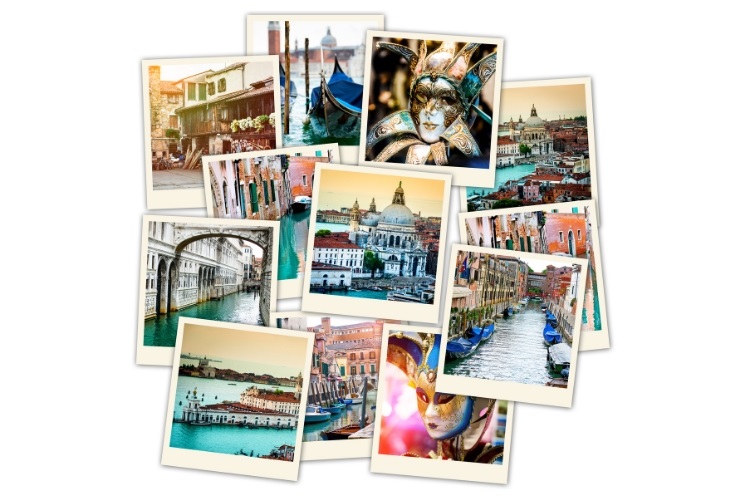 WHY LINKING TO A SHOPPABLE GALLERY SHOULD BE PART OF YOUR INSTAGRAM MARKETING STRATEGY?
To make Instagram images shoppable, you should make the best possible use of the only link available to you on Instagram – the link in your bio. You can choose to direct your followers to one of two destinations:
Your URL or a designated tab you have created on your blog/website which is integrated with your Instagram feed, thus turning your Instagram feed into a shoppable gallery;
A shoppable destination that uses a service like VENNDY Affiliate Shop, Liketoknow.it, or ShopStyleCollective and has an Instagram-shop gallery to shop for products.
There are a few advantages to using
VENNDY
, mentioned below, especially if you are not a fashion-only influencer. The variety of products, places, and services you can recommend as well as the variation of affiliate marketing networks you can use is limitless – you can share from anywhere on the web.
VENNDY's tool is the only option available that can link you to two important sources at the same time. You can link each related Instagram post to:
1) your matching blog post, thus giving your followers the chance to get more details on the experience you're sharing; and
2) items and places showcased on that post (on the blog and on Instagram).
This way you don't miss out on the opportunity of suggesting that your followers interact further with your creative content.
However, if you are a merchant who has products to sell or an influencer who only refers to your recommended products as an affiliate, the situation is somewhat different. In order to put things in order, let us share with you some of the solutions out there, some more for brands/merchants and some more for publishers/bloggers/influencers.
INSTAGRAM SHOPPABLE OPTIONS FOR BRANDS
1. Instagram's own shopping feature
If you have an e-commerce store, you can use the Instagram shopping feature. You can identify shoppable posts by the white shopping bag icon in one of the of post's corners.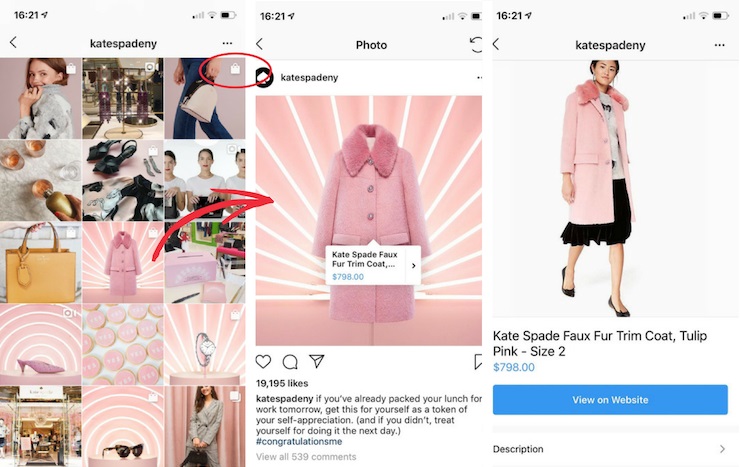 This feature is a good option for brands, as 80% of Instagram users follow one or more brands on Instagram. But this feature is only for brands who have first been approved by Instagram, with one of the requirements being that the brand has physical goods that comply with Instagram's merchant agreement and policies.
It is not something influencers can use for promoting products. At least not at this point. Brands that use this feature rely mainly on their own social reach and their own efforts to drive users to their Instagram account. They can only get influencers' help in bringing over traffic by using the influencers' tagging option.
This however doesn't solve the question of what should you put in the link in your bio.
The options as mentioned above are either to link to your home page (a less preferable option), or to a designated tab on your website (as you can see below in the Kate Spade example), or to your own designated URL with a service provider (as you can see in the 2 examples of Anthropologie and Shopbop).
2. Like2buy – by Curalate
The Curalate tools make Instagram images shoppable by generating a link in your bio. When followers click it, they are taken to your Like2Buy gallery to shop for products. You can also schedule posts and Instagram stories using Like2buy and track campaign performance.
As this service is mainly for businesses, they don't share their pricing list, and you need to contact them to get details on price. Here is an example of what their presentation looks like. You can identify shoppable posts by the white shopping bag icon in one of the corners, as in the following images.
Kate Spade directs followers to an Instagram tab on their website: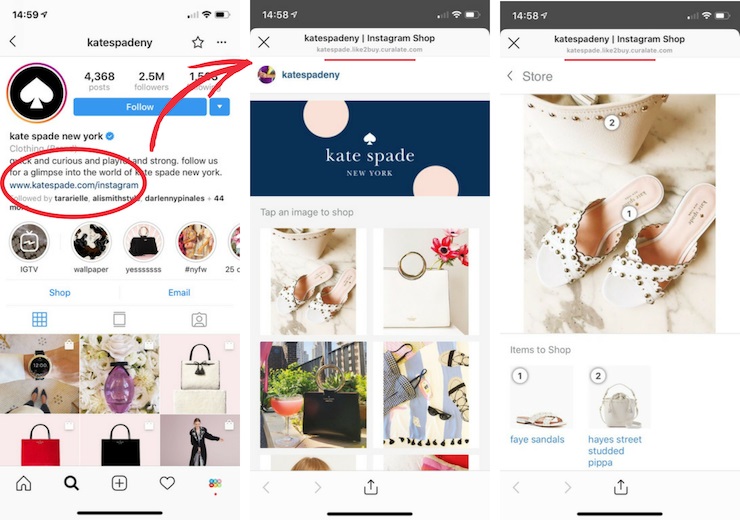 Anthropologie refers followers to their URL with Like2buy: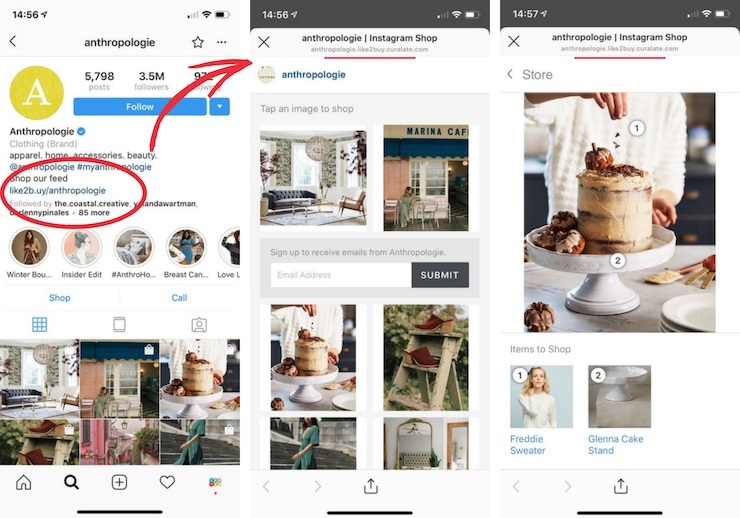 3. LikeShop.me – by Dash Hudson
Dash Hudson is a visual marketing platform used by brands and big publishers with emphasis on Instagram analytics and insight into account growth, post performance, and interactions with followers and influencers. Their tools help brands measure ROI by following up on influencers' performance and engagement. This tool, like the previous two, is not free and targets big merchants.
Here is an example of how Shopbop uses LikeShop: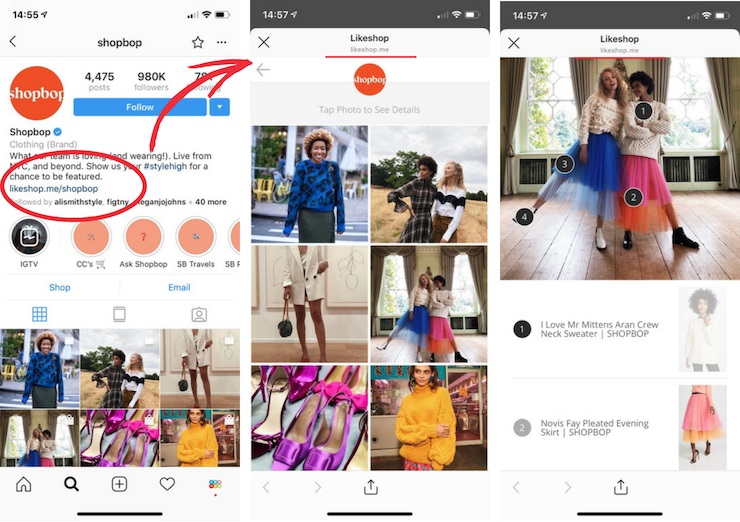 To learn about a variety of other options, you can visit this article or check the links in the following carousel (powered by VENNDY).
Click images in this carousel if you first wish to read our notes and some information about each of the solutions:
Or click images on this carousel if you want to be directed straight to the different products' websites:
INSTAGRAM SHOPPABLE OPTIONS FOR CREATORS AND INFLUENCERS
Tools for content creators and influencers to monetize their Instagram
So, even if you don't have physical products to sell, you can still use your creative content, recommendations, and experiences to help you monetize your efforts. There are three popular options for monetizing your Instagram social reach.
1. Use Instagram to forward traffic to your website.
You can use your posts' captions to get readers to check your blog and you can also direct them using the only link you have on Instagram, the link in your bio. Increasing your blog traffic is certainly something worth doing, as it is one of the parameters shared with and checked by companies who are looking to work with bloggers through the other two options of monetization (sponsored content and affiliate marketing). There are a few options for breaking down that one link into a few separate links:
Linktr.ee – Linktr.ee is a service that provides

a web page with all your relevant links. You can include slinks to a few of your latest blog posts and to your other social media accounts. As well as linking to a page that contains multiple links, this service lets you see the analytics of the number of clicks for each of the links, which helps you understand better what your audience is interested in. This benefit is not as relevant, however, if you have over 1,000 followers and you switch to a business account on Instagram.


Linkin.bio by Later

– Like Linktr.ee but with photos. While you can schedule and manage your posts on Instagram, Twitter, Pinterest, and Facebook for free, the Linkin.bio option costs $19 per month allows you to create your personalized URL on their site and then add one link to every Instagram post. If your main concern is directing followers to certain blog posts, it is better than the previous option, but from there on, it is up to your post to convert visitors into buyers.



LinkInProfile – Very similar to Linkin.bio but with two presentation options (the familiar Instagram grid and a list). LinkInProfile is easy for visitors to find the link they want and offers a free trial. They also offer another tool called Tap.bio which offers a swipe-through option that looks like Instagram stories. It has both free and paid options. Both features are paid beyond the trial period.



Build your own customized Instagram page

– Bloggers who don't want to lose the opportunity to directly drive their audience to their blog prefer to skip the options mentioned above and create their own page with headings of the different blog posts on their website. While this is an option, you might be losing the visual aspect that brought your audience to Instagram in the first place. You are losing the flow, look, and feel of the Instagram feed. You are also missing out on the opportunity to take part in the e-commerce role of this platform. That's why you may want to consider an option that links to both relevant blog posts

and

shoppable items.
2. Sponsored posts.
There are platforms that help brands and influencers to connect and partner for the promotion of products or places. Bloggers are compensated with either cash or a free product. When this is the monetization method, the influencer will usually tag the brand and, as per FTC regulations, will also disclose the nature of such relationships via hashtags and captions such as #sponsored #ads #partnership, and others. Here are some more articles and resources that can help you out to connect with brands:
3. Affiliate marketing.
Influencers can use four tools. Each tool gives you two options for the link you put in your bio: either direct to your own created URL on their platform or direct to an Insta-tab on your blog. All four tools offer the option of linking to products, but only VENNDY gives you the option of also linking to your blog post or other non-commerce related destinations. Following are the tools.
ShopStyleCollective – This is a sub-affiliate program that is great for fashion and beauty bloggers. This means you don't have to sign up to a few affiliate networks and you can only work with them, as they work with many merchants. They used to have only a pay-per-click program, which anyone with a blog could sign up to with no special requirements, but they have recently introduced a pay-per-sale option. If you are already their affiliate, you need to actively ask to switch to the new plan; you will then no longer be paid per click. According to their site, at sometime in the future, they will only use pay-per-sale and eliminate the pay-per-click option.


Planoly – This service gives you the option to both manage and schedule your Instagram posts and a clickable destination for products you share. They have a limited free service (you can check their pricing here), but their ShopLink option that allows you to tag products and put the ShopLink feature on your site is $40 a month.


LiketoKnow.it

– This platform gives you a great option for offering your followers a place to shop for all your favorite finds, mainly fashion and beauty products. Their biggest advantage, as with ShopStyleCollective, is the ease of finding products and their presentation tools. You don't have to deal with a variety of affiliate networks and programs as once you are accepted to their service, you can start promoting all of the many merchants that are on their platform.
However, there are a few downsides to using LiketoKnow.it:
You first must become a rewardStyle influencer, for which you need to have a certain amount of traffic and go through the approval process, which can take time. It might help to read our post: 5 Reasons Why You Should Treat Your Blog Like a Business from day one.
You can only work with merchants that have partnered with rewardStyle. So you can't, for example, create a carousel with references to online courses.
You have no transparency regarding commissions, since they are the intermediaries who negotiating the deals with merchants.
You put all your eggs in one basket rather than building your own connections.



VENNDY – You can learn more about the advantages of using VENNDY in our blog posts here and here. VENNDY's services for uploading promoted products and creating shop-tabs for Instagram are free forever. VENNDY's main advantages include the following:

It's free.
You can start creating your shoppable gallery from the very beginning, when you are just starting your blog. There are no traffic requirements; all that is needed is to start creating quality content.
You can link every blog post to an Instagram image as well as products you promote or recommend.
You can put on your website an Instagram gallery that is clickable, shoppable, and easy to save for your followers.
You can use almost all affiliate networks, including even ShopStyleCollective, and still have the same presentation tools.
You can have a destination with other, not necessarily Instagram related, shoppable references with your promoted products – an affiliate marketing store.
You can curate items once and then share them across all platforms.
To read more about how to use VENNDY's tools for implementing an Instagram shop tab on your website you can check out this blog post. You can also check out some general guidelines to help you evaluate if you are ready to join your first affiliate network.
CONCLUSION: Why do you need an Instagram shop-tab on your blog?
You can see that no one is taking Instagram lightly. Companies and brands, even Instagram itself, understand its potential for e-commerce. Directing potential customers to shoppable galleries has become common practice. Here are some of the advantages:
You can forward followers from your Instagram bio to a designated Instagram shop tab on your website and link each Instagram post to your relevant blog post. This way you can make the most of your social reach and increase traffic to your blog. We've seen many bloggers who link to either the blog home page, which means users have to look around for something they like, or to a certain blog post, which means a constant need to update the bio and yet always missing out on the opportunity to make money from your creative work.


You can add relevant links (informative or shoppable, as applicable) to enrich the experience you give to your followers.


You can add a review, thus sharing your own experience of the product and helping your followers to make better purchase decisions.


You can build better long-term connections with your followers by encouraging them to save your recommended items for later purchases. This can also keep your affiliate links fresh and relevant for longer periods, as we explain in this blog post.


You can use VENNDY's tools to help your followers easily find the items (places, products, or services) you present or mention in the image or caption and save them for later or add them to their wish list.


You can earn money and create a passive stream of income from places, products, and services you have tried and would love to recommend.


If you are using Instagram to reach new customers, we hope you know how to leverage this platform's advantages. To help you out, we've created this freebie with 10 mistakes most people make. So let's make sure you're not one of them.
10 NON-OBVIOUS INSTAGRAM MISTAKES YOU'RE PROBABLY MAKING
We respect your privacy. Unsubscribe at any time.
If you are new to performance-based monetization and affiliate marketing, don't miss our other Affiliate Marketing Guides as well as How to Monetize Your Instagram Feed and How to Monetize on Pinterest and Become a Trusted Influencer. You may also want to have a look at our other blog posts on the subject: