Affiliate marketing has been chosen as one of the top two revenue generators for publishers.
As a blogger you are probably familiar with affiliate marketing, but if you are not blogging or have just started out, learning more about affiliate marketing is an important stage and will help you monetize your digital content.
Affiliate marketing is the process of referring readers to products, places, and services you recommend and receiving a commission if they sign up or make a purchase.
For example, items you share in various niches such as travel, DIY, business tools, digital products, fashion, food, education and more, all will include a special affiliate tracking link.
This means that when someone clicks the item and buys it through your referral, you'll receive a small commission. For readers, the price remains the same whether they use your special link or not.
These days, the number of merchants and brands using affiliate marketing in order to compensate content creators for driving traffic to their site is constantly growing.
Using affiliate marketing and referral programs by business owners and creators is becoming a legit way for content monetization.
What do we cover in this post?
We start by explaining why Pinterest is a great platform not only for sharing your content but also for using affiliate marketing, which, when done right, can benefit both you and your readers.


We then explain the importance of sharing experiences and not simply throwing around affiliate links with related product images.


We show you how you can use your content (blog posts, Instagram posts, reviews and other) to monetize on Pinterest.


We show you how you can use VENNDY to create a collection of items, with tips and recommendations of products, places, and services around one pinnable image for sharing a full experience, even if you don't have a blog. Yet, in order to monetize your content, you still need to join at least one affiliate program. Make sure to read Affiliate Marketing – Best Practices: Are You Ready To Join?


We sum up with explaining how you can use Pinterest to become a trusted influencer.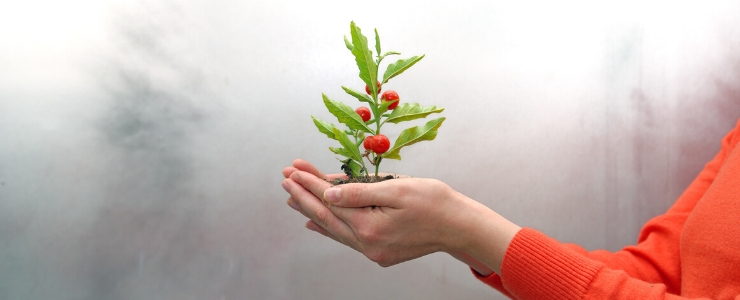 Why is Pinterest good for your affiliate marketing strategy
Here is why you should use Pinterest for sharing stories and experiences about shoppable items. (except for driving traffic to your site or blog, if you have one):
Pinterest is more of a search engine, based on words and hashtags and with a strong emphasis on appealing images that drive a message. Simply type in the Pinterest search field what you are looking for, be it related to blogging, travel, recipes or DIY queries and you'll see suggested destinations.


Pinterest has grown into a huge selling platform where visuals are a major factor. It's a visual and text search engine, which makes it another option for sharing your suggested items and places, monetizing and earning money from promoting other companies' products through affiliate links.


Pins have the longest lifespan than items on any other social media platforms, which makes it a great infrastructure for longer-term earnings, if what you sell is still relevant, even a year ahead. This can help you create a passive income, as long as you do it right.


You can use Pinterest to monetize even if you do not have a blog, provided you associate with a suitable affiliate network or program. However, you can only insert one affiliate link on each of your pins; using VENNDY will allow you to break down an experience you're sharing into items, each with its own related affiliate link.
There are a few ways for monetizing your content on Pinterest, even if you don't have a blog or a website.
One way is by adding your affiliate links directly to the URL box that you have for each pin. This way you can make money by being paid a commission for every sale you make through your pin.
As Pinterest now allows the use of affiliate links, the process is fairly easy. You just get the link from your affiliate program and use it as the link for your pin where it says "Enter a website." The link will contain all the information the e-commerce site needs to track a sales lead that came from you. If a lead turns into a sale, you get a commission for referring the customer to the site.
To help you along, we have created a free "Affiliate Marketing Strategy Cheat Sheet" according to which you can build your "Affiliate Marketing Strategy Map."
GRAB OUR FREE AFFILIATE MARKETING STRATEGY CHEAT SHEET AND BUILD YOUR AFFILIATE MARKETING STRATEGY MAP
We respect your privacy. Unsubscribe at any time.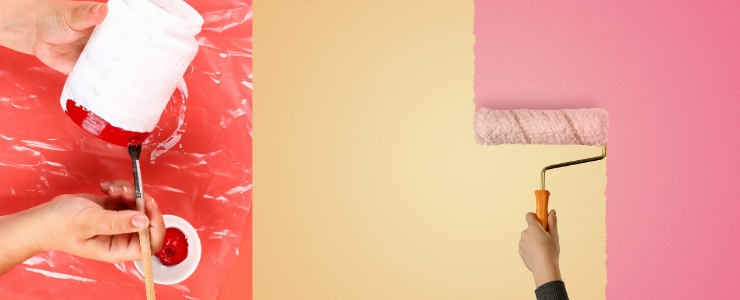 The importance of sharing experiences
The simplest way to monetize on Pinterest using affiliate links is by adding your affiliate link to the given URL text box. But, as those of you have tried will know, there's more to affiliate marketing than just throwing links anywhere and everywhere; you must still follow the basic techniques for building immediate virtual reliability.
That doesn't mean there aren't any successful product pins out there...
Some bloggers say they simply used an affiliate link to an online course they promoted and linked it to the course's landing page and, boom, a sale was made! If you want to build some kind of steady and reliable stream of income, you're better off not counting only on one-off sales but rather building a consistent methodology.
Well-monetized product pins are usually beautifully shot, with good dimensions, where you can really get a good feel of the product. Not one of those small blurred images. There might be a good overlay text and a great description that can do the work of explaining the product's advantages and at the same time uses search-friendly wording.
Having a clear Pinterest strategy also helps. For example, if you're focusing on stationery products and have your boards well arranged, this can help users find that beautiful product image you are using... however, this is not the case most of the time.
The best thing to do is to pin experience-related images that tell a story. Pinterest recommends using Lifestyle Images rather than a single product. People are looking for help in contextualizing a given product.
They want to know how to use the product, how to style it, what to wear with it. For travel bloggers you should share where to go, what to see, where to stay, what to take, arrangements, itineraries, etc. The fuller the experience, the more helpful and convincing your recommendations.
If you feel up to the challenge of selling directly from Pinterest products that are not your own, you should be aware of the following:
Use images that are beautifully shot with good dimensions, in which you can really get a good feel for the product.


Use a good description, somewhat personal, that outlines the benefits of the product. There might be a good overlay text and description that can do the work of explaining the product's advantages and, at the same time, uses search-friendly wording.


Have a clear Pinterest strategy for how and where you display the pins and how to help people find you. For example, if you're focusing on stationery products and have your boards well arranged, you can help users find that beautiful product image you are using.


Build credibility around your promoted products. The easiest way to do that is by only promoting products that you use and love and which are part of your "online personality." Being yourself is a good strategy. No two people are the same, and by being authentic you will attract those who relate to your taste and your preferences.


Be transparent about using the affiliate link and your relationship with the brands/merchant. Since you are directing users straight to the brands' sites using the affiliate link, you must follow all relevant laws and regulations. Your FTC disclosure must be very clear and stand out in the description text box.


Read the terms of both Pinterest and the affiliate program you are promoting. For example, it is not clear whether you can promote Amazon USA's affiliate links directly on Pinterest. The same goes for Amazon's European site. Although it seems they give a clearer answer for their EU affiliates in this post here, from a correspondence with their support team it seems using their affiliate links on Pinterest is not allowed.
Reasons why not to put affiliate links directly on Pinterest
There are a few very good reasons why not to put affiliate links directly on Pinterest and, instead, to send users to other pages where your affiliate links are inserted (blog posts, other pages on your blog, a landing page, or some other service page).
The good thing about Pinterest is that your pins are spread all over by other users (although this can also be a problem if you sent out a pin with a typo!). Once the pin is saved by another user, you lose control over where it goes and how far it reaches.
This can be great when it comes to reaching new people, but it can also hurt your credibility if the URL or affiliate link is irrelevant. Products change, and merchants and brands change their affiliate programs. **
Therefore, here are some of the reasons why you shouldn't rush into putting affiliate links directly on Pinterest:
You keep control over the affiliate link you have inserted in case it ever changes, the program is no longer relevant, you choose to promote a different product of the same category, or you use a different program for promotion. You see, as soon as your pin is out there, you have very little control over it.


The changes you make to your original pin will no longer be reflected in its subsequent uses by others.

By directing users to a page where you collate all your promoted products around a certain experience or recommendation, you keep control over everything.


You create pins free from affiliate links. Some people prefer not to click on affiliate links, and some boards don't allow you to pin affiliate links on their board.


You keep your Pinterest clean from affiliate links and FTC disclosures, as the affiliate link is not put directly into the pin.


You play safe, whenever it is not clear whether a program allows using affiliate links on Pinterest.


You will not be susceptible to Pinterest changing its mind or changing its policy on affiliate links.


You can add a description, notes, reviews, and more information about you and your experience to help people make up their minds and better evaluate whether the product is a good fit.


You retain the option to grow your brand awareness with people who click through to your own managed pages. This can help you keep your affiliate links fresh and relevant for future visits by your followers.
For all these reasons, it is more practical and efficient not to put your affiliate links directly into your pin but rather to use your pin or, even better, multiple pin graphics for sending users to either your blog post, a landing page on your website if you have one, or to a designated URL you have with a service provider such as VENNDY.
In order to find affiliate programs to promote on Pinterest, you can check out the dedicated posts created for each of the following niches:
VENNDY's tools are designed to provide a comprehensive experience; you can create multiple graphics for pinning, all sharing a collection of products, blog posts, places, and links, and all related to the story you are telling but broken into clickable, shoppable items.
While Pinterest is great for sharing this content, you would do best not to rely on Pinterest as your sole tool for monetization, but rather to share your experiences on your blog and/or other social media sites such as Instagram, Facebook, YouTube, and more.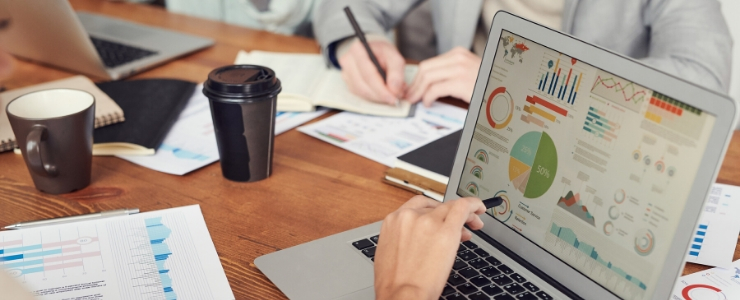 HERE ARE A FEW WAYS YOU CAN USE YOUR CONTENT TO MONETIZE ON PINTEREST
Single Product Pin Using the VENNDY LinkCollector Chrome Extension
(HERE you can learn more about how to use the LinkCollector)
Go to any web page that illustrates and shows what the product you want to pin is about (item, place, service) and
follow the following 4 easy steps
:
1. Click on the Link Generator which belongs to the affiliate program that promotes it and copy the affiliate link.


2. Click on the VENNDY LinkCollector (the Chrome extension you downloaded from the Google Store) and paste the affiliate link you copied into the indicated text box.


3. Choose the image, category, or sub-category, edit the title and add your notes with as much explanation as you can give about your experience with the product.


4. Choose the board you want to pin it to using the Pinterest Share button.
The advantages of using VENNDY Item Page to pin a product are:
You can always change, update or remove your affiliate links, and


You can include the product details from the original website as well as your own review about the product and then use the Pinterest description text box to include the wording that will best help your pin be found by others.
You can also upload a customized image for greater personalization: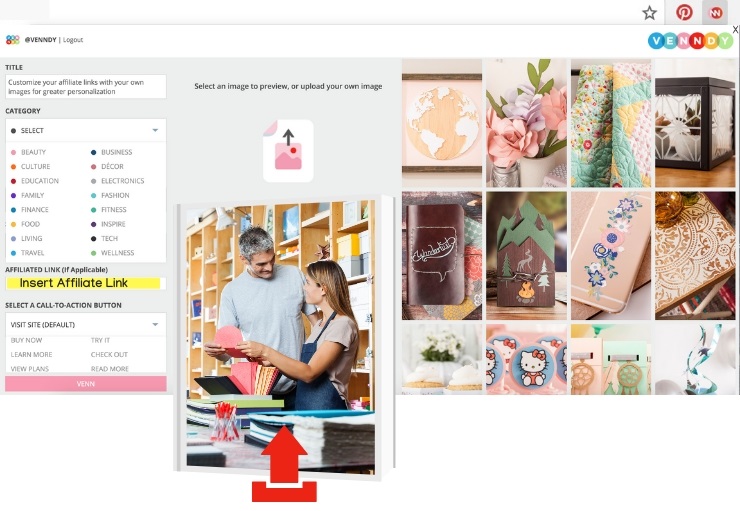 A Collection of Products Pined Using the VENNDY Story-Items Collection
(HERE you can learn more about how to create Stories)
The other advantage of gathering your recommended items to
VENNDY
is that you can then use them over and over again in collections of items that will be pinned as part of a full experience (for example, an outfit, a recommended vacation with suggested items to take along, or inspiration for a dinner party with recipes, serveware and even a suggested outfit).
The image of your experience (uploaded to a VENNDY Story) can be taken from one of the products you're linking to or from an original photo or collage. There are no special measurements for the Story's image.
In order to match it to your Instagram feed, you are advised to use the same image and then use customized pins for maximum exposure on Pinterest. Find out more about how to collect items
here
and build a Story (Items Collection)
here
.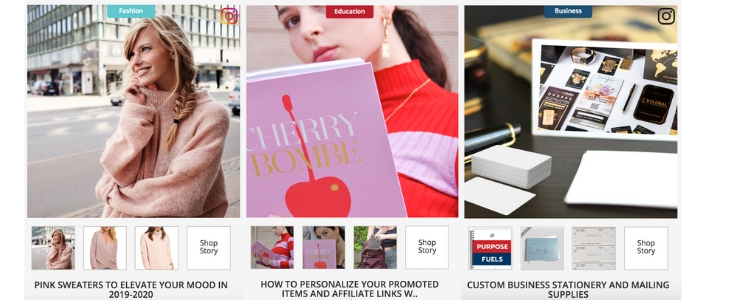 4 WAYS TO UTILIZE VENNDY'S TOOLS ON PINTEREST
1. Pin to your VENNDY Story (Items Collection) Page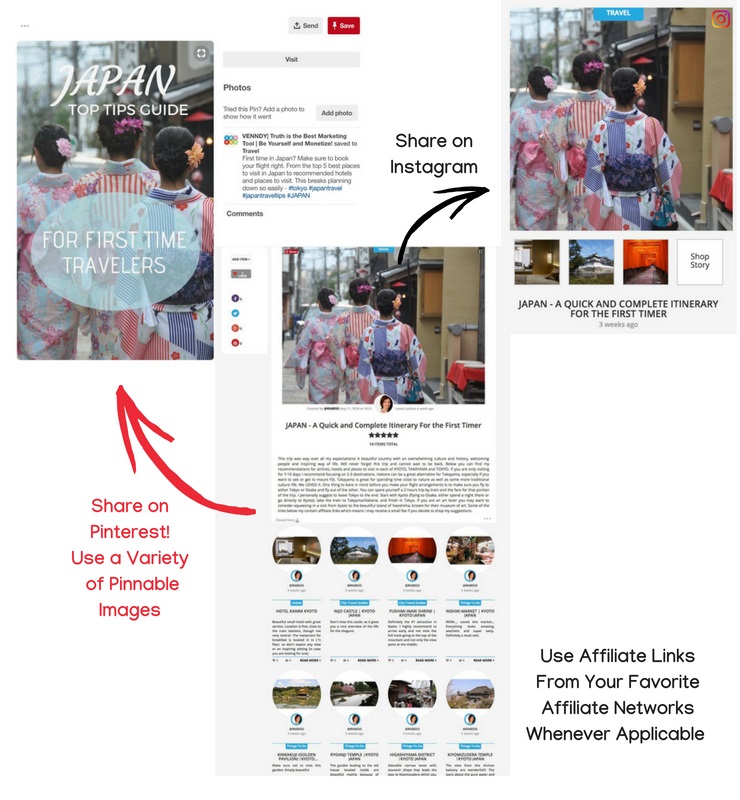 2. Pin to your Instagram Shop Page from VENNDY or from your Blog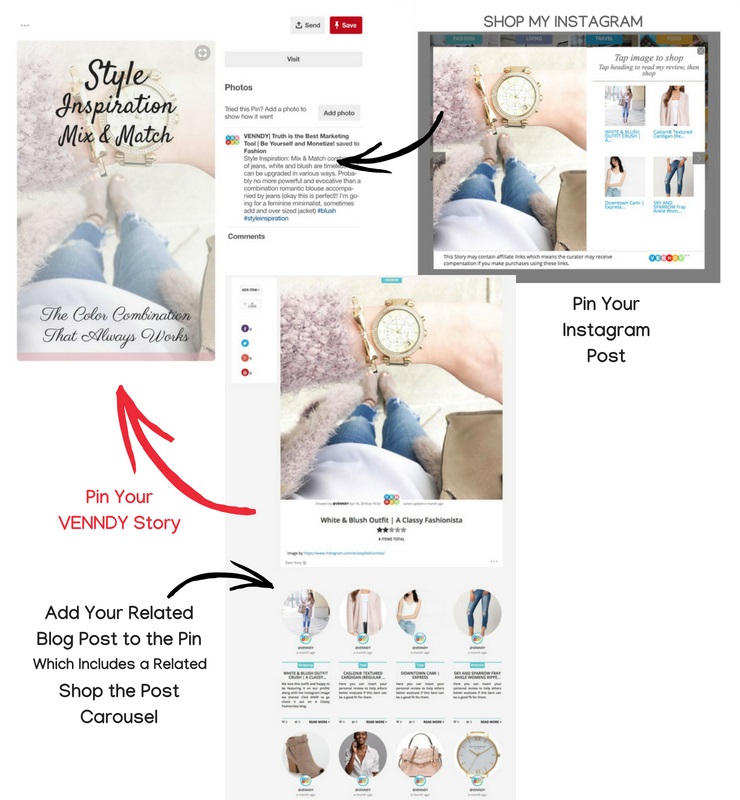 Instagram image by: A Classy Fashionista
3. Pin to your blog post which will include the collection of relevant items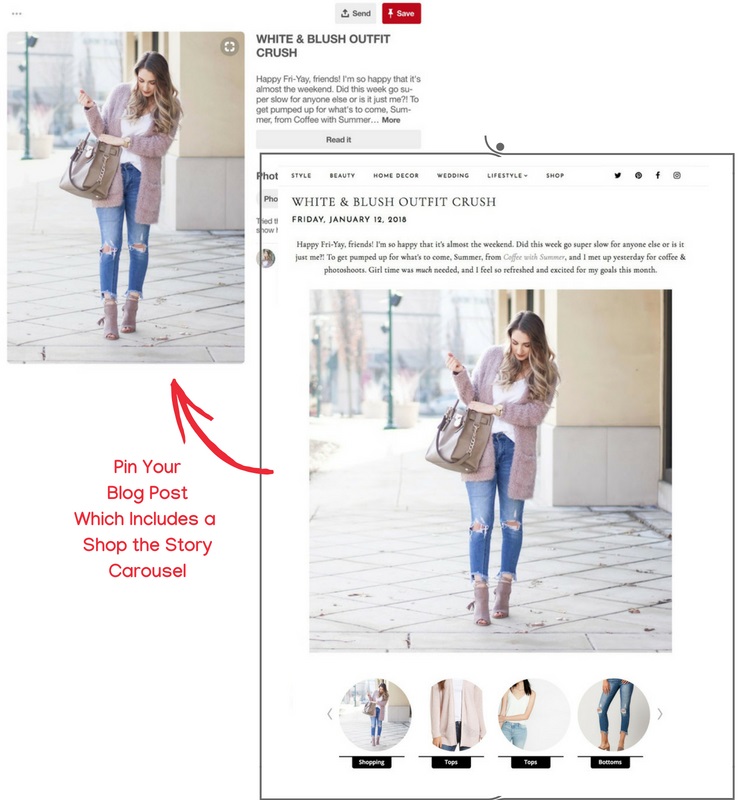 Blog post image by: A Classy Fashionista
4. Pin a Single Product Page from VENNDY
Although you can pin a single product to Pinterest and add an affiliate link directly from the retailer's site, we still recommend pinning it using the VENNDY's Item Page due to the following 4 advantages:
You can add a product description, review, and rating in which you can explain why you love this product. The pin description can be used for adding relevant words and hashtags that will increase it's chances of being found on Pinterest.


You can add it to your VENNDY one-stop-destination of all your recommended and shoppable items (products, places and services).


You can use that same item and add it together with other items, to a few stories to build collections which work well together.


You allow your followers to love it, save it, or add it to their wish list on VENNDY.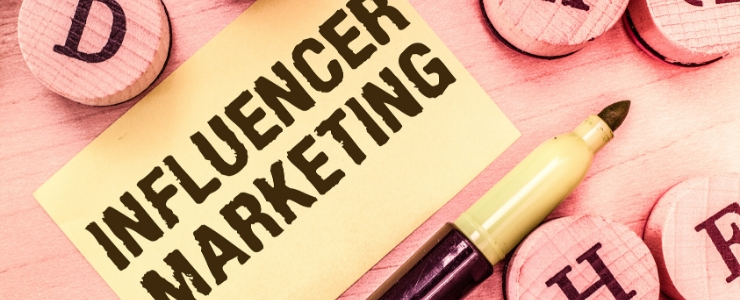 How can you use Pinterest to become a trusted influencer?
We believe that influencers should be compensated for their creative content when helping others make better, easier and more personalized choices. You will probably agree that helping others is a crucial factor in any monetization model. Read more about How To Make Affiliate Marketing Work and Succeed as an Affiliate in Any Niche.
In a hyper connected world truth is the best marketing strategy for building trust
Trust leads to strong relationships
Relationships increase engagements
Engagements improve conversion
Conversion means you can monetize your content, time and effort.
Of the many monetization methods used by digital publishers, affiliate marketing is the one that most encourages dependable relationships.
It is around this concept that we built
VENNDY
with tools to help you easily share your experiences with your followers and help them easily access and save all the recommendations they value.
Building these connections online takes time and effort, but once established, you can enjoy monetizing your creative content as you become a trusted maven or expert in your field.
It is not just about pinning endless products with affiliate links to Pinterest but also about telling a story by sharing a full experience.
The clickable links break your story into shoppable items. This way you provide your followers with greater value by improving the way they discover new products and businesses online.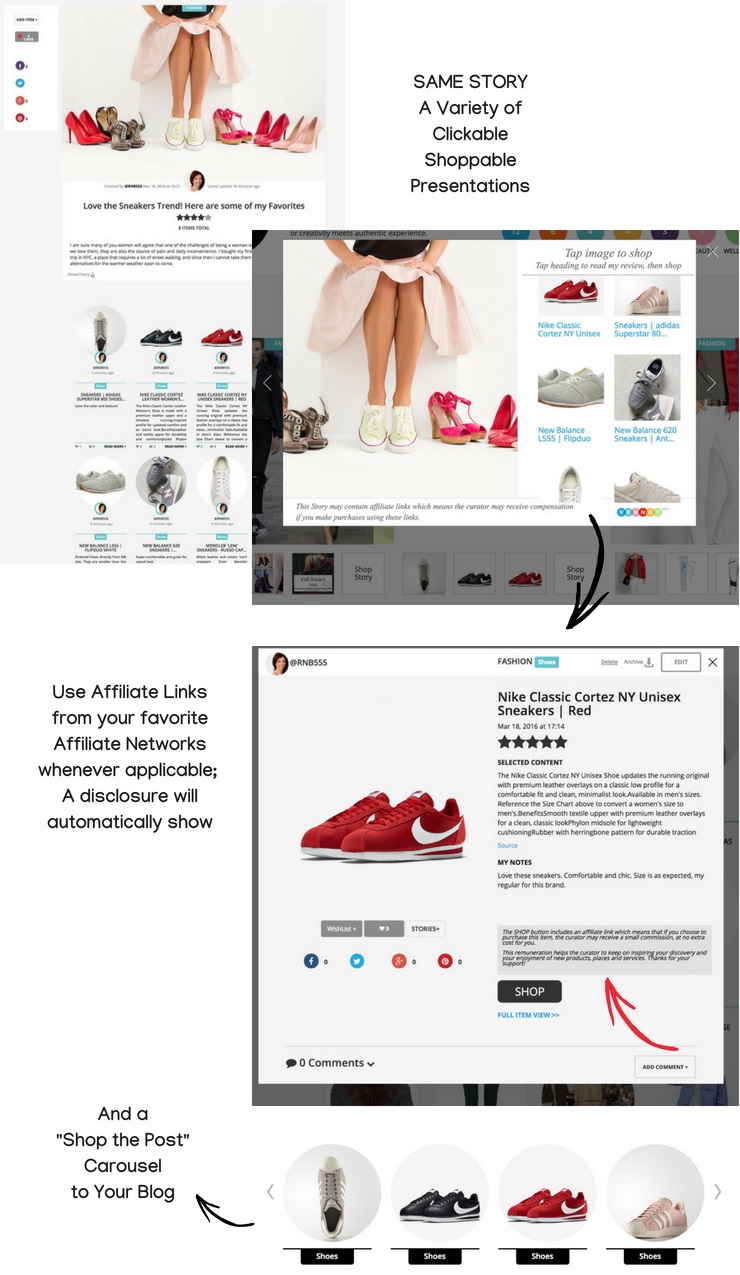 For more personalization, you can use your own images: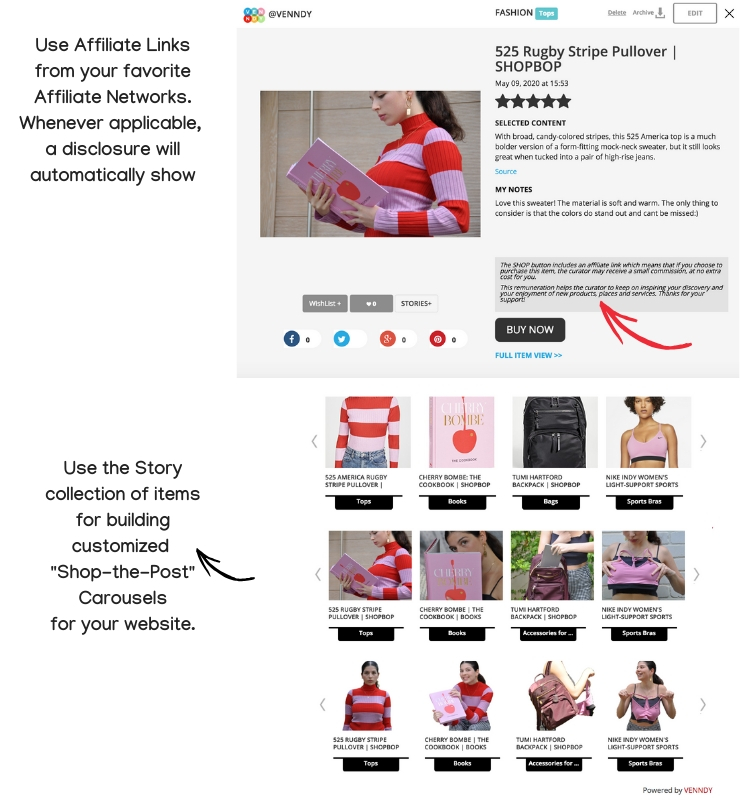 ***
PINTEREST BEST PRACTICES
Create multiple pinnable images. One of the advantages of Pinterest is that you can create multiple images with different languages and different descriptions to help you check what works best in terms of visuals as well as text. Posting a variety of graphics will keep your links fresh and pinnable. Well designed pins are key to increasing your exposure on Pinterest and the greater your reach, the higher the chances that someone will buy one of your recommended items. Therefore, you want to make sure that your pin dimensions work well on Pinterest. We found that images with the dimensions of around 740 X 1100/1200 work well, without having the image cut on the Pinterest feed. In any case, even with a longer image, pinners will still see the full graphic when they click on it.


Use relevant language to describe your pin's content. Using the same text on the image and text is advisable. To find out what wording would best work for your pin, use the search box to explore what's trending on both the combinations suggested on the drop-down search and the tabs showing just below the search box.


Make sure you name your boards with specific names and add a detailed board description that uses relevant words and hashtags to your content.


Consistency on Pinterest is key! Better to save a few pins daily rather than many pins a few times a week. This will help you maintain a steady flow for maximum engagement. You can utilize a scheduling tool like Tailwind to help you manage your pinning routine.


Don't delete any of your old boards or pins since existing information and past engagement help Pinterest better understand your content. Rather than deleting keep saving to those boards to maximize their influence. It's more beneficial to continue using a single board with a longer history than creating several new boards with shorter histories. If you still prefer not to use a certain board, you can always turn it into a secret board.


Update your profile to a business account and claim your website.


Save the same pins to multiple boards with both broad and specific categories for increased exposure.


Turn on the Showcase feature on Pinterest to feature your top 5 recommended boards at the top of your Pinterest profile.


If you insert an affiliate link on your pin's link and direct users straight from Pinterest to the brand or retailer to shop, make sure to follow the required FTC guidelines.


Make sure you own the rights to the images you use.


***
If you have found this post helpful, please consider sharing it with your community to help them make the most of their Pinterest reach.
Using VENNDY's tools you can curate your recommendation once, add your affiliate link and then share it across all social platforms (Facebook, Instagram, Twitter and more). Make sure to also read about How to Monetize With Custom Built Carousels Using Your Choice of Affiliate Networks and Programs. VENNDY allows you to collate more than one product and share a whole experience which builds authenticity and help other make better purchase decisions based on their needs.
To learn more about what affiliate marketing is and how to start using it, you can read the following blog posts on affiliate marketing: The Basics, The Complete Beginners Guide and The Best Affiliate Networks for Beginners.
You might also like: