Instagram has become a key component in creators' online marketing strategy:
Even if you are still struggling to grow your followings, Instagram can be an important channel for driving traffic to your site as well as giving you a solid ROI for your time – no matter what your business.


But, even if you don't have a website, using the tools and practices we share here, you can change the way you use Instagram, and regardless of whether you have a website or a blog, you can still monetize your creative content and social reach.


Whether you want to become an Influencer using Instagram, or if you want to take your business online and grow your brand, with the right content and strategy, Instagram can be another source of diversified income stream.
There are a few ways to make money on Instagram. While we list here the most common ones, we believe that affiliate marketing could be the best way to make money. Let's quickly go through some of them:
Sponsored posts and paid ads
These are popular ways in which influencers make money on Instagram.
Bigger accounts make more money per campaign and may need to invest less effort in finding brands to work with. Sponsored posts can include pre-paid campaigns, creating dedicated content per request, advertisements of products and places, and more.
Smaller accounts, ranging from 1,000 to 5,000 followers, may also get approached but can also find products to promote through dedicated platforms which connect between influencers and collaborators.
Here are 7 Tips for How to Become a Successful Instagram Influencer.
Create and sell your own products
These can be two kinds of products:
Selling a product you create according to your own knowledge or expertise is very popular among bloggers teaching about blogging and selling e-courses and e-books as well as coaches and wellness and fitness instructors. More and more travel bloggers are teaching others how to start a travel blog, sharing their experiences step-by-step.


You can also sell self-branded products using a print fulfillment company such as Printful or Teespring. These can be items such as T-shirts, cups, hats, phone covers, calendars and more. The great thing about using a service such as this is that there are no costs associated with selling the products you have designed – just a cut if orders are made.
Creating your own products is most effective when you have built yourself a brand or a targeted audience who can relate to your message or ideas. (For more options and both the pros and the cons, check out this blog post).
Affiliate marketing
Affiliate marketing is the process of referring readers to products, places, and services you recommend and receiving a commission if they sign up or make a purchase.
For example, items you share in whichever niche you're in – like business, food, DIY, travel, home décor, electronics, and more – all will include a special affiliate tracking link.
This means that when someone clicks the item and buys it through your referral, you'll receive a small commission. For readers, the price remains the same whether they use your special link or not.
But how can affiliates promote links on Instagram when you can't link on Instagram? By using services such as VENNDY as further explained in this post, creators can set up a virtual shop of clickable Instagram posts for their bio and monetize content regardless of whether they have a blog or a website. With VENNDY you can also personalize, with customized photos, each of the links to your promoted items and websites you partner with.
Affiliate marketing is very popular among fashion bloggers who share their outfits on Instagram, but there's much more to affiliate marketing than fashion and beauty products.
In fact, as e-commerce grows, more consumers are dependent on the reviews of others for their purchase decisions. In addition to fashion and beauty, categories such as travel, fitness, DIY, food, business, tech, education, and more products and places are perfect for affiliate marketing.
You have probably been using the products of many different affiliate programs without even knowing that you could turn them into a stream of income: for travel bloggers, this could be hotels, flights, travel clothes, accessories, tours, things to do, and adventures; for wellness or fitness influencers, it could be courses, outfits, retreats, books, and lectures. The list is endless as these days everything can be booked or ordered online.
Here is an example of how it looks like: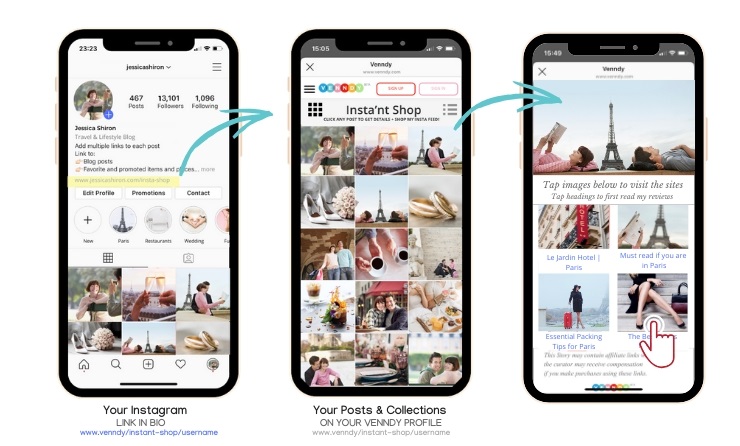 Think of how helpful your recommendations could be for small and medium businesses.
They could make the difference between their commercial life and death! Being able to pay a sales only commission rather than having marketing expenses with no proven results can be a big hurdle for such businesses. Who better than a happy customer to give a recommendation and help bring targeted traffic?
With affiliate marketing all you need to do is sign up for some affiliate programs and earn a commission every time you refer someone and make a sale.
To help you along, we have created a free "Affiliate Marketing Strategy Cheat Sheet" according to which you can build your "Affiliate Marketing Strategy Map."
GRAB OUR FREE AFFILIATE MARKETING STRATEGY CHEAT SHEET AND BUILD YOUR AFFILIATE MARKETING STRATEGY MAP
We respect your privacy. Unsubscribe at any time.
To learn more about how to start using affiliate marketing visit our Affiliate Marketing Guides.
But if you want to learn more about affiliate marketing in any particular niche, you can also read the guides we've put together to help you get started.
Now, here's how you can use VENNDY on your Instagram bio link.
Using the VENNDY platform you can turn any of your Instagram posts into a collection of clickable, shoppable links.
You can integrate your affiliate links into each of these links and monetize your content. If you are new to affiliate marketing, make sure to check out our affiliate marketing guides: The Basics (the terminology, how affiliate marketing works and some stats to help you understand the ecosystem), The Complete Beginners Guide, and The Best Affiliate Networks to join as a beginner.
VENNDY's tools help you create collections of your experiences.
An experience can be a new outfit, a vacation, a dinner you hosted or an afternoon with friends. Every experience is a story on VENNDY and includes your Instagram image and a collection of items, places and services that made your experience memorable.
The story you curate on VENNDY can then easily be used for creating:
An Insta'nt Shop destination that can be on your blog (as in this example) or on VENNDY (as in this example);
A "Shop the Story" carousel for your blog posts;
A pin for Pinterest which is more than just one affiliate link but rather a collection of shoppable items (check out THIS blog post to learn how);
A shoppable destination for your YouTube channel or other social media.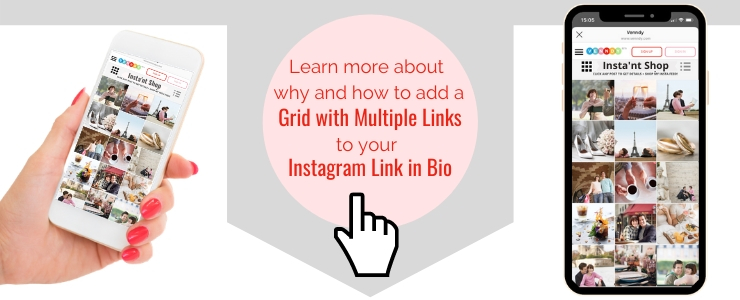 HERE IS HOW TO IMPLEMENT AN INSTA'NT SHOP FOR INSTAGRAM
FOR THOSE WITH A BLOG OR WEBSITE
To create a mirroring view of your Instagram feed, follow these 5 easy steps to use VENNDY's tools and increase your earnings by leveraging your Instagram reach.
Step One – Create a Story collection for every Instagram post you want published to your Instagram shop.

Once you have a collection of items (clothes, accessories, places, hotels, books, etc.), turn the collection into a VENNDY story. Upload the same image you uploaded to Instagram as the Story's cover and gather into this story all the related items (when applicable, the items will already include the affiliate link you inserted). Make sure to create the VENNDY collections in the same chronological order as your Instagram feed. Learn how to curate items to VENNDY, with or without affiliate links, here and how to integrate them to stories here.



Step Two – Color the Instagram icon on the upper right side of the VENNDY Story's image.
This way your Instagram shop is created and you can see your Insta'nt-Shop stories from the drop-down menu next to your profile image on the top, on the right-hand side of your VENNDY page.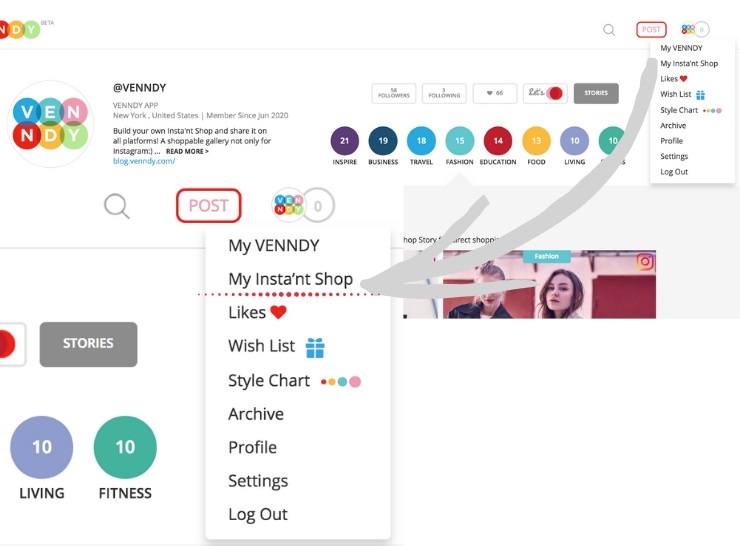 Step Three – Embed your Insta-Shop code into a "Shop my Instagram" page on your blog

(currently sent by us via email).



Step Four – Link your Instagram shop to your Instagram bio.

Provide the URL for your "Shop Page" in your Instagram bio. This drives all social traffic to your blog or website.



Step Five – Teach your followers how to shop your Instagram.

Include "Link in bio to shop my look" or "Link in bio to save and shop the items on this post" in the caption of each post. Use Instagram Stories to tell followers about your Instagram shop. If you have the Swipe Up feature, link it to your Instagram shop.
Make sure to check out our other best practices posts to improve your performance on Instagram and your blog.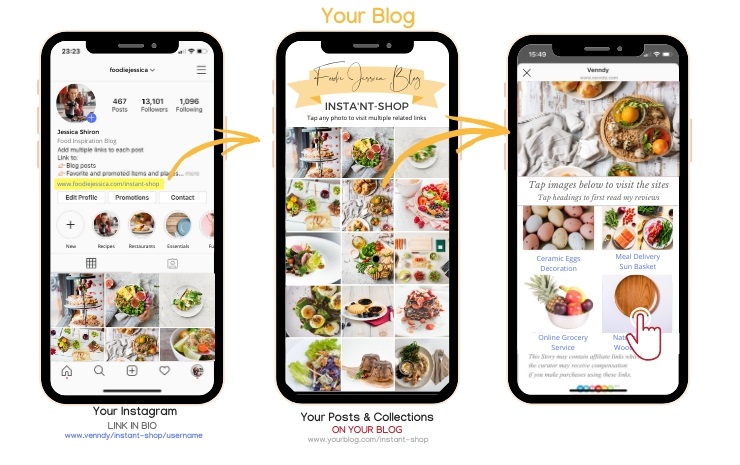 If you don't have a blog, you can still create a shop destination for all your recommendations in order to monetize your Instagram.
VENNDY
helps you turn your passion and experience into helpful reviews and gather all your affiliate links into one place. You can help your followers shop by putting a link in your Instagram bio that directs them to your
VENNDY
Insta'nt Shop.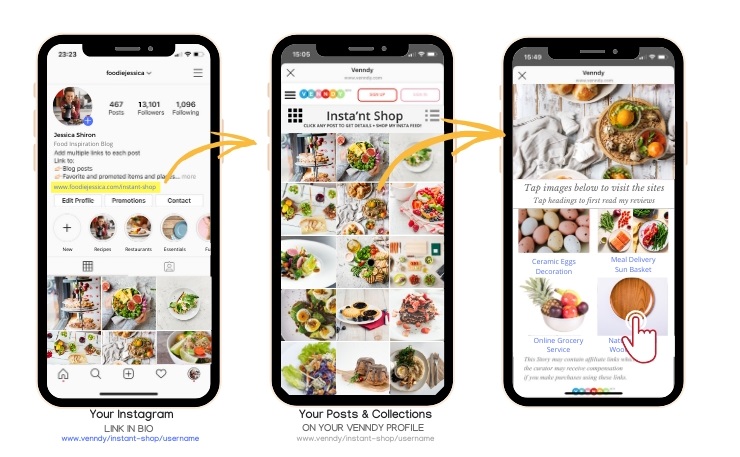 With VENNDY's Story Collection you'll be able to
:
Direct social traffic back to your site. You can add your blog post or a link to your YouTube video as the first item within the Story. This way all your content is organized and linked to one another.
Make images you post to your social media accounts shoppable, including Instagram, Twitter and Facebook, by redirecting your followers back to your blog or website.
Remove barriers (such as sign-ups) that prevent your followers from shopping your posts.
Monetize your time, creativity and work.
Ready to go? You can sign up to VENNDY here!
Note that not all stories on your VENNDY have to be Instagram related. You can create stories on VENNDY to match your "Shop the Story" blog posts or Pinterest uploads. All the Stories you create will show on your Latest Stories page. Only the Stories with colored Instagram icons will show on your Insta-Shop; they will mirror your Instagram feed as long as they are uploaded in the same order as on Instagram.
To get started using VENNDY and monetizing your Instagram, even if you don't have a blog, you only need to follow 3 SIMPLE STEPS:
Sign up to one or more affiliate networks of your choice. Check out the list of affiliate network for beginners

to help you get started.

Sign up to VENNDY, and download the VENNDY LinkCollector Chrome extension. As long as you are an affiliate of any program (except for AMAZON), VENNDY will be a good fit for you.
Upload your recommended products and places, add your affiliate links and share them on your favorite digital platforms. This post is all about Instagram, but you can also share on Pinterest, YouTube, and others.
You can SIGN UP to VENNDY here and click GET STARTED. To learn more about how to use VENNDY to create collections and monetize, check out the Tools tab with videos and tutorials.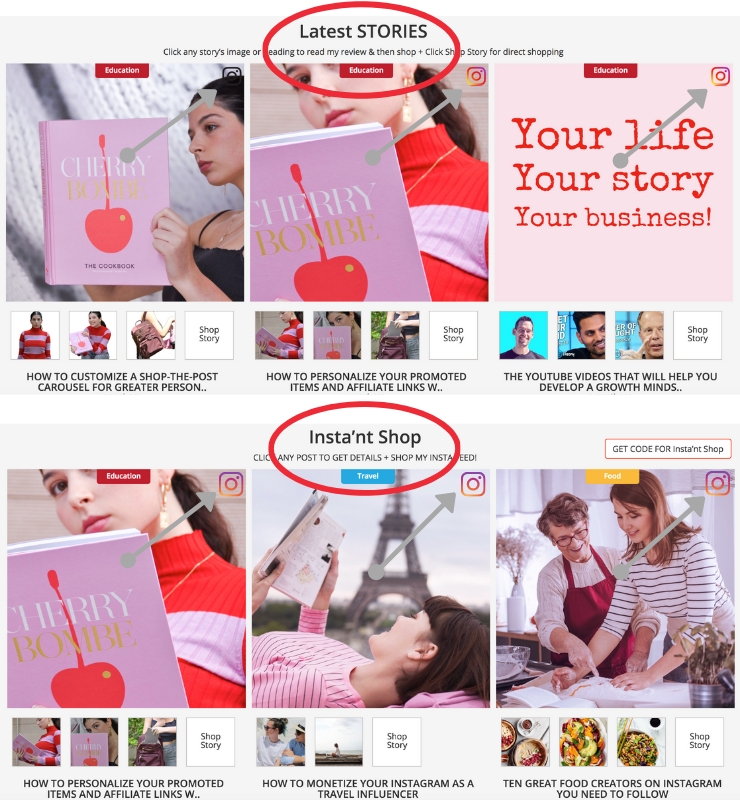 INSTAGRAM BEST PRACTICES – A BEGINNERS' GUIDE:
Use location and hashtags to increase discoverability.
Post consistently. Find out what is the right balance between remaining engaged and getting carried away.
Interact with your followers. Respond to comments, ask for feedback, and be generous with your loves and comments on other accounts.
Create a clear bio with the information that will help you achieve your goals and introduce yourself to others who may want to connect. Add your interests, location, what you are offering, and how you wish to collaborate (if relevant).
Use the link in your bio to your advantage. Get followers where they want to go quickly and use the link to drive them directly to your Instagram Shop page either via your blog (as in THIS example) or via your VENNDY profile (as in THIS example).
Use VENNDY'S Story Collection to break experiences and outfits into small unites; this allows for a clean linking strategy and communicates your value prop.
Use Instagram Highlights. The highlight albums show up in order of creation, so make sure to create the most important album last.
While the above is important, engagement is the key component for monetization, namely, converting followers into buyers. Continue reading below.
INSTAGRAM BEST PRACTICES – BECOMING A PRO:
Growing your following is crucial; that way you reach more people and extend your influence. But in order to build the foundation to start actually making money on Instagram, ENGAGEMENT is what matters most.
What does engagement mean? The bottom line: it means building relationships
. Here are a few strategies to consider. Obviously, like every relationship it all boils down to personality and preferences, so it is most importantly to do it your own way. Be authentic and true to yourself and you will reach the right audience for you and your product.
Start from the very beginning

– Building relationships takes time, and by putting some key strategies in place from the very beginning, you can make sure that you are building trust and turning the followers you have (no matter the number) into fans and eventual customers.

Think in terms of providing VALUE

– As much as Instagram caters to our inclination to tell others more about ourselves, when thinking in terms of conversions (i.e., selling and making money), you must think of your ideal follower when creating new content. Ask yourself: what are her problems and how can I solve them? How can I help her find the best product she's looking for quickly and for the best value? With the right approach, your engagement will grow authentically with people who are excited about what you're putting out in the world.

Make it easy for others

– Make it easy for your followers to find what you are talking about, be it a product, service, or place. Create easy to follow links either through your blog or through other channels. Use tools that will help them save items they love for later and then easily find them when they are ready to buy them.

Share your personal experience

– Tell them about items according to your own experience, your initial expectations, add the pros and cons, and direct them to your site for further information. Instagram is a great way to prove your recommendation, whether it's a new outfit or a restaurant you visited. Sharing your own experience with the product you're promoting is a good way of building trust and increasing conversions.
You can use VENNDY to help you create this kind of engagement and ongoing interaction with your audience by letting them love a specific product, save it for later, and comment or ask questions. With VENNDY you can share a certain item on all your channels (blog, Instagram, Pinterest, Facebook, etc.). This way you increase trust, as the item doesn't seem randomly picked but rather an item which has become part of your life's story and experience.
You might also like: