Let's talk about making money blogging without blogging about blogging.
Nowadays, making money online is much easier than ever before.
It doesn't matter what platform you are using - if it's a blog, YouTube channel, Instagram account, an online store, a website, etc. - you can monetize your content with multiple income streams.
There are tools for every step of the process that make it accessible for solopreneurs and online business owners alike.
Building your authority in the field you write about will significantly impact your influence, and therefore, building your personal brand is vital.
People connect with people when it comes to getting advice and following others' recommendations.
In general, the top ways to make money blogging, in any niche, are:
● Displaying ads
● Affiliate Marketing
● Collaborations/sponsored posts
● Selling your services and digital/physical products.
To make money from ads, you need to have significant traffic coming to your website.
Affiliate marketing, on the other hand, is something you can start using from the very beginning and expand as you grow.
Another advantage of affiliate marketing is that it can also be used on Instagram. No extra work is needed; the same content you create for your blog can be used for monetizing your Instagram.
In online education and course creation, there are 4 major mega markets that everyone is interested in learning more about. It is not so much different when we talk about blogging.
Before you start, I recommend checking out that your niche belongs to one of these markets. Choose a niche based on market factors and not only your passion.
In general, the more specific your niche is, the better.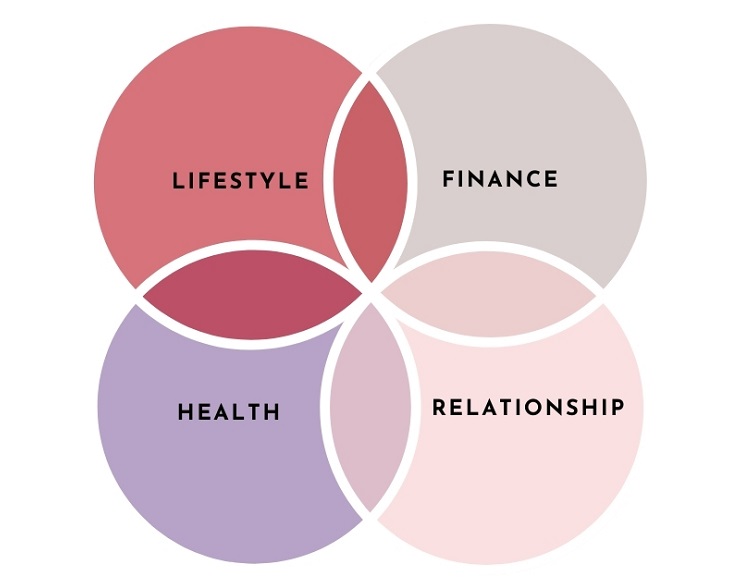 LIFESTYLE
This is a big category with everything from fashion, travel, beauty, entertainment, art, food, culture, home decor, design, family life, celebrations, kids' education, toys, DIY, shopping, electronics, household, and so much more.
I'll share just a few examples:
Beauty
You can monetize your blog with affiliate marketing in the beauty niche by recommending different beauty products you love and writing about them in various blog posts.
You can also collaborate with related brands and promote their products in exchange for a specific price.
Decor
As a home decor blogger, you can write blog posts about home decor ideas, recommend decor pieces, organization essentials, and more!
You can also collaborate with home decor/improvement brands, write a blog post about their products/feature them in a blog post or social media post, etc.
Food
Food is a popular and trendy category. Demand for ideas, recipes, daily cooking is constant.
This should come as no surprise because food content have great visuals and compelling images.
Foodies and anyone who loves cooking, baking, or healthy eating recipes, can monetize their content with grocery lists, kitchen tools, books, serving dishes, food-related apps, promoting others' cooking classes online and offline.
FINANCE
Under this category, there's everything about making money, savings, financial instruments, apps, software, and services.
I would put under this category also everything related to "education" as well as technology, and services.
As a finance blogger, you can promote related services and products and recommend websites/companies that help people save money, plan budgets, and grow a money-making mindset, banks, loans of all sorts, credit cards, credit repairs, etc.
You can also write and sell ebooks that teach people how to save money, how to live on a budget, how to choose the best student loan, and more!
Also, you can find related brands to collaborate with and write sponsored posts for your blog.
FITNESS, HEALTH, AND WELLNESS
The third category is everything fitness, exercise, getting in shape, healthy living, healthy food, illness prevention, and diets, weight loss, dealing with stress and mental issues... the list is endless.
Fitness
Today, there is so much going on online with everything related to getting in shape and daily fitness routine.
People appreciate the flexibility of doing everything in their free time, at home, or wherever they are:
Online yoga classes, at-home exercises, digital courses teaching a particular capability are growing rapidly.
Using performance-based commissions, you can partner with brands and services offering software, equipment, clothing, supplements, but also others' digital products.
Wellness
This growing niche offers inspiration for balanced living, stress management, productivity, and spirituality.
You can make money as a wellness blogger with affiliate marketing by promoting wellness products and services such as apps for dealing with stress management, different vitamins, supplements, mental care products/books/services, and more!
You can also create an ebook about self-improvement, mental health, living a healthy lifestyle, or a shopping list for a balanced diet.
RELATIONSHIPS
The last category includes everything from romantic relationships, family/parenting relationships to the relationship with ourselves.
As a relationship's blogger, you can recommend and promote different affiliate programs, dating websites, books, and online courses created by others.
Or, you can also write your own e-book about relationship advice based on your own stories.
Parenting coaches supporting parents with parenting issues can monetize content by recommending magazines, books, other people online courses on specific topics, educational toys, family activity, and more.
The idea is to create rich content with advice, ideas, and suggestions to help your audience get to know you better as a person and professional.
Building relationships online with potential client may take some time and you never know when in the future followers and readers might choose to work with you or buy one of your digital products.
*****
In the carousel below, I've gathered links to several of our previous blog posts, each in a different niche, with blog post ideas and brands you can partner with for monetizing your blog, Instagram, Pinterest, and more.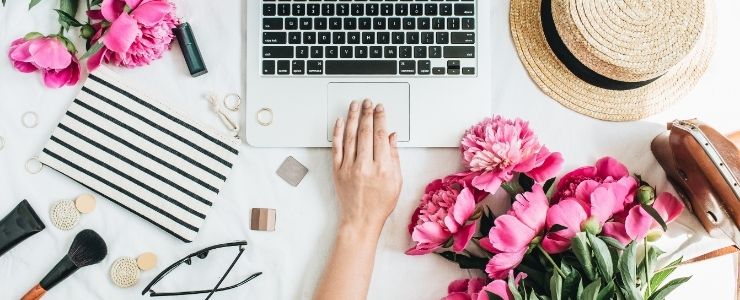 So, how do you really make money blogging?
The first step should definitely be having one or more promotional platforms.
Which means a website, a blog, a social media account (Instagram, Pinterest, Facebook, Twitter), a YouTube channel, a podcast, and more!
It is important to have some quality content on your platform. It is not about quantity but rather about quality.
After you created the potential platform/s, it's time to get to work!
To help you along, we have created a free "Affiliate Marketing Strategy Cheat Sheet" according to which you can build your "Affiliate Marketing Strategy Map."
GRAB OUR FREE AFFILIATE MARKETING STRATEGY CHEAT SHEET AND BUILD YOUR AFFILIATE MARKETING STRATEGY MAP
*****
Some of the links below are affiliate links. This just means that if you choose to make a purchase, we may receive a small commission at no extra cost to you.
*****
10 STEPS TO START MAKING MONEY BLOGGING NOT ABOUT BLOGGING
1. Apply to a few affiliate programs that are related to your niche
Do some research and find brands that you like and are related to your niche.
Then, apply to your favorite ones!
Explain what your blog is about and how you are going to promote their products.
Another option is to join an affiliate network. If you aren't familiar with affiliate networks, they are aggregators of multiple affiliate programs in a variety of niches.
Our favorite affiliate networks for beginners are definitely ShareASale and AWIN.
In these affiliate networks, you can find many merchants for any niche! AWIN is the only way you can promote products and small businesses from Etsy, so it's worth to join from the very start.
2. Start inserting affiliate links on your platforms
Now comes the part that can support your content monetization for years to come;) Start inserting affiliate links for products and services you love and recommend!
You can write blog posts about different topics and recommend related products and services throughout the blog post.
One of the challenging parts of using affiliate marketing is managing the affiliate links on your platforms.
What do I mean by that?
Affiliate programs closes, products get out of stock, brands change their affiliate program… This means that your affiliate links need to be changed or modified.
It can become a very frustrating task to manage.
By using shop-the-post carousels (by VENNDY) all your promoted products are managed through the platform, allowing you to easily delete items, edit the affiliate link, or add more relevant and updated items.
3. Promote affiliate products on social media
You can easily monetize your social media accounts with affiliate marketing. As a content creator, it is crucial to utilize your social media reach and make the most out of them.
If you are worried about your followers thinking you sold yourself out and that they feel like you are trying to make money off of them, we have a few tips that can help you out:
● Don't be spammy with affiliate links - this means that we do not recommend promoting a product on every Instagram story or post you make. If you are promoting stuff on your blog, make sure that the blog post isn't completely filled with affiliate links in every line.
● Don't be too pushy - people never like feeling like someone is pushing them and making them purchase something.
● I recommend simply pointing out that your Shop Tab includes all your recommended items and that anyone interested can click over and check it out.
When you naturally recommend a product, you will get more sales than recommending a product like it's a commercial.
● Make sure you give full disclosure about your partnerships with brands (for both sponsored content and affiliate marketing). This is important for both FTC Regulations / GDPR Regulationsas well as for building trust with your audience.
This might come as a surprise, but academic research shows that at least on Instagram, people tend to be attracted and click more on content that discloses the relationships with businesses.
4. Personalize your content
People tend to purchase more stuff from content creators who they have a connection with and grow to trust.
That's why it's essential to make sure your audience knows you. That they can feelyou! It's easier to trust a person you "know" than trust an anonymous recommendation.
5. Build a "Shop" Page
This is one of the most valuable affiliate marketing tips! A shop tab can include physical, digital products, your own products, or others (aka affiliate marketing).
It's just a collection of everything you've mentioned, gathered, and recommended anywhere on your promotional platforms.
The shop-tab is a performance-based monetization method.
This means you will be making money when someone is clicking and buying products on this shop-tab.
I am sure you have your favorite or must-have items written down somewhere.
Putting them all on your own storefront will:
·

Help people find you.

·

Help them find items you mentioned and recommend.

·

Save your recommendations for later use.
This shop-tab can be inserted into your blog/website, or can be a separate landing page.
Using VENNDY's tools, from within a shop-tab, you can create a grid gallery identical to your Instagram feed, only with linkable and shoppable clicks to make it easier for your followers to find places and products you link to.
Make sure to link your Instagram link-in-bio to either:
6. Offer Exclusive Deals
One of the best ways to increase affiliate sales is by offering exclusive deals to anyone who purchases the product through your links.
If you didn't know, affiliate program managers can give their affiliates exclusive coupon codes for their audience.
Offering a discount code can really increase your sales because people would rather purchase the product from you, with a discount, rather than from the website itself or from another website without a discount.
Not all affiliate programs offer a discount code. Some require first reaching a certain number of sales.
In that case, another thing you can do is offer for free one of your own products, if you have any, for anyone that purchases the product you are promoting through your affiliate link!
7. Keep track of your stats and sales
This tip is essential if you want to improve content reach and better understand what works and what doesn't.
It will also help you understand who your audience is and what do they like.
Once you know that, you can create content that interests them, that will convert to sales.
8. Create content that converts into sales
● Don't be pushy - as said before, people don't like to feel like they are forced or pushed into purchasing a product.
● Mention the pros and cons of the product - we all know that nothing is really perfect, and every product has its flaws. That's why it is beneficial to talk about what people can worry about, calm them and "fix" that problem.
● Don't invent – rely on facts.
You can get paid for promoting products you believe in - why not get paid for telling others about products you love? If you genuinely enjoy a product, it will be easy to promote. You already know everything about the product, and you have used it yourself, so it's much easier to honestly recommend and promote.
People can notice whether you truly tried the product yourself or just writing about it and never used it.
We recommend sharing items and places that are not clickable and do not have an affiliate link, such as places to visit or articles to read.
9. Building trust with these key principles:
Be genuine and natural - People will trust a person's review and opinion over a robot, right?
Think about it, getting a recommendation from a real person, from someone you trust, will probably convince you more to invest in a product after hearing their honest thoughts and their experience, rather than following a recommendation given by a machine, or even a salesman.
If you genuinely support the product/place/experience/service and think others would benefit from it, too, then share your affiliate link along with your sincere, undying adoration.
The genuine personal reason or the human aspect attached to your recommendation will make people click on your affiliate link.
Share as much as possible from your own experience, build trustworthiness.
10. Creating value for your readers
Creating real value for your audience is critical.
Create value by passing on practical, helpful information. We recommend checking out How to Monetize with Custom Built Carousels.
When I first started blogging, I sent one of my fashion blog posts to a friend whom I love her style. She loved it, and her only comment was that she was missing references to the items I presented or to similar items.
I guess your readers, no matter what you write about, would love getting specific recommendations.
Here are the 8 basics of how you create value for your readers:
● Cater to their needs – help them quickly know who you are, who's behind the recommendation, and how does your content help them.
● Make it easy for them to click and shop, save for later, or add to their wish list.
● Surprise them by introducing items they never heard of before.
● Make them feel special and unique if they join your community.
● Create a connection by inviting them to comment, save for later, or reach out to you.
● Make sure your content has an added value so they can learn something new.
● Add a call to action – how they can help others by sharing if they found this recommendation helpful.
● Create a go-to page with all your affiliate resources. A resource page, a Shop-Tab, a Boutique page, and a storefront facilitate sharing recommendations and monetizing your content.
Don't promote only your affiliate content. Use the 20-80 rule for promoting others' content as well.
Are you afraid you may seem inauthentic to your readers by promoting products?
● Promote companies and products that will benefit your audience.
● Show your readers how a product can benefit them by writing a "how-to" guide.
● Write informative, helpful posts that give readers a wealth of information (beyond the product).
● Connect with readers by telling your story about using the product and add a photo showing how you used it!
Hope this was helpful. If you are considering to start a blog, make sure to check also:
How to start a successful money-making blog
10 Things to Know Before Starting a Blog
5 Reasons Why You Should Treat Your Blog Like a Business
How to Blog Without a Website?
If you are using Instagram to reach new customers, we hope you know how to leverage this platform's advantages. To help you out, we've created this freebie with 10 mistakes most people make. So let's make sure you're not one of them.
10 NON-OBVIOUS INSTAGRAM MISTAKES YOU'RE PROBABLY MAKING
We respect your privacy. Unsubscribe at any time.